Album Review
Utility Blues - The New Album by Li'l Chuck The One Man Skiffle Machine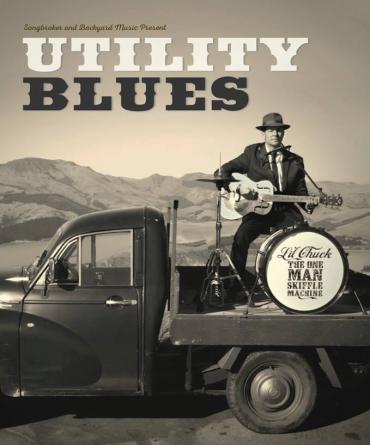 Li'l Chuck – The One Man Skiffle Machine, according to the print on the back of his Utility Blues CD case, is "a genuine one man band, cranking out good time music in an old time style." Having listened to Utility Blues a handful of times over the past two weeks or so, I can say that the above is a fair assessment of what Li'l Chuck does. And if, like me, you are a sucker for quality music coming out of the international one-man band scene, this New Zealand-based artist very well may be one that you can appreciate.
Inspired by many years of exploring the music of the '20s, '30s, 40's and '50s - blues, early jazz, western swing, ragtime, country, folk, etc – Li'l Chuck developed his own sound, which borrows from all of those styles. He creates this sound of his by using the harmonica, resonator guitar, kick drum, hi-hat, kazoo, and his strong vocals. He does plays them all simultaneously – a true multi-instrumentalist and multi-tasker in addition to a talented artist.     
Utility Blues consists of eleven Li'l Chuck originals and one cover, "Sixteen Tons" by Merle Travis. Standouts among the former include "Stick It in Your Pipe and Smoke It," "Whiskey and Ginger," "Utility Blues," "Honey Leave Your Porch Light on," and "I Call on Jimmy Reed."
Check out this video of Li'l Chuck – The One Man Skiffle Machine's "Stick It in Your Pipe and Smoke It."
There is also a mini-documentary on the making of Utility Blues on Li'l Chuck's YouTube channel.  
All of the songs on Utility Blues were recorded live in the studio, with all instruments played simultaneously. The CD, which is available at Backyard Music, comes in a nice fold-out cardboard sleeve, complete with liner notes and lyrics. Each track has an interesting explanation as to what inspired it or offers a note about the writing of the music, from songs about his children and his lady to heartbreak, booze, Jimmy Reed's harmonica technique, and more. Utility Blues is also available on iTunes and Bandcamp.