Album Review
Van in Concert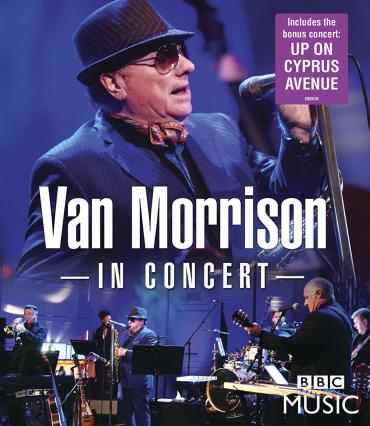 He doesn't make rock god faces nor jump around like he's being electrocuted when he sings. He just stands still and delivers, pouring out bucketloads of soul on his adoring disciples. In 2016, BBC Radio 2 captured a memorable concert of Van Morrison at the BBC Radio Theatre in London. Decked out in a spiffy ascot and a gleaming sax draped around his neck, fedora jammed atop his head, Morrison steadfastly works his way through his back catalog,barely moving two inches from the mic during the 135 minute performance. There's few announcement of the titles, little between-song banter with the audience, nor much acknowledgment that there's anyone in front of, or beside him. He largely ignores the band almost as much as the audience. He just is, and that's a plenty.
The band; Paul Moran on keys and trumpet, Dave Keary on lead guitar, Paul Moore playing bass, Robbie Ruggiero on drums, and Dana Masters providing soulful gospel backing vocals, is stellar. Van chips in on guitar, sax keys,vocals, and awe- inspiring stage presence. The songs just flow into one another with little pause.
  A mellow sax and flugelhorn duet on "Too Late" with Moran flows into a jazzy cabaret feel on "Magic Time "with Moran once again providing mellow fluglehorn embellishments and Van adding some soothing wee hours sax. There's barely enough time for Van to grab a gulp of water before the first notes of "Wild Night" ring out. In a rare trip away from the mic, Morrison grabs a sheaf of lyrics and puts them on a music stand in front of him, apparently not remembering the lyrics of one of his best known tunes that most people in the free world can sing along with without a lyric sheet. But with Morrison, you never know, and it's a sure bet nobody is gonna ask him about it. He just kills it, raring back and letting the soul boil out of him in shimmering waves, hardly moving a muscle. Twenty minutes into the show, he addresses the audience for the first time after "Every Time I see a River,"a pretty, nostalgic love song:" "I remember when I was yours and you were mine/I don't need your picture on the wall/I don't need anything at all, but.../Every time I see a river/Feels like I'm back in love again/I just can't stand the pain." After actually thanking the audince for the applause and mentioning that it was a new song he wrote for his latest album with lyrics by Don Black, he tersely announces the next tune, "Cleaning Windows," from 82's Beautiful Vision. This live version crackles with funky electricity thanks to Moran's burbling organ and Moore's funky bassline, Morrison belting it out like he just wrote it yesterday and can't wait to deliver it. Rocking back and forth a few inches, grabbing the mic for support in what passes for unbridled enthusiasm in Morrisonville, his vocals sizzling like beads of water on a hot griddle, Morrison even manages to give a brief nod of appreciation to Keary's blistering country flavored lead. Muttering "I need a shot of rhythm and blues," he segues into snippets of Gene Vincent's 1956 clasic "Be Bop A Lula."
Morrison thanks the audience , announcing that they're gonna do another song off the new album, "Let It Go," then loses patience with the band when they don't start fast enough to suit him, barking " go ahead, go!" It's a strange one, sounding like a soulful ballad until Keary's lap steel slides to the forefront for a taste of country and western to taste complement Morrison's mellow soul.
 Morrison seems to call tunes at random, turning to the band to call "Whenever God" from '89's Avalon Sunset, then quickly clapping them into action. Originally performed as a duet with Cliff Richard, the version here with Masters as his partner has more of a mellow gospel feel than the hard rock take on it with Richard.
"Brown Eyed Girl" burbles along with a swing cadence, Morrison scatting on the choruses. Although he seems impatient with getting the tunes started, once he gets going, he's totally committed to giving it his all, belting out the lyrics to "Girl" with as much enthusiasm as he did when he first cut it, stretching out the tune, giving each member a solo turn before taking a sax solo that ends in a brassy fanfare with Moran's trumpet.
"Jackie Wilson Said" continues with the same swing tempo, Morrison hiccuping the words as his quartet glides along like a big band behind him. He closes with "In The Garden," from '86's No Guru, No Method No Teacher, delivered with messianic zeal, his most animated performance in the set as he croons the lyrics that seem ripped from the book of Genesis: "No guru, no method, no teacher/Just you and I and nature and the Father /And the Son and the Holy Ghost/In the garden, in the garden, wet with rain."
As if that wasn't enough, there's a bonus DVD as well, Up on Cyprus Avenue, a 60 minute video from his 70th birthday show set on the Belfast Avenue Cyprus Hill, made famous through 1968's Astral Weeks. Some of the material is covered on the first concert, but this one also includes gems like "Moondance," "Cyprus Avenue," "Sometimes I Feel Like a Motherless Child" and a medley of "Baby Please Don't Go"/ "Parchman Farm"/"Don't Start Crying Now."
Morrison doesn't hold back, hitting the mark every time on every tune. It's a stunning presentation, an intimate glimpse of an icon still at the height of his powers, with no end in sight.