Album Review
Virginia Beach-based Group Feral Conservatives Release Slick New LP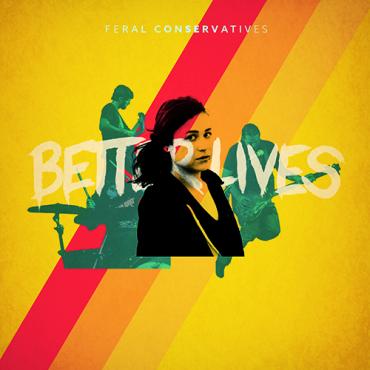 Feral Conservatives have just released the third installment in their discography with their sturdy new album Better Lives. Now available on Egghunt Records (www.egghuntrecords.org) and staying true to the sound that this Virginia Beach-based quartet developed previously with Here's To Almost; their latest offering further contributes to their style with its shimmering bright melodies and big-hooks.
    While their music has always gotten it's feet wet with splashes of punk— heavy doses of indie-rock and power-pop are also stirring at its source. The crunching power behind early first-wave groups like the Damned & the Buzzcocks can be felt here combined with touches of alternative influences among the lines of Superchunk, perhaps Avi Buffalo, & Jawbox. Zachary Jones' rip-roaring guitar solo and Matt Francis's relentless driving beat on, "Sippin' Slowly" serves as a prime example.  
    Rashie Rosenfarb's voice above all else is what lends the band it's most unique trait. Her vocal presence and delivery soars on the buildup in, "Anymore" and her mandolin kickstarts this gripping tune from the very start. "Eyes Open" is both sensationally catchy with it's bubblegum flare and is energetic from head to toe; it's sudden spacious bridge and atmospheric guitar show the group harnessing their art to its full potential.
    Laced with variety throughout, Better Lives takes a big leap forward in expanding the bands sound; this is perhaps most evident midway through the record with the melodic bass of Dan Avant and the shoegaze-like feel of, "Sunroom" with it's swirling guitar-lines and melancholic vocal. "Cat Song" and its lush orchestration brings to mind the Ramones-meets-Phil Spector moment on their, "End of the Century" cover-version of the Ronnette's tune, "Baby, I Love You".
    Feral Conservatives are a group that is able to walk the fine-line of staying true to their initial outputs while not recreating the same album all over again. They give their audience enough of what is expected while throwing just the right amount of curveballs along the way to keep things interesting. Betters Lives proves that with it's infectious songwriting and evolved musical statement from their previous works.