Album Review
A Vocal That Soars Like an Instrument & Possesses A Hip Musical Soul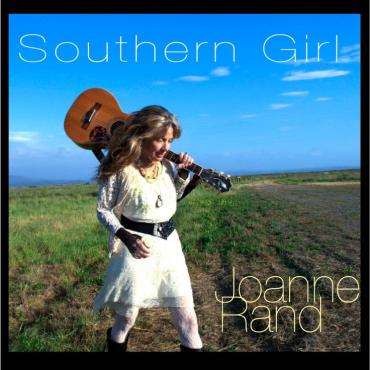 Upon first listening, I was immediately captivated by the octaves, tone and approach that West Coast singer-songwriter Joanne Rand displayed on her 15th CD release "Southern Girl." 
On her opening track "Mud in Your Eye," -- with a strong piano, a swish of drums, blistering violin passages and Ms. Rand's absorbing voice which alone is an instrument, is absolutely captivating. Joanne appears, in a good natured way, like a latter-day hippie in the Joni Mitchell-Melanie Safka tradition wearing what appears to be a white muslin dress. It's adorned with beautiful Native American necklaces and pendants which I think is quite cool. A good look for her and the music she represents. 
But, the voice, the voice – it starts out like any other folkish voice and then Ms. Rand goes into a deep low register on the line: "I've been addicted to change all my life…" and the game changes. It's startling and beautiful. The balance between the instruments and their clarity: refreshing.
Joanne is not Joni Mitchell. She is in a different realm. Not jazzy, not really folk (in my opinion). Her voice reaches pitches that remind me of Buffy Sainte-Marie and with that spirit -- she possesses a voice hard to ignore. Some have described her music as psychedelic-roots-folk-rock but it's more than that.
There is a mystical magic that has strength that average singers, even good singers, don't have and that's what makes Joanne -- impressive here. The tracks features a soaring Rob Diggins violin, machine-gun Jonathan Kipp brushes on the drums and a splendid piano -- and I will let the song speak for itself. Yes, it can speak for itself. 
With a slight melodic reminder toward Melanie Safka ("Lay Down Candles in the Rain"), and with the richness still of Buffy Sainte-Marie, Joanne tackles an old traditional song "Cripple Creek."  Her performance on this is modern, jaunty, happy and very today. This song is a survivor and this woman has effectively injected a double shot of B-12 vitamins into it. Bradley Dee provides the drums-percussion on this song and all the musicians on this track are exceptional.
By the time you reach this foot-stomping tune Joanne has already taken possession of your hip musical soul.
The songs primarily are inspired by Appalachia but the flourishes and musical paint are all brilliant. "Monkey Puzzle Tree," – written by Joanne's late brother Jordan Rand displays the brush-strokes of Joanne's fine voice. It's a little quirky, it features Rand's deep clarinet and it's terrific. It maintains a rare attractiveness -- it's difference from other standard fare and approach to just singing. This is different. Joanne makes every song memorable when she sings…and she has a style on this song. As she sings the lyrics it reminds me of the great jazz singer Anita O'Day who was quite the song stylist -- Rand allows her voice to roller coast from one octave to another, she hits every note accurate as Annie Oakley hits her target. This song is quite special and it too, in its lyric is in the tradition of Buffy Sainte-Marie and it's solid. The acoustic performances and the band overall maintain their tight, precise and wonderful stature.
Then, Joanne segues into a vintage traditional folk song: "Maid of Constant Sorrow," and while you may be inclined to yawn…you'd be wrong. Joanne's vocals are energetic, renewed, reinvented, and it's all entertaining! It works. Rob Diggins continues to use his violin like a wizard's wand. Exceptional playing by all and Joanne plays acoustic guitar, keyboards, clarinet and shaker. Piet Dalmolen plays electric and slide guitars, Tim Rhodes is on bass, and Jonathan Kipp provides the steady drums on this track -- with an expressive performance.
Things slow down a little as Joanne sings "Thicker Than Water," – a ballsy instantly memorable ballad with body, thickness, smoothness and it's stirring – all at the same time. Excellent full backup vocals and Joanne is magical and luxuriant as she shapes her high notes. It's like the best brandy in the world and usually not always found on these types of songs. The song throbs, clings to your ears and sends a tempo synthesis down your leg so your feet tap even when you're not aware of it. Bradley Dee's metronome beat steers steadily as Joanne layers her high notes over the beat's surface. I am loving this one. It has an eccentric scent to it, but it has traction and it holds you. When Joanne's voice goes deep – it telegraphs shivers down your lower back if you are an aficionado of this type of music. A little tinkle of piano concludes the tune and I just smile every time I listen to this. You want accomplished musicians? I offer Joanne Rand and her band.
"Ginseng Sullivan" is more traditional folk and holds fast to a more vintage manner with Jonathan Kipp driving brushes. This is Carter Family good. The vocals are charged, the venerable guitar sound punctuates nice and Joanne's voice in that style of Appalachian singers with snips of the legends of folk: Rosalie Sorrells, Kate Wolf, Cris Williamson, Judee Sill, Ferron and Eva Cassidy -- women of that treasure trove begin to gently tug at your ears. Joanne's voice isn't shrill like the young Joan Baez, or as harsh as the wonderful Karen Dalton. But, she has this uniqueness in her timbre that is all her own.
The Robert Burns' poem "Red Rose," is rendered here as a beautiful mountain folk song with Joanne's vocals soaring again and Rob Diggins equally thirsty bowing. The song has heft; its power is in its delicacy. Joanne's voice sounds like a high flying bird with its wide wings outstretched in a long ballet in the sky. Adrift through the blue -- seamlessly, alone and perfect with nature. Yes…perfect with nature. Hokey, but true. The back-up singers are McGarrigle Sisters' / The Roches in their execution. Ideal harmonies. Delightful stuff. 
Ms. Rand needs a little humor and whimsy in this collection…so "L.A. Squirrel," is her vocal acrobatic contribution with her fine bellowing clarinet. That's different for a folk song too. Clarinet. I like these types of surprises. I can appreciate them. It's what makes listening to a Joanne Rand album interesting and challenging. Some bawdy lyrics adorn with enough playful innuendo performances to make this song a fun listen. Sounds like one of those songs that originally was recorded on a 78 rpm shellac disc in a 1920's hotel -- a collection banned from radio: "…the peacocks strut and they spread their tails…. watch out for this queen of bees…"  Oh yeah…
When I read the PR and CD art I discovered the classic 60's song "Woodstock," written by Joni Mitchell was included here by Joanne. I decided to skip it. Yeah…skip it. How many times can I listen to that song? I've heard it ad nauseam for decades. But fate stepped in. So on the day I listened, I was distracted as the CD played and without notice the song began to segue from track eight to nine: "Woodstock."
It didn't take long for me to realize this may be perhaps one of only three exceptional versions of this old chestnut. Nothing hippie dippy about it. Joanne Rand sings this one with imagination, with poignant guitar, dynamic backup, and all toll – a stirring rendition. I guess there are many more ways to sing an old song. This is how you sing a cover and leave behind all comparisons. Even the opening guitars are expressive, and Joanne's vocals – dramatic at times, and respectfully reminiscent of Joni Mitchell's original was not entirely the same Joni's. Joanne's voice, with no auto tune that I could detect, has a firm control on her natural resonance and vibrato. The Piet Dalmolen lead guitar shines with so many colorful notes it makes the song moving again like the first time you heard it. But after that, Joanne's voice is Joanne. It shifts from one tone to another with clarity. She almost sounds as if there are two vocalists. As she pronounces the lyrics you can hear how into it she is. It's not just a cover of some old song. If you're going to tackle a classic song, cover it, and this is a fine example of how to do it right. This one virtually took on a spiritual identity. Her vocal technique is the entire show and worth the price of admission. "Woodstock?"  It's fabulous again – right here. This will probably make Joni Mitchell misty eyed all these years later. 
The closing song is "I Love It," -- a pensive, slow and tightly played jewel. Bradley Dee returns with his steady, reliable beat. Very well recorded. Joanne Rand trades off vocals with her back up female vocalists and it takes on an air of Kate Bush and Sarah Brightman. The richness in Joanne's voice especially when she dives from high perches into her deep and low potent vocal is riveting. She is quite the vocalist – she almost distracts from the sophisticated musicians who support her because her vocal transitions are so fascinating. I played in a band at one time, and backing up a vocalist like this -- is a thrill. 
Why an artist of this caliber is not more widely known already infuriates me. I am going to look forward to more from Ms. Rand and I have a lot of catching up to do already. Obviously, she has proven she can sing just about anything, consistently good and inject new life into it. She is an artist you can buy with certainty -- without hearing the CD first. You will indeed get your money's worth.
If ever there was an independent female vocalist who could teach the so-called commercial divas a thing or two about the proper use of powerful, distinctive vocals – Joanne Rand may just be the one. She is not a showboating police car siren – she has the right inflection, the phrasing, the style -- it's what makes a singer -- an artist.
This 10-song collection was produced by Joanne Rand, Stephen Hart & Piet Dalmolen & recorded in CA. The Band: Joanne Rand – Acoustic Guitars, vocals, keyboards, clarinet, shaker // Bradley Dee – Drums, percussion (Cripple Creek, Thicker Than Water, LA Squirrel, I Love It) // Jonathan Kipp – Drums (Mud in Your Eye, Monkey Puzzle Tree, Maid of Constant Sorrow, Ginseng Sullivan, Red Rose) // Tim Randies (Electric Bass, keyboard (Woodstock) // Piet Dalmolen (Electric & Slide Guitars) // Rob Diggins (Violin).
For now, I am going back to listen to this entire album again. 
Website: http://www.joannerandmusic.com/
http://www.suedumond.com/joanne-rand-southern-girl/
FaceBook:  https://www.facebook.com/Joanne-Rand-and-the-Rhythm-of-the-Open-Hearts-145918802932/?ref=ts
Bandcamp: https://joannerand.bandcamp.com/album/southern-girl-2
Disclaimer:  The opinions expressed in this review / commentary are those of the author and do not necessarily reflect the official position of No Depression. All photography is owned by the respective photographers and is their copyrighted image; credited where photographer's name was known & being used here solely as reference and will be removed on request.
John Apice / No Depression / April 2016