Album Review
From "The Voice" and Rocking Empty Rooms, WOB Breaks Through!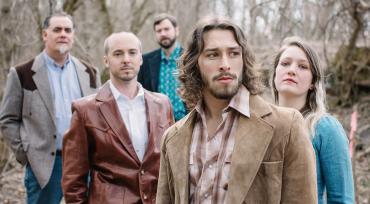 Will Overman is an artist in a process, an exciting one:
Lord, find me a river, I need cleaning
Find me a bed, the sky grows dim
Counting streetlights as I count my blessings
The rhythm of the road just like a hymn  ...
It goes on and on
It goes on and on
One more night then we're homeward
One more night then were through
Tonight we're  playing for the bartenders
Sometimes you gotta rock an empty room.
                                                 (Pilot Mountain)
In process, yes, but still he knows where he's headed – he and his band - 
final year for his University of Virginia degree (sociology), part-time job, "long weekend" tours (New Hampshire to Virginia Beach), a summer of music festivals ahead (most recently MerleFest), and a history that includes NBC TV's The Voice (2 levels) -  and now - The Will Overman Band (WOB) is releasing its first full-length album of the same name.
The album reflects this urgent musical development while sharing the mountain-bordered experiences of love, lust, triumph, disappointment, family, and hope, under it all, an urgent, persistent hope.
The band, which will release the album on June 4 at The Southern Cafe and Music Hall in Charlottesville, VA, is from the greater Charlottesville area and is never far from its Virginia roots. Will, who is a mountain hiker and biker, has a lyrical eye for the natural beauties around him.   
But the songs explore the harsh experiences as well, a girlfriend's illness for example. Fix My Girl and AHQ both tackle that subject, one that is, happily, no longer an issue, as she has beaten cancer.
There's a certain kind  view
Left is the hospital with its pokerfaced rooms
On  the right is the sky and all we've got left to do
And a road I coulda run, But darling I chose you.
                                                  (Fix My Girl)
There's a human spirit thing going on with Will. It shows throughout the album in a way that is rare.
The album stays overall upbeat, however, due to the bright melodies, relentless musical hooks, and acrobatic wordplay. That's not to mention Overman' s totally unique tone and inflection and the Southern-ness of its musical vibe in its youthful, rich, clear "coat."
A unique, trademark voice, Will's is one you recognize and gravitate to. This is particularly compelling when wrapped around a rhythmically circling hook, dripping biscuit gravy.
Brittney Wagner shares strong vocal moments on the record. In Trail Song, for example, she begins, and he continues or responds, takes the thought - and melody - further.
She:  
Find the moon on a crisp, clean night,
And you'll stare into your lover's eyes.
He:
Off the Big Dipper shines the Northern Star.
I'll follow it to where you are.
I think our voices complement each other really well, a natural mix, Overman says. They met through a mutual singer friend and she jumped in there.
Backing the vocals, there is solid acoustic and electric playing throughout. Wagner and Overman also play guitars. His band also consists of  Daniel McCarthy, guitars, J. Wilkerson, bass, and Christopher Helms, drums. McCarthy is classically trained and has a batchelor's degree in music from James Madison University and a master's in music performance from Appalacian State University.
And, the songs, again, are varied and interesting. A unifying component is the Virginia locale from the mountains to the ocean island of Assateague. Relationships, from the familial to the romantic, is another.
Ode to Virginia is an appreciation of the beauties of Virginia through an evocation of a  lost player.
Let the blue skies fill my veins
Like an old. dogwood, I'll die where I began
...
Can you taste the dust in his words,
smell the earth of freshly turned fields?
In Son, Overman sings of his unique relationship with his mentoring father,
My decisions have given you the right,
you will decide where I will go.
Overman' s relationship with his dad is unique. They hike and camp together often. Recently they went on a long hike in the Northwest and then did a weekend Virginia camping trip over Memorial Day. We (his dad and himself) get into the woods every chance we get, he said.
The truth in difficult relationships is the subject of All I Say
Our kitchen becomes a courtroom
When I ask her, "What's the matter?
"What do you mean? It's every little thing."
We used to love, now I'm just crying in the shower.
There are no tears in the shower.
It's often on the trail that he considers life's joys and challenges, as in Trail Song,  
I beg the mountains searching for a sign
Please give me back what's mine
I keep your scarf in a zip-lock bag
Hoping it holds the smell it once had
As usual, he combines crisp rhythm with sharp detail.
He's developed his songwriting as he's developed his performing career. Overman flirted with early fame as an NBC's The Voice contestant, making it through the 10,000 competing in the first level at Nashville's convention hall and through round two in a Nashville studio, but not moving on from there to the famed blind audition in LA. He said he wants now to focus on touring, getting to know audience to audience.
The new record was mixed in the studio of fellow Charlottesville musical artist Sam Wilson of the mighty Sons of Bill. Sam also plays some notable pedal steel on Son, which has also been released as a single.
As a final note on the newly released album, Will Overman Band, one of Will' s favorite of his songs, one of the ones he's most proud of, on the album is The Gravedigger,  occasioned  when driving home from a Virginia Beach bar gig.
Overman:
I saw the VDOT workers on the highway. The song grows from there from three perspectives - truckers, the VDOT workers, and singer-songwriters - all living on the road, killing hours at some job.
From The Gravedigger:
Her love is my work, but my heart It longs
Each call is a line in my new songs, though they're getting stale, they're all about coming home.
I see wanting eyes from above, but they never get back
What they give, cause I pray my faith remains intact
Six shots down, just to soften the edge
And a bump of domino to bring the battle back to my head.
Overman' s record lays it all out, a rich start for an auspicious musical career.