Album Review
A Voice that Finally Gets to Shine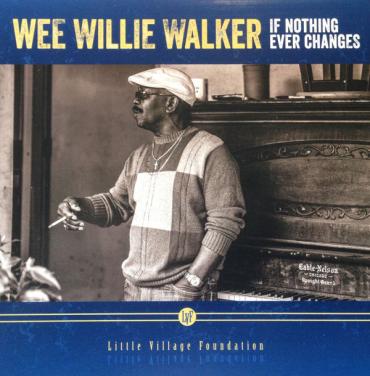 Serendipity played a huge part in this disc and it seems to simply grow from there.  Rick Estrin was introduced to this singer's music by Walker's manager, he loved and recognized the voice from his days as a youngster growing up and getting interested in music.  He fell in love with what he was hearing, introduced it to Kid Andersen, who also had the same reaction and then they decided to record Wee Willie to make all of the blues/soul lovers in the world happy.  Along came Jim Pugh - keyboard player and founder of Little Village Foundation (go to their website and take a gander) and the rest is the appropriate sweat and truth and good fortune it takes to make a disc as stunning as this one.  This is that sound that characterized music that was on 'the other' radio stations back in 50s and 60s, the non-white stations that were at the far reaches of the radio dial.  The stations that had disc jockeys like Jocko.  
Willie was born in Mississippi and moved to Memphis at a young age and like so many others back then he grew up in the church singing Gospel Music.  Sometime around 1960 he went was touring with the Redemption Harmonizers Gospel group and just decided he liked Minnesota and he just stayed there Shortly joining the Royal Jubileers Gospel group with another member of the Redemption Harmonizers.  Just listen to the first couple of cuts on the disc and you can feel that deep down gospel feel, particularly if you listen to HELP featuring Curtis Salgado.  This is one of foundations of the Rock & Roll music revolution that brought us to where we are today musically.  There is that wonderful interplay of the voices that is so featured in gospel music when 2 dominate voices split the lead vocals and encourage the other voice to do more, because it leads to the elevation of the music.
This is one of those discs for those of us that grew up with this music that is going to bring memories flooding back and rekindle thoughts of back when we were…  For those of us that didn't grow up then you will get a deeper appreciation of the music you are listening to and where it came from.  It will open eyes and perk up ears, and get moving feet out on the dance floors.  This is a voice that is finally presented so that we can all listen and appreciate the power of it and the scope and range of it.  A voice that expresses all those inner feelings you want to get out of yourself but sometimes are afraid too.  This artist and disc have been nominated for three awards by the Blues Foundation: Soul/Blues Artist of the Year,  Album of the year and Soul/Blues Male Artist of the year.   This is that pure deep Southern Soul, thank you Kid and Rick for presenting us with the inimitable Wee Willie Walker.  
– By bob gottlieb