Album Review
A Voice With Songs That Had Me Laying Back With Eyes Closed and Smiling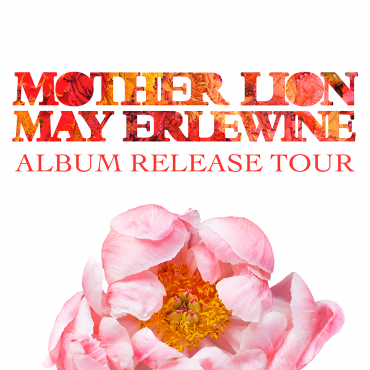 The opening track to this exquisite album is "Wild," and it draws on what made many enjoy singers like Judy Collins, Melanie (Safka), and later Natalie Merchant, Patty Smyth, Maria McKee and more specifically Nanci Griffith.
Beautifully soaring violin with no showboating, deep keyboard moods with some whistling too along with May Erlewine's fine acoustic guitar. Katie Van Dusen provides the violin and May's vocals go without saying: clean, sincere and she embodies an innocence but never naïveté.
The album "Mother Lion" is fourteen songs of mature and intensely rendered little musical novellas. Now, Ms. Erlewine is not a newcomer to the music scene – she has many albums to her credit. If you are unfamiliar with May's work this is a great place to start and then rediscover.
May possesses an easy on the ear vocal -- after a while, your ears will want her voice to continue and take you somewhere else. I listened with headphones and boy did she transport me. I was supposed to be listening to critique, instead, her voice had me laying back with eyes closed and smiling.
"Hurricane," is a blade of grass from the rhythmic soil of Nanci Griffith. It has that richness, that soulful motivation that is so empowered in Nanci's material and May has it as well and it's easily spellbinding. She is not imitating -- she is just part of that musical family. This is beautiful songwriting. This is a lesson in how it's done. It's like a good cook who knows exactly what too much salt is and what a pinch of garlic can do. May's voice blends seamlessly with Joshua Pinkham's electric tenor guitar and the drums (Theo Katzman) and Woody Goss' piano – all a brilliant portrait of Americana firing on all cylinders. And, I'll say again, it's not a showboating effort, no distracting solos, no spine-tingling runs. Why? Because the musicianship is that good and garnishing it with sparklers -- is just not in the spirit and substance of great folk-rock songs. It may work for Led Zepplin, Bruce Springsteen, and The Rolling Stones -- but this is not what May does. I'm going to have file May beside all my Nanci Griffith CDs because these two women are gold.
The third track is in a Nora Jones mood. May has brought me there with "Fine Line." Its strutting drum beat, melodic Bruce Hornsby-type Woody Goss piano, deep Joe Dart bass, and Joshua continuing with his pure tenor guitar. May's high notes are honey, and the melody is infectious. Quite an enjoyable 4 minutes.
"Too Wide," is a short deep intro to a spiritually-oriented track "Never One Thing." This is a powerful song with a wall of background singers that is soul-uplifting. On this song, May is more urban-hip and with a clean adolescent voice in the tradition of The Dixie Cups' when they sang their early reggae hit "Iko-Iko."  This is a band that was capable of creating a tight, laid-back funk that's laced together in a spiritual arrangement with hand claps and samples. Woody Goss' piano and Joe Dart's bass ever dominating. However, it's the overall vocals that drive the song. Even without stripping the gospel holy roller skin -- this is a rocking song.       https://www.youtube.com/watch?v=tKWsHKPRYY8
A slow slinky brandy-swill ballad comes with"An Awakening – Shake the World," which provides a soulful syrupy May Erlewine showcase. Add the piano and deep bass and it has an achingly good humid lemonade tasting low blues color. Brilliant stuff. Should be played in saloons just before closing time. It has a sad defiance to it yet it's optimistic and filled with urgency. Another winner.
Drawing more on her gentle adolescent type voice, Ms. Erlewine has with an abundance of notes -- an expressive style. These are value-added songs. "Paint the Town" and the more string-dominated "Beautiful" are nuggets. The guitars in "Paint the Town," are ribbon-tied neatly into a melodic package. May has quite a reliable and worthy cast of interpreters who support her admirably. The music is performed with such a light touch at times that it's dramatic and played proficiently.
There isn't a track on this album that is redundant or rehashed. Each has a magic of their own. Will you enjoy every track? No, and that's not to be expected. But there is something here for every serious listener. The close mike breathy and intimate "Mountain Top,"  comes off as a personal statement. May's voice is right there in your head like your own conscience.
"What You Want," unravels in the tradition of a strong ballad. This one has a lullaby quality to the melody. French horn and strings create an intensified atmosphere in the track as the thud of drums barrel in like thunder midway through. This is another jewel even in its somewhat subdued at times thrust. It has wonderful shading, almost like the flavor of a good wine that lingers after you have tasted it. This is such a melody. As soon as this tune ends it parallels into a piano-driven and solid "Get It Back." May's voice is sweetly dominant but with an easy approach. This song has a fascinating vocal – May goes from tuneful and whimsical to deep and vivid. The piano run is like a Keith Richards' guitar riff. Nice strings and sung with affirmation.
A full circle finale – "Grateful," is in another realm of spiritual. Johnny Cash could have sung this song effectively This is another well-thought-out and arranged piece. Woody Goss' piano and the background vocals are Procol Harum good. And that's a compliment. The song is well-crafted, recorded with a gutsiness, and May's voice and phrasing are religious in its fervor. This should become a standard song in America up there with the likes of The Beatles' "Yesterday," John Lennon's "Imagine," Elvis Presley's "It's Midnight," Green Day's "Time of Your Life," and the Edwin Hawkins' Singers' "Oh, Happy Day." The little French Horn at the end is a nice touch and it's a stirring conclusion to a stellar album.
All songs were written by May Erlewine and produced by Tyler Duncan (who played piano, Rhodes, Whistled, hit the kick drum, used a synth, provided samples, sound design, mellotron, Wurlitzer, wind chimes, floor tom, lamp shade, tambourine, Casio 601, oboe and he probably swept out the place and shut off the lights at the end of the day.
The album credits have no specific mention of any state so because May is from Michigan, I will assume it was recorded there. Other credits are too numerous to mention but May had a lot of reliable and excellent help to flesh out these well-articulated songs. 
https://www.youtube.com/watch?v=FE1UTGQPmNw
The album package I have is a strong thick cardboard foldout die-cut with a 16-page stitched booklet with lots of credits and suggested lyrics but no full lyrics. Eana Agopian created the CD design and collage. CD photographs by John Hanson.
Website: http://mayerlewine.com/#/player1?catid=0&trackid=0
Facebook: https://www.facebook.com/mayerlewine
Disclaimer: The opinions expressed in this review/commentary are those of the author and do not necessarily reflect the official position of No Depression. All photography is owned by the respective photographers and is their copyrighted image; credited where photographer's name was known & being used here solely as a reference and will be removed on request. YouTube images are standard YouTube license.
John Apice / No Depression / November 2017