Album Review
Waco Brothers Countrypunk History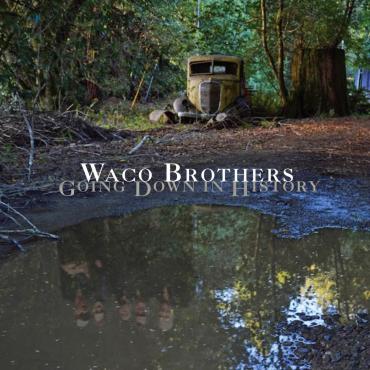 Jangly and rude, the Waco Brothers will elbow you right off the windy sidewalks and out onto the mean streets of their Chicago home base. "You can't kill us, we're already dead," the Brothers proudly proclaim on the opener, "DIYBYOB," from their latest, Going Down In History. Sounding like the Eagles on cheap wine laced with mescaline, the Brothers slash and sneer their way through a swaggering, cowpunky anthem fit for panicking livestock and small children.
Like a street brawler grinning at his antagonist through bloody, busted teeth, frontman/guitarist/singer Jon Langford's punk roots are exposed throughout. Birthed in 1994 as a side project of his British punk outfit the Mekons, the Brothers' unholy blend of country and punk soon garnered enough support in Langford's adopted home town of Chicago to land them a record deal with Chicago based Bloodshot records and tour as a standalone entity with a catalog that boasts 11 albums.
There's nothing subtle about this stuff. "We Know It" has an intro that sounds like somebody got drunk and fell down the stairs still plugged into their guitar, flailing frantically all the way to the bottom. Things untangle a bit as the song progresses with an unsettling coupling of R.E.M. and Bo Diddley in a rasslin' match.
Diddley throbs once again in the background on "Building Our Own Prison," guitars clanging like steel girders being thrown around on a construction site by convicts hoping to snap their chains or get crushed to death in the process.
The Small Faces' "All or Nothing" gets a makeover from a teen angst anthem to a more dangerous sounding, jangly '60s era Stones tirade warning a consenting adult about how its gonna be. Its a great tribute, retaining the rough-hewn soul of the original, just delivering it a little further along in life.
"Orphan's Song" could be the birth of a new genre, Cajun punk, a mix of raw bayou throwdown fiddle with some righteous honky-tonk guitar twang and punky vocals with Langford offering to "be your brother for the night.
The Waco's sound has been touted as "Cash (as in Johnny) meets Clash" but there's more to it than that. It's a grand tour of the American countryside as seen through Britpunk binoculars with the beholder looking through the wrong end of the glass, distorted and disturbing, but the imagery keeps pulling you back time and again.