Album Review
Walter Trout's Fiery Return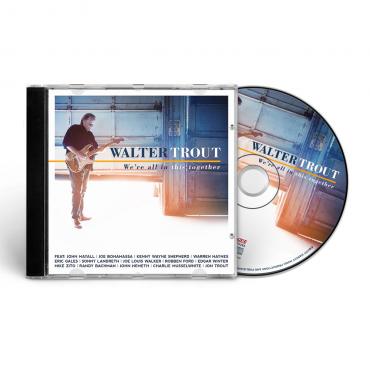 Walter Trout has risen. He had one foot in the grave in 2014, unable to speak or move, but a life-saving liver transplant resurrected him. He gave thanks on 2015's Battle Scars, admitting the album was "written with tears coming down my face." There are no tears evident on his latest, We're All In This Together, a raucous romp that showcases Trout at the top of his form jamming with a bevy of blues royalty including Edgar Winter, Charlie Musselwhite, Sonny Landreth, and Joe Bonamassa as well as former employer John Mayall.
Guest star sit-ins are an old trick too often used to flog a flagging career, but in this case it seems like a mutual admiration society that fires up both parties in songs Trout wrote specifically for each visiting musician.
He comes out roaring on the opener, "Gonna Hurt Like Hell," slinging frosty licks around like Albert Collins. Kenny Wayne Shepherd is his guest, the two slugging it out toe-to-toe in a seamless duel that Trout says even confounds him on who's zooming who.
Sonny Landreth lights up "Ain't Goin' Back" with a '50s rockabilly vibe that has Landreth sounding like a cross between a pedal steel and a buzzsaw.
"The Other Side Of the Pillow" sounds like a Muddy creation, but the harp is unmistakably Charlie Musselwhite. Trout lights this one up with Albert King ferocity, Musselwhite floating around him, wailing like a gut-shot haint.
If you feel the urge to roll your eyes at yet another cover of Elmore James' "The Sky Is Cryin,'" take heed of what that old chestnut can be polished into with the help of Warren Haynes. Duane's spirit hovers over Haynes, but Trout blasts holes in the ozone with his fiery response to the Allman connection.
Trout created a Brownie and Sonny feel for the John Mayall guest slot on "Blues For Jimmy T.," an emotional tribute to his former bassist and best friend Jimmy Tripp.
The title cut with Joe Bonamassa has both artists wearing their big-boy blues pants, tossing anvil sized hunks of blistering licks at one another. But it doesn't come across as pompous or ponderous, just two top-of-the-line guys literally right up in in each others' faces for a one-take live slugfest.
Welcome back, Walter. Please stick around.