Album Review
Walter "Wolfman" Washington Renovates The Past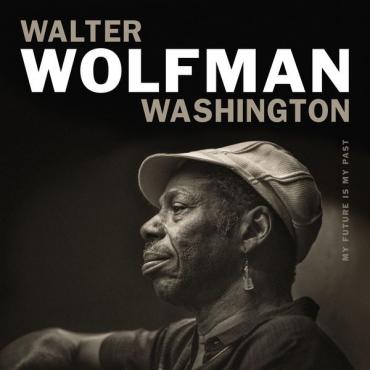 Walter "Wolfman" Washington says he wants to be remembered as contributing to the soul of his hometown, New Orleans. He's had some good teachers. When Washington was in his mid-teens, legendary crooner Johnny Adams was dropping by Washington's house and giving him singing tips. After Washington picked up the guitar, he went out on the road with Lee Dorsey at 19, and two years later, in 1962, Adams tapped him to play guitar for him, then asked him to put together a band, forming a musical touring and recording relationship that lasted over 16 years. Along the way, Washington worked with New Orleans giants including Irma Thomas, who guests on the new record on "Even Now."
Washington is without the Roadmasters, his band of three decades, on My Future Is My Past. The opening cut is just him, his acoustic guitar and his melliflous voice, crooning like mentor Johnny Adams on Mose Allison's mellow ballad "Lost Mind," traces of Nat King Cole sneaking in and out of his delivery.
"Even Now" is an instant soul classic. Washington is one of the few men left who can slug it out toe-to-toe with Thomas. But this one is a true duet, not a duel, the two magnificent voices complementing each other perfectly, serving up deep-dish soul for a six-minute masterpiece. Each one gets a chance to swing operatically from the rafters by their respective tonsils, with Washington oozing smoothly along the floorboards one moment, scraping the ceiling seconds later, with Thomas' sultry, silky soulful emanations wrapped around him like a cocoon.
Two Washingtons are featured on "What A Difference A Day Makes," the ghost of Dinah Washington's '59 recording hovering over Walter's smooth makeover in the Cole/Adams mellow jazz finger-snapping hipster mode backed with slinky, bebop standup bass.
Jimmy Hughes' genre-breaking '62 soul hit "Steal Away" that put Rick Hall's Fame studios in Muscle Shoals on everybody's radar is nearly unrecognizable, transformed by Washington into slinky jazz propelled by his Wes Montgomery guitar style.
Washington pays tribute to two New Orleans icons with his cover of Ernie K. Doe's "I Cried My Last Tear," an Allen Toussaint compositon Washington transforms from Does' laconic strut into B.B. Kingly laid-back blooze, with Washington tossing his crooner tonsils out the window, exchanging 'em for some crusty Ray Charles soul and window-shattering falsetto.
Even wearing a muzzle, the Wolfman is still dangerous, a shape-shifting genre-buster whose bark leaves an imprint as deep as his bite.