Album Review
The War and Treaty Rises with 'Healing Tide'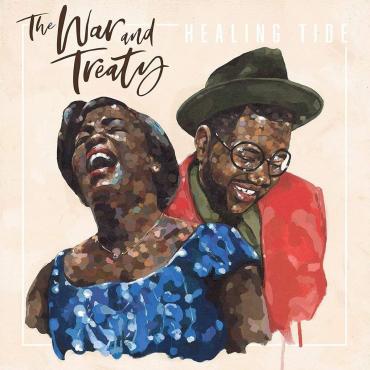 The War and Treaty, husband-and-wife team Michael and Tanya Trotter's onstage nom de plume, made their entrée into the music scene last year with their Down to the River EP. The seven tracks of Southern blues-folk moved the couple away from the '90s-inspired R&B of their 2016 LP Trotter and Blount, highlighting the Trotters' dynamic, soulful voices and making them artists to keep an eye on going forward.
On the group's first full-length album, Healing Tide, The War and Treaty build on the promise of that debut and then some. Healing Tide does more than flesh out the themes first explored on Down to the River. With the addition of gritty Southern soul to the sonic palette, a full backing band, and excellent production from Buddy Miller, Healing Tide takes like five leaps forward musically. The result is one of the most jubilant, entertaining albums of the summer.
Love is the resonant message of Healing Tide. There's the "love to my brother, love to my sister" on the minimalist, gospel-tinged album opener "Love Like There's No Tomorrow." The lead single and title track is an extension of that. Driven by a rippin' blues-rock riff, the Trotters ask, in their booming hollers:
What if I told you how to take the bad and make something good?
What if I gave you my heart from the start of your world?
Would you let me be your boy?
Would you be a part of the healing tide?
Love for one another as a device to mend America's busted racial and socio-political climate isn't the most important form of heartfelt devotion expressed over the course of Healing Tide.
Most importantlyit tells the story of the Trotters, their deeply intense love for each other, and the trials and tribulations they faced en route to becoming romantic partners.
Tanya tells her perspective in "Are You Ready to Love Me?," a sensuous Southern soul gem that wouldn't be out of place on a Stax or late-1960s Atlantic Records compilation. Michael plays a groovin' honky-tonk piano line while Tanya, true to the real-life story of her looking to cut through Michael's pain from a prior failed marriage and his time as a post-9/11 veteran to pursue a creative and personal relationship, asks if Michael has his act together enough for a real relationship. She's here, she's strong, and she wants to love him. Is he ready say the same?
The answer, and Michael's side of the story, unfolds on the hot little blues stomper "Jeep Cherokee Laredo." With an opening lyric of "I guess I put my foot right in my mouth," Michael lays out how he had to eat some crow for his adamant opposition to falling in love and remarrying. Once you get to the rapturous shared vocals on the chorus of "Ain't none of your business what we're doing in the back of a Jeep Cherokee Laredo," it becomes clear that Michael was, in fact, ready to love.
"All I Wanna Do," a rocker that blends slide guitar-driven blues with a rhythm and shared-vocal pattern on its bridge reminiscent of Sly and the Family Stone's "I Want to Take You Higher," is an exuberant expression of the profound joy and comfort Tanya and Michael have found in each other. From start-to-finish, the song is electrifying and a testament to the incendiary chemistry the Trotters have together.
With Healing Tide, Michael and Tanya Trotter have created a pure expression of their interconnectedness as a married couple and musical collaborators. From the way their powerhouse voices harmonize together to the autobiographical lyrical content and genre-hopping musical styles, The War and Treaty have made as authentic and pleasing a listen you could ever ask to hear.