Album Review
Water from the Wells of Home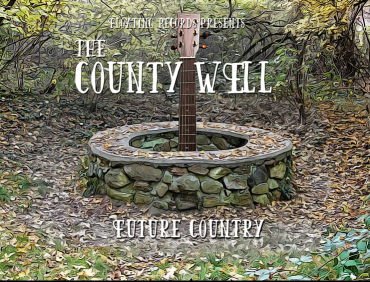 The latest release County Well's "Future Country"from the fledging label, Floating Records, provides a strong argument that there may be something in the waters of northern California that lends itself to some fine roots music. Founded by musician and songwriter, Don Zimmer, the idea for a musical collective, began on a Sausalito houseboat. If water conducts energy and music is carried through its currents, then, this album is drawing from the well of classic rock, country, blues and jazz that has long inhabited the San Francisco area locale. 
With the 2017 release of  Jeffery Halfords and the Healers Low-Fi Dreams the label became a contender west of the Mason-Dixon line when the album took a seat on the weekly national Americana and European charts. "Future Country" has the same potential.
Now, to keep their momentum, Zimmer and Floating Records have released a series of inspired roots-based albums by northern California independent artists including Zimmer's album. On this album Zimmer collaborates with author and songwriter, Graham Guest. The ten tracks help to define a new strain of California country. There is a feeling here of their musical ancestors, Dan Hicks and the Hot Licks, Hot Tuna and the loose experimental feel of The Grateful Dead at their Workingman/American Beauty best.   
But, an original vision is at work here with a definite San Francisco feel that helps to support the album as Zimmer and Guest move into more stylistically experimental areas. With inventive jazz strains, country harmonies, drifting steel guitars and dream-like saxophones and flutes, there is a flow to every track that provide an engaging continuity. The music is as experimental as it is conventional lending itself to the kind of magic that can only happen on independent recordings without the constraints of commercial pressures. Future Country allows the creative muse to roam freely around this musical community.
The album's opening song, "Alabama," brings in a hypnotic train-like pedal steel that contrasts with the fast-paced rhythm of the song. "Baby" takes a similar ride with Dead-like harmonies and a solid country feel.  There is skilled acoustic experimental harmonic fusion on the song, "Light."  The final song, "Subtle and Serene," takes its pace from The Dead and Ratdog with some inspired improvisational psychedelic instrumentation.
County Well's debut outing finds its definition in the creative movement from experimental to the familiar. Zimmer and company are able to relax as they create and inspire. Their home base is always found in a front-porch good time feel.  The experience of this album is a kind of musical garden cultivated with multiple genres all grown from country roots and watered from a county well in California wine country.