Album Review
The Weird, Wild World of Traveller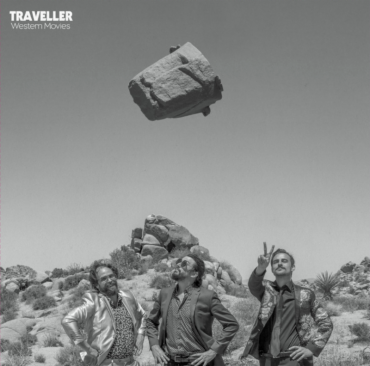 It was just a few years ago that Robert Ellis joined forces with Jonny Fritz and Cory Chisel to create Traveller. A humorous, fly-by-the-seat-of-their-pants set at Newport Folk Festival earned them some buzz and likely a lot of questions about when they'd put an album out. Last summer they came together again for a few shows, and that same question lingered. It was clear they had a strong batch of songs and a love for playing together that's rooted in long, deep friendship. This year, the wait is finally over, as they've officially released their debut as Traveller. Western Movies is comprised of all the songs they've been performing live together over the years, and it warmly captures the playfulness of their stage presence.
All three members of Traveller are strong solo artists, but have vastly different catalogues. Ellis is a master of dark, intricate country music. His detailed storytelling on albums like Photographs and The Lights From the Chemical Plant, coupled with the bigger sound he explored on his more recent self-titled album, have earned him critical acclaim. Fritz, who once went by Jonny Corndawg, is known for clever, twangy "comedy country." He writes songs that are as fully realized as great comedy sketches, evident on his last two records, Dad Country and Sweet Creep. And Chisel brings a softer, folksier point of view to Traveller, with his soulful rasp and dreamy love songs, most recently captured on Tell Me True, a stunning album of duets with his wife, Adriel Denae.
The album opener may be Western Movies' best example of the way the three perform their songs – with each taking their fair share. "Nobody Makes it Out" finds Chisel leading the charge, with Fritz in the middle and Ellis bringing up the rear. They build their harmonies as the song goes on, capturing the essence of feeling trapped in a small, rural town. "Hummingbird" is a wild song from the imagination of Jonny Fritz as he dreamed up a backstory for a woman nearby him in line, and it comes to life in this tune about feminine empowerment that reimagines the end of Thelma & Louise.
"Christmas Eve at Kroger" is a depressing ode to a gritty grocery store with the particular kind of dark humor that runs all through Western Movies. They're lovingly poking fun at life's big failures and small victories, from a grim dating scene ("Chia Pet Goatee") to a constant inability to be satisfied ("Happy in Hindsight").
Traveller may seem like a less obvious collaboration on paper, but they make an oddball kind of sense when they perform together, and damn if it doesn't seem like they're having the time of their lives, noodling on guitars and laughing at themselves.