Album Review
Western Centuries, Look Backward for their Future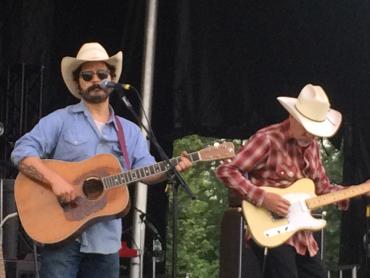 There was a time in musical history when genres were described differently. There was a style of music called Country and Western. It encompassed many substyles under that umbrella term. Styles such as rockabilly,honkytonk,western swing,southern hillbilly along with ballads and instrumentals spanning blues, bluegrass and cowboy tunes. Today these styles generally don't mix on our genre-wary radio stations. While pop sounding "country' singers coexist with their "bro-country" cousins on the radio hit machines, certain styles are ignored completely.
Occasionally, a band stirs up the musical landscape by incorporating multiple strains of this country music to stand out from their more commercial peers. Western Centuries is one of those occasions. They are not afraid of embracing the "western" elements of that old country western sound.
In the 1950's a cross hybrid of this music developed among poor whites in Texas and Oklahoma. It was stripped down raw music which had it's roots in western swing, blues and "ranchera" music from the southern border states. This "honkytonk' music played a large part in the dance halls. During the 1960's most country artists dropped most of their "honkytonk' and "western" influences from their sound in favor of more popular and folk music. These days, it's rare to hear a band embrace many of these roots from the music in one multi-flavored diverse sound. Western Centuries does just this effectively in their "Weight of the World" release.
Western Centuries is a band with very few comparisons that fit. They are a uniquely literate bunch who write some of the most original country western ("read" SouthWestern or NorthWestern) music today! They are a true triple threat with a common vision to be true to the music they love. Their music can quiet a crowd, bring out a tear, induce a thirst; all the while reminiscing about classic country topics such as hearts lost and love gained. They do this in a super creative almost subversive way by injecting thoughtful literate viewpoints at the same time tempting the dancers in the hall to grab a'pardner'on the sawdust floor.
The band consists of three top tier songwriters; Cahalen Morrison, Ethan Lawton and Jim Miller,who each contribute equally with this batch of tunes. They each have a distinct background and history which form their contributions to this gloriously old school batch of songs. They share a common love of old school country roots music from different starting points. Cahalen Morrison originates from Northern New Mexico where he states," I grew up around country music, it was one of the only radio stations we got so I was forced to grow up around it. The area of New Mexico I was raised had a lot of 'horse culture' and cowboy culture. It's all around there." He agrees that "it's real country western music not Nashville songs by a long stretch". He continues to explain," I went across the border to Southern Colorado to go to school there.Since then, I've been based in Seattle Washington." Cahalen laughs when I call his songs uber-literate but confesses that he has literary heroes which inform his work. "I read Gabriel Garcia Marquez for the flowery language of the south while I also love the stark imagery of Cormac McCarthy as well." "Honky tonk music with vocabulary "was my summarization. Some of my favorite lines in this disc are from Cahalen's Philosophers and Fools, "No battle is ever won/The end in sight almost never comes/And seamless love is the construct of/Philosophers and Fools" The title cut starts off the record with a lilting almost Paul Simon Graceland tempo. Verses alternate between the male and female perspective until it concludes the difficulties of relationships in the chorus, It's like one plus one/The way that I've been livin aint the same/It's like trying to get more daylight out of /a steadfast setting sun. Like I said,keep a thesaurus handy.Cahalen's duo work with Eli West prior to his work with Western Centuries is full of gorgeous references to the physical landscapes of the American Southwest. I recommend 'I'll Swing My Hammer With Both My Hands' for those unfamiliar with this stellar work.
.
Ethan Lawton is a multi-instrumentalist from South Seattle. He writes the best drinking songs on the new disc."In My Cups" and "Off The Shelf," both are love songs disguised as drinking songs just as "Double or Nothing" is a love song disguised as a gambling tune.In the Western Centuries, he plays guitar and drums but I first came across his work as a mandolin player in Zoe Muth's Lost High Rollers. Ethan says, " I was on Zoe's first three albums, she's a NorthWestern artist too, I toured a lot with her. We're still real close. She's a fantastic songwriter." When I asked Ethan about his formative music days, he dismissed that stuff" as written by folks who write press releases. The influences that I'm bringing to the table is everything I grew up listening to. I definately started in the punk genre, old R&B, but mainly it's just "old music'. I like everything old." When I mention some of my favorite tunes from the "Weight of the World" such as Double or Nothing are sad love lorn tunes, he summarizes, "I tend to gravitate toward heartbreak songs with an optimist twist and an upbeat melody."
Jim Miller comes to Western Centuries from a much different beginning. He cofounded Upstate NY's revered 'jam band' Donna The Buffalo and toured with Zydeco legend Preston Frank. Both these influences can be heard clearly in the mix. He write three tunes on Weight of the World including my favorite "Knockin Em Down' which seems like a relationship song disguised as a drinking reference (sound familiar?). "The Long Game" has some of my favorite lyric wordplay. "The path of least resistance/ Is a path that's goin nowhere/We all struggle each day/Tryin to make our way till we're all there" It concludes"Everybody needs room in their hearts/For the one bird who wrote the song/Forgive and forget, the words live on/Born as a vessel with a permanent hole/ How not to run dry/ Sail straight with a true eye."
It is telling when I ask each of the songwriters for their favorite song on the album, all three mention one of their partners songs as their favorite. The lack of egos and "territory' seem to bond these three togther for the fun of the musical experience. When asked about challenges to share songwriting and vocal duties, Cahalen admits, " It seems difficult but it's working so far." Cahalen mentions Jim Miller's song "Rock Salt" as his favorite from the release. He explains, "Jim worked a lot with Preston Frank. Jim uses some of those zydeco elements that come through in that song. It came out really great on the record." It also is the closing tune in the Western Centuries set I caught recently at the GreenRiver Festival in western Massachusetts. The band featured much of "Weight of the World" in it's hourlong set but also a bevy of new tunes as well. I ask Ethan Lawton about the new tunes and their plans for them. "The plan so far is to record a new album in Louisiana. We've got a batch of new songs that we've been trying out and they're slowly working into something we're really happy with. We're planning on going down there in the middle part of August and seeing how much we can lay out. We'll see what happens."
As for the present, Western Centuries is touring throughout the Summer Festival circuit.Make sure to keep an eye out for this talented trio who add to their sound with an excellent bass player and pedal steel (of course).  Weight of the World is produced by Bill Reynolds and available on Free Dirt Records.