Album Review
The Wet Secrets Will Not Stay Mum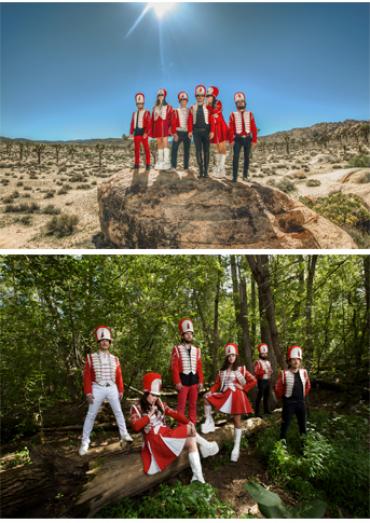 Having never heard the band, when I received a record whose cover showed six individuals dressed like my neighboring and rivalry high school marching band, and when I read the phrase "dance rock" in the opening sentence of the press release, I was more than ready for the quick play, stop, delete that frequently fills the day. But alas, dance rock ain't bad at all. In fact I think this album is one of the cooler things I've heard in a while.
Pulling together the Shins on an Electronica overdose, drunk on a cocktail of mesculin and qualuudes, the poppy inscrutability of the B-52's, melodies that flashed me back to a cantankerous mushroom trip circa 2001, and smooth, funky space jazz ... all of this is as logical a palate to paint The Wet Secrets picture as I can muster.
Hailing from Edmonton, AB,  home of hockey and other cold stuff, the Wet Secrets bring insurmountable heat in the most quirky-cum-cool fashion on their latest EP. The sextet all share in vocals, which leaves ample room for harmonious layers and heaping helpings of horns, synths, booming bass lines, percussion, and drums.
I Can Live Forever (out Jan. 8 on Six Shooter Records), is equal parts art punk, space funk, and pop junk. This EP is entertaining as hell and wildly addictive (it's the synth and the horns, man, they get you every time); especially when coupled with brilliant songwriting and six tremendously talented folks dialed into their 'own' thing. There's nothing more I respect in music.
This disc is only four songs long and the band has an LP slated for a May 2016 release on Six Shooter Records. If you haven't already, get to know The Wet Secrets -- they're too good to stay mum.