Album Review
White Buffalo Woman's Foolish Hearts is a Hard-Hitting Throwback to the Golden Age of Rock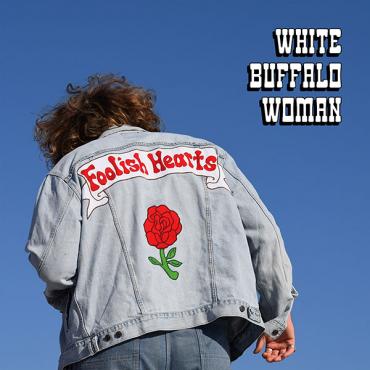 The band seemed to draw energy directly from the bright lights shining from above in some kind of photosynthetic ecstasy. Above a relentlessly pounded high hat and driving bass fluttered guitar licks straight out of another era as the vocalist strutted across the stage, pulling the microphone stand around with him as if it were connected to the floor by a spring, now leaning out into the crowd with a wild, wide-eyed expression, then turning to face the drummer as if that audience were not even there. It was my first time seeing Minerva, Ohio's White Buffalo Woman and the level of showmanship was impressive.
"They're definitely rock 'n' roll, not rock," said billmate-turned-audience-member Demos Papadimas, leaning against the darkened bar at the edge of the club and sipping a beer as if his pronouncement explained everything one needed to know about the group. And in a way, it did.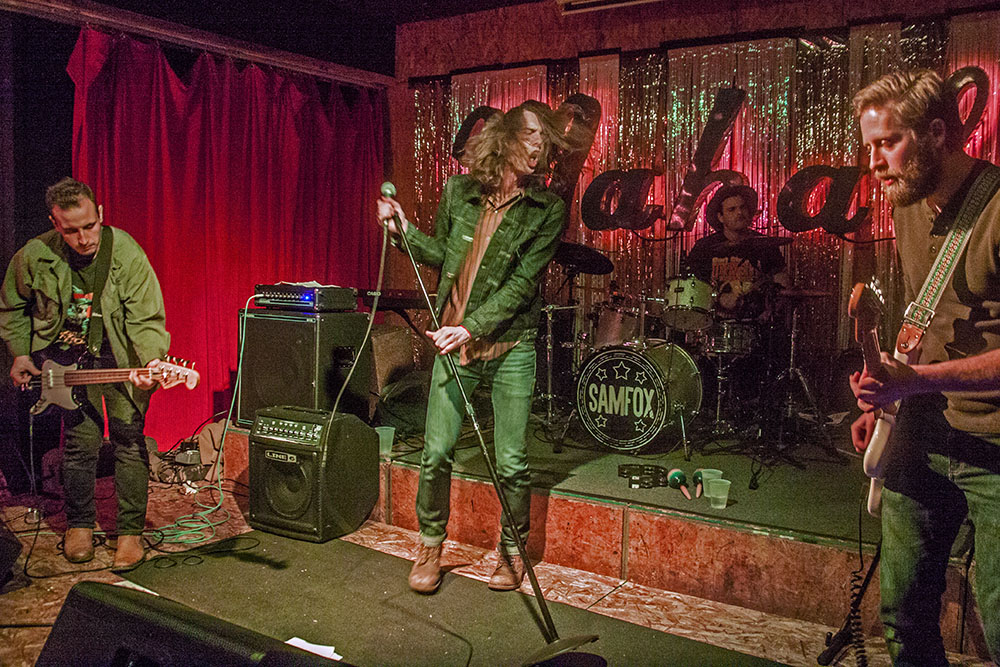 White Buffalo Woman is a band that seems displaced in time. The group's songs are short, punchy, and uncomplicated, as if crafted for the heyday of AM radio. They spring from forms dating between the birth of rock and the early 1970s, ranging through styles as diverse as country rock, blues rock, and psychedelia, appearing like archeological finds hidden beneath the dust of the modern soundscape.
"That is a 100% natural thing," explains lead singer Evan Rutledge. "We don't try to do a certain genre; we just do what is natural… what we listened to as kids… what inspired us to pick up guitar or play the drums or sing, that's just what came out. We listened to rock 'n' roll and as we started playing around, that's what came out.
"My parents had a huge influence on me," he continues, echoing a sentiment shared by his bandmates. "You know, riding in the car, listening to the oldies stations, listening to Otis Redding, Buddy Holly, the Beatles… I mean, that was it… That's what I grew up on… Thank god we had pretty cool parents."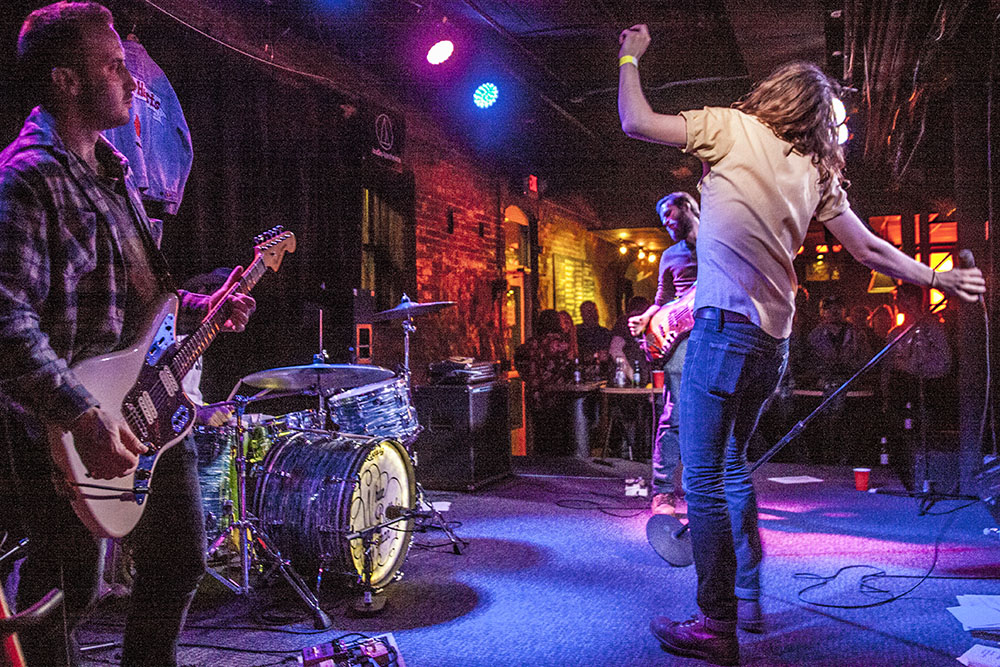 Their philosophy seems to be hit 'em hard and leave 'em wanting more, whether live or in the studio. No pretention, no gimmicks, no frills; just pure rock adrenaline.
"For me, I have this verse, chorus, verse, chorus, solo, chorus, chorus, chorus ingrained in my head from those old tunes," Evan says.
"We try to stay away from the 'jam' genre," adds guitarist/bassist Devin Bezeredi. Instead, the band strives for songs that are "packed and self-contained, not really that complex." Their goal is to, "Just put it out there, two minutes long, bang it out, rather than go the more self-indulgent route where everyone has three solos."
That simple and punchy philosophy extends to the group's lyrics, which also feel like they stem from an earlier epoch. With few exceptions, they stay away from the metaphorical vagaries that mark the post-Dylan musical era and return to the more personal themes that filled up countless 45s.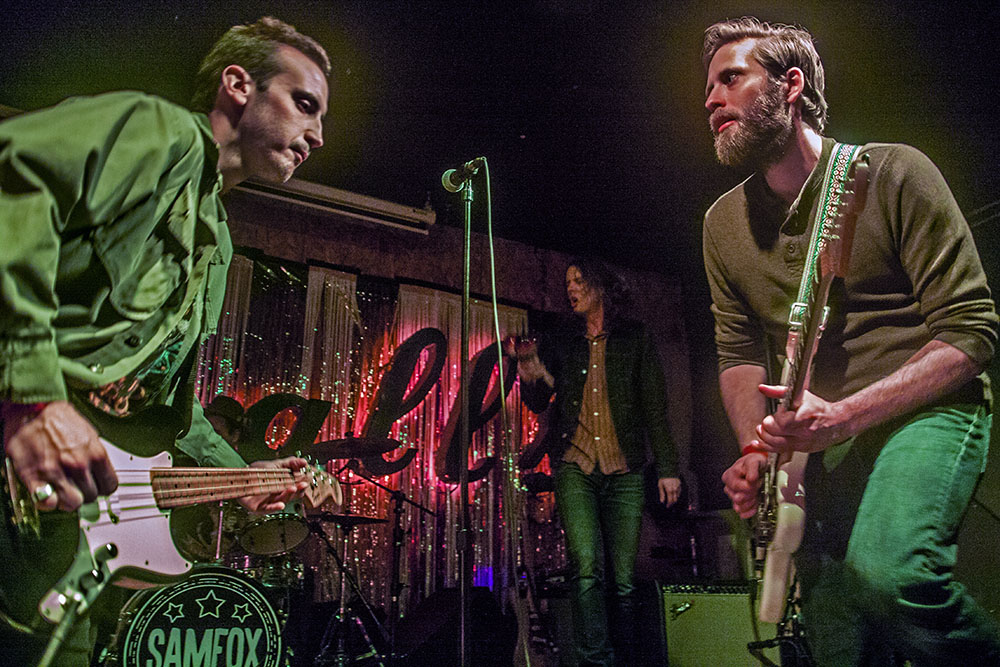 "I get kinda bored listening to songs that I can't relate to," says Rutledge. "One of the things that a lot of people can relate to is relationships, maybe love or just friendship or whatever. That intrigues me and I think that intrigues a lot of people because we all have relationships, we all have shitty things that go on in our life with girlfriends or boyfriends or whatever. I want to express a little bit of me through the music and that's what comes out."
"I rarely write a lyric before we write the song," he explains. "The lyrics to me are within the song. They come out in emotions and however I feel about this song, whatever's going on in my life. If it's a good melody, riff, or whatever. I write a melody and the lyrics just kind of spawn from that."
And while wordsmithing is a one-man job in this band, the formation of the music is very much a communal effort that ironically enough starts out very counter to their compact compositional philosophy.
"We create songs through jamming like 20-minute" experiments, Rutledge explains. In their twice-weekly rehearsals at a local Minerva theater, the band throws everything into the pot and then boils it down until it forms the perfect reduction.
"It's a long process," he says. "We don't write a whole song ourselves and bring it to the band, 'This is the song. This is the verse. This is what we're gonna do.' We don't do that. It is 100% collective." One member might come up with a riff or a melody "and we present it to the band and we jam it and we record it and we listen to it later on and we'll be like, 'Hey, man, I really like that one song we did last Tuesday. Let's focus on that.' That's how we write. It's through jam."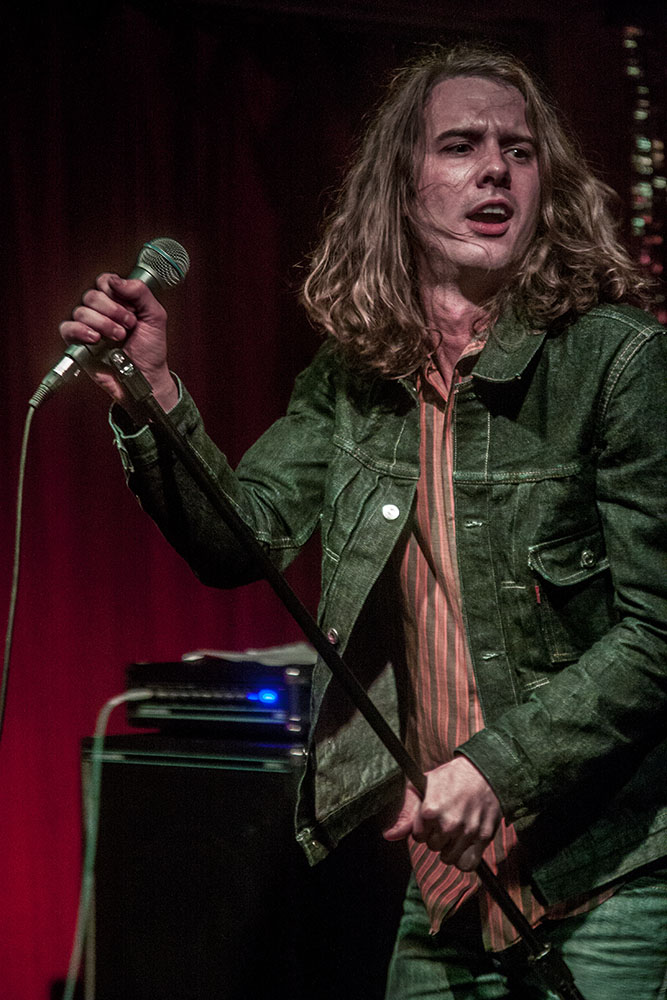 Another key throwback element of the group is that the lead singer is focused solely on his vocals and unencumbered by instrumental duties—a rarity in modern bands, especially male-led ones. This leaves him free to gallivant across the stage, delivering the kind of frenetic, engaging performance one typically associates with the rock gods of yesteryear.
While his bandmates create the musical foundation from which he leaps, it is this energetic frontman who is responsible for much of the band's live appeal. Rangy and with unshorn locks, he's quick to smile but relatively reserved off stage. Yet put him under the lights and he seems to expand into a larger-than-life figure, evoking a blusterously sashaying Mick Jagger one moment and an emotionally drained Otis Redding the next. Hayes Carll described him perfectly without even knowing it: he's "like James Brown only white and taller, / And all [he] wanna do is stomp and holler."
"I guess I'm kind of a shy person—kind of an introvert," says Rutledge, "but when I get on stage I definitely release something and it feels really great. You know, after the show I kinda wanna crawl in a hole and hide from everyone, but when I'm onstage, I notice people's eyes… I notice people, the way they move or they're getting into the music, or just kinda looking back, and if I stare at them a little bit or try to interact with them a little bit, I feel like it connects a little bit better with people, and by doing that, I can't just stand straight up and just sing. I really have to move around, just kinda get down and kinda connect with people's eyes. And that's basically my whole goal for it, to try to get everyone in a room connected with the music."
Complimentarily, those theatrics from their frontman frees the other members to focus on the music more than on their appearance.
"Just trying to put on a good show and play well is the first priority," says Bezeredi. "I don't really think about the entertainment aspect a whole lot. I'm glad Evan's there to take that burden off me and as kinda the focal point. I'm there to just play guitar… I'm just trying to create a mood really, and I do that best through my instrument. I don't really engage people through like looking at them or interacting with them. I just try to make them feel something by playing my instrument and that's what I do. I'd say it's kinda weird, because we're a band of pretty much introverted people, besides Joe [Wales], who has the cruel fate of being the drummer and is in the back. Evan does a really good job of giving us the presence and the engaging stage show."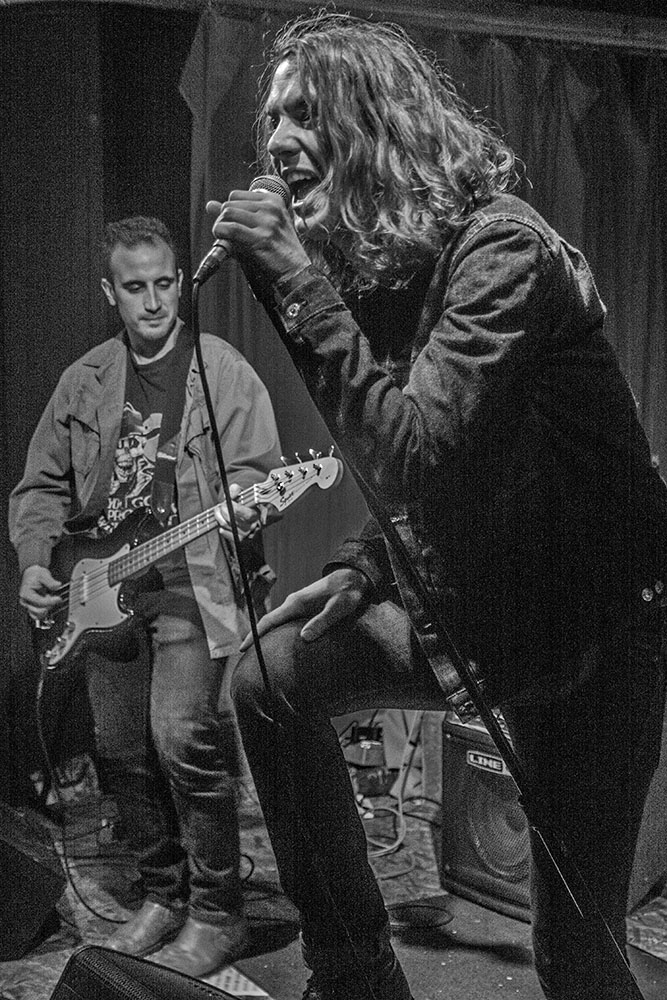 The band's sophomore album "Foolish Hearts" is a hard-hitting collection that builds on what the group learned developing their self-titled debut. However, while that album was recorded a few tracks at a time over a long period, the process here was "dramatically different," according to Rutledge.
"We were offered to go on a two-week tour in early 2018 for promotion of an EP or LP. At that point we had about three songs finished and lots of ideas recorded from practice. We wanted to go big and push ourselves to see what we could come up with. So we decided to record a ten- to twelve-song album throughout the summer in 2017. We already had a bunch of gigs booked, so we knew that in between rehearsing, writing, gigging and recording that it would be pretty busy summer for us. We were sometimes writing the songs within a week from the studio date and coming into the session without ever playing it live in front of an audience. It was an exciting, yet strenuous summer. I feel like these songs all have a familiar vibe and feel because we wrote them all so close to each other.
"I will say we are all riding the Devin Bezeredi hit train on this album," Evan continues. "He came up with a lot of the guitar riffs. Having Devin in the band full time has made the writing of these new songs much easier. The last album, the songs took forever to develop. That still happens with some songs, but it was much easier with this set of songs. I feel the songwriting is a lot stronger on this album too. And we are getting better in the studio. We are getting the sounds that we have in our minds and are able to record it on tape."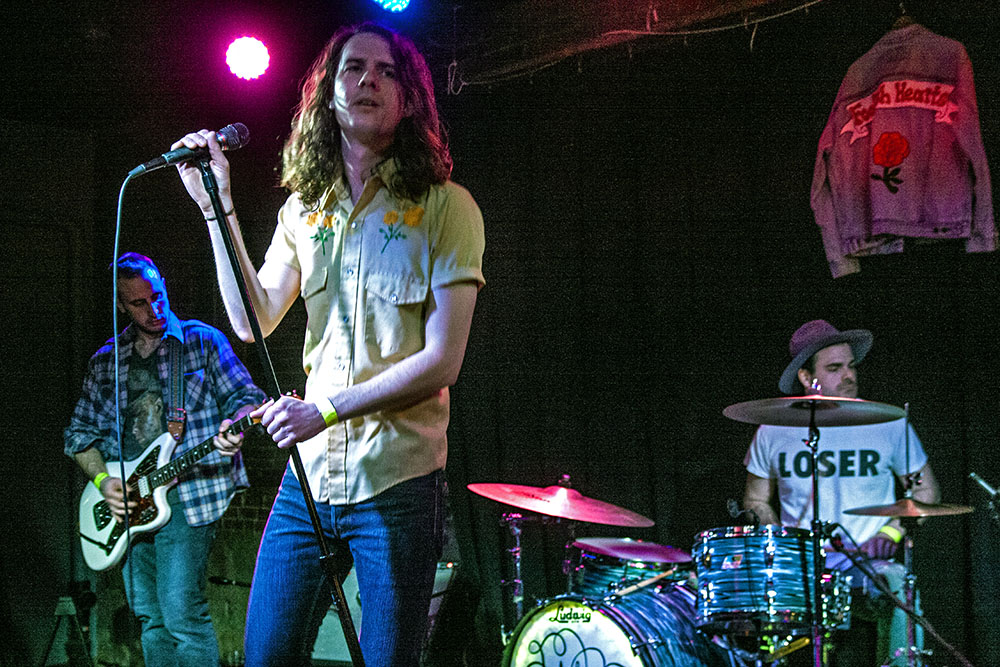 With a drum intro incongruously copped straight from The Ronnettes' "Be My Baby"—which Rutledge describes as his "favorite song of all time"—the leadoff track "Love Resolution" nevertheless falls definitively on the psychedelic side of the group's repertoire. The guitar line drips with imported Texican swagger that makes the track feel like it was plucked from a 13th Floor Elevators or Sir Douglas Quintet album.
The lysergic feel is reinforced by the song's video featuring mind-bending projections engulfing the band. The static, set-piece lineup makes the piece feel like it could have been culled from the archives of a 60s late show segment, just past the days of bands in matching suits, but before the advent of true music videos.
"We wanted the live band set to feel like a cable access tv show," says Rutledge. "We had no real reason behind that part other than we thought it looked funny!"
Even the normally free-ranging lead singer is portrayed standing erect, stone-footed, and looking a bit like an uncomfortable Jim Morrison chafing at his restraints. His intense, wild-eyed stare is present as ever, however.
"'Love Resolution' was the obvious choice for us to highlight," Rutledge explains. "We felt like it represented the whole album well and was a perfect midtempo song to start out the album and be our first music video. To me it foreshadows the whole foolish hearts idea. It prepares the listener for the events to come."
Those events include the saga of "Honey Love," a blues-infused rocker that "tells an amazing story of a fellow who used to live in our small town of Minerva, Ohio," according to Rutledge. "Not everything in the song is exactly true, but it's based around the legend of Honey Love."
Starting with a guitar-string-sliding shot to the heart, it tells the story of a man who doesn't exactly react well to a breakup:
I got a letter in the mail this morning,
Said, "I can't leave; you gotta give it all away," yeah.
So I took everything out the goddamn house,
And I took my ax and I cut it in half, yeah!
Oh yeah, I did, baby!
'Cause she told me I couldn't love her now,
So I don't.
To me, the song evokes Jagger with attitude turned to 11, and it's almost impossible to listen to the track without picturing Rutledge peacocking across the stage as he sings in true Stones style. For his part, though, Evan says he was "excited to do my best Otis Redding" at the song's conclusion.
The lyrical zenith of the collection is "Electric Eyes," another dreamy psychedelic excursion filled with hippie rock staples like sweeping, fuzzy guitar chords, climactic vocal harmony, and impressionistic lyrics that come straight out of a smoky haze:
I feel your eyes creepin' 'cross the room tonight.
I feel them now as you open up your mind.
Your blue eyes and your calico stare…
I feel you once and I know that you're still there.
Electric eyes meet mine.
One look is hard to define.
I got a feeling; I know you're mine.
I wait to see and know in time.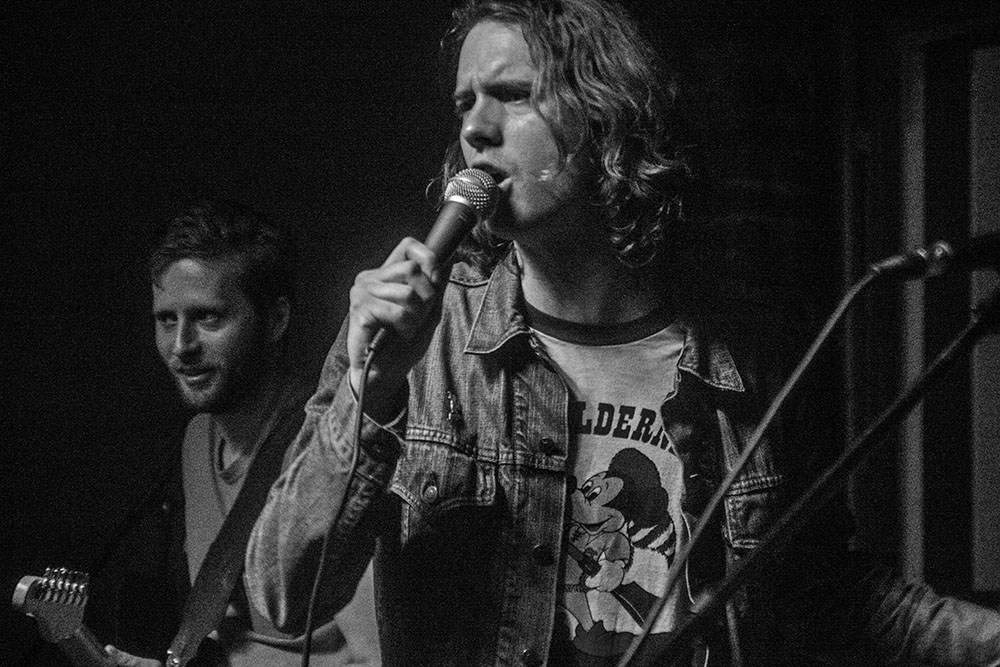 The trippy vibe continues with "Do You Ever Think of Me," which quite possibly resulted from some sort of recombinant gene splicing experiment that mixed Procol Harem's Matthew Fisher with a late-Beatles-era George Harrison and Chris Connor from Angela Perley & The Howlin' Moons. From the resonant, sitar-like guitar opening, through the power-bass-and-cymbal-driven verses and brightly organ-inflected choruses, and to the final fire-breathing guitar attack, it's a high-energy rollercoaster for the ears.
With its frizzy guitars, driving drums, and spit-shot, reverberating vocals, "Drowning in Love" is pure swagger. Punchy but ambiguous lyrics make it hard to tell if the track is a breakup song or a murder mystery. The piece conjures the spirit of Jim Morrison influenced by Lou Reed's punk side, especially in the climax of the piece where Rutledge first repeats, "I need love! I need love! I need love!" before changing gear to an ever more urgent series of exclamations of "I can't breathe! I can't breathe! I can't breathe!"
Other highlights include the uptempo barnburner "Cryin' Shame," with its impassioned vocals addressing an unfaithful siren between fiery guitar licks, and "The Way You Smile," a tale of infatuation marked by bright, sprightly guitars that drift into wah-wah dreaminess.
The album's most sedate selections come at the end, including the penultimate track, the organ-heavy, unhurried soul tune "King of Your World," which offers a respite from the hard-hitting pace taken by much of the rest of the album. Especially notable is the slide guitar solo and Rutledge's vocals, which at various times synthesize the fiery passion of James Brown, the sensual smoothness of Sam Cooke, and the ardent expectorations of Otis Redding. Otis in particular seems most present in the refrain as Rutledge declares:
I want to be…
I need to be…
To be the king…
To be the king
Of your world!
If you hate the over-produced blandness of today's pop rock and long for the days when rock truly rolled, White Buffalo Woman is the band for you. While lacking the lyrical heftiness that I usually look for, the band's simpler compositions function well within their throwback framework. And while their true talent is as live performers, Foolish Hearts is a collection of well-executed songs that stands up to repeated listening. It's well worth the price of admission.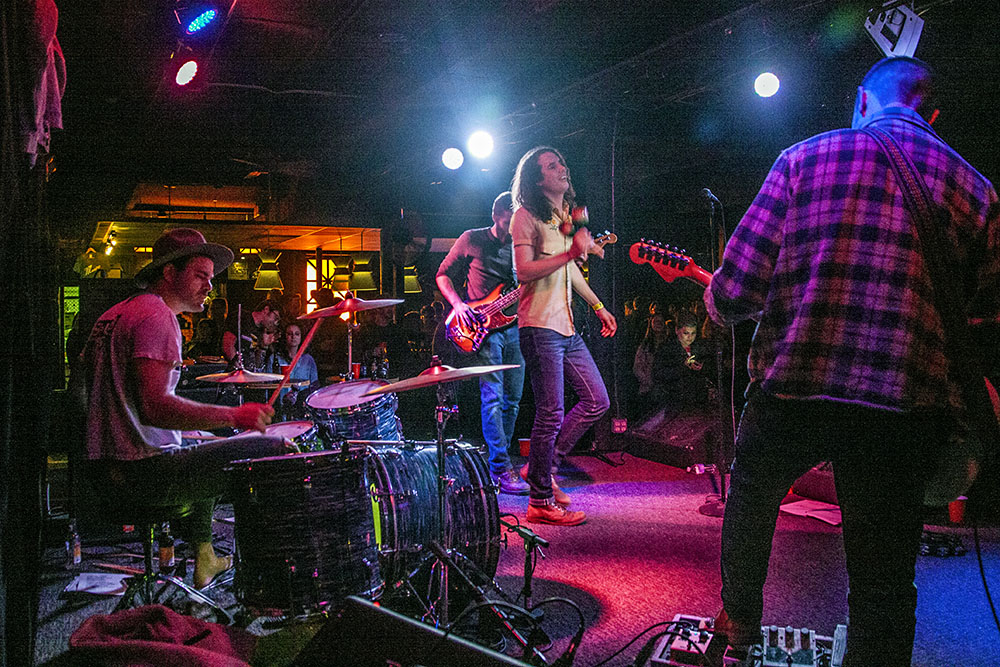 tldr: If you like your rock 'n' roll the way it sounded in the good old days, Foolish Hearts is for you.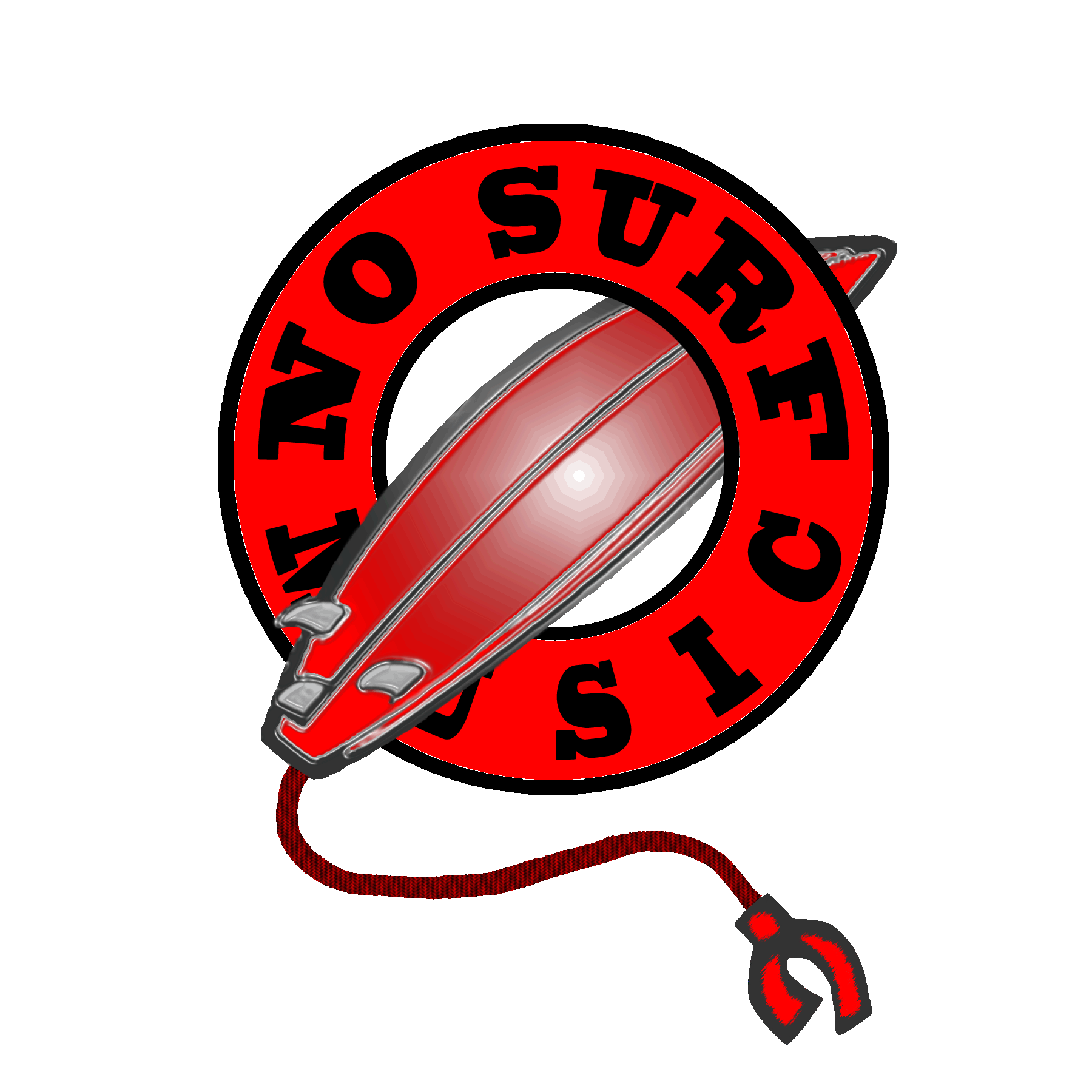 Originally published by No Surf Music