Album Review
Whitey Morgan and the 78's Release Another Gem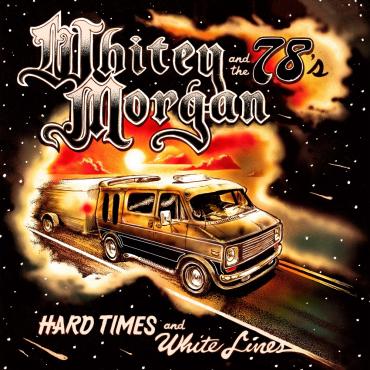 In terms of songwriting precision and quality of recorded performance, Whitey Morgan has established himself as one of the primary talents in outlaw country. I'm not one for hyperbolic commentary, but the guy seems incapable of writing a bad song. Every tune he pens or co-pens showcases a potent blend of traditionalism (heritage) and originality (rebellion). He pays homage to the genre's icons while never failing to embody the spirit of outsider-ism.
Certainly his content draws from country's age-old reservoir, themes such as drunkenness, cheating, life on the road, and heartbreak. Also, Morgan's vocal is not unfamiliar, reminiscent of Hank Williams Jr. and to a lesser degree George Jones, Merle Haggard, and David Allan Coe. But his presence is palpably iconoclastic, his lyrics and the voice in which they are delivered undeniably authentic. His band never flags, Morgan and his supporting musicians, the 78's, an exemplar of natural rapport and hard-won chemistry.
Having released three previous albums, each a benchmark for outlaw and/or honky-tonk country, Morgan and the 78's now reveal their fourth LP, Hard Times and White Lines. The album opens with the pensive "Honky Tonk Hell," a depiction of corporeal and, by metaphorical extension, otherworldly perdition. "I walked the clean and narrow / till one night I fell / into the arms of an angel / down in this honky-tonk hell," Morgan sings, his snapshot of the delinquent soul incapable of wending his way back to the light. In this way, he implicitly touches on one of country's foundational motifs: damnation vs. salvation, with damnation being the more common outcome. "Bourbon and the Blues" is an apt follow-up, Morgan alluding to Hank Williams Sr., Birmingham, and "this lonesome train / called bourbon and the blues." The song is carried by Morgan's absorbing voice and impeccable sense of melody. The band is by turn understatedly supportive and boisterously assertive, including an energetic lead guitar part at the end of the track.
"What Am I Supposed to Do" shows Morgan and band veering into folk-rock territory, intro and verses driven by a strumming acoustic guitar, chorus veering into tones and melodic transitions more congruent with the country songbook. "I'm 45 and I've got no place to hide / I've got nothing left to lose / is this what I get after all that I gave / what am I supposed to do?" Morgan sings, a jeremiad – replete with allusions to aging and the inevitability of disappointment – delivered with a smattering of wry humor. Morgan and band pull off a convincing version of Dale Watson's "Carryin' On," a self-portrait – written in the second-person – in which the singer rues his declining physique and wayward ways. Also included is their take on ZZ Top's "Just Got Paid," both remakes demonstrating the group's ability to claim a cover as their own, as they did with Springsteen's "I'm on Fire" on 2008's Honky Tonks and Cheap Motels and Johnny Paycheck's "Meanest Jukebox in Town" on 2010's self-titled release.
"Hard to Get High" features a vintage play on words: "Hard to get high when you feel so low." "Tired of the Rain" is Morgan's contribution to the corpus of country love songs, his ode to shattered romance. "Maybe I wasn't meant for love / love wasn't meant for us / either way I'm moving on," Morgan concludes. The album ends with "Wild and Reckless," a twangy anthem that alternately glorifies and bemoans life on the road, as well as the depravities, egoic highs, and devastating lows that accompany it – rowdy crowds, booze, and "honky-tonk angels."
With Hard Times and White Lines, Whitey Morgan and the 78's augment their exceptional oeuvre. As with previous recordings, Morgan's smooth but weathered, accessible but complex, amiable but rugged vocal immediately enrolls a listener, as do his striking melodies – simple movements, mostly revolving around three-chord structures, that never devolve into overt formulae, though they remain grounded in traditional progressions. The 78's are optimally simpatico with Morgan, further honing a complementary dynamism that was abundantly present on previous work. I'd include the album – along with Sarah Shook's Sidelong (2017) and Years (2018), Jamey Johnson's The Guitar Song (2010), Loretta Lynn's Van Lear Rose (2004), Lucinda Williams' West (2007) and Down Where the Spirit Meets the Bone (2014), and Sturgill Simpson's Metamodern Sounds in Country Music (2014) – on a short list of contemporary projects that impacted or will impact the genre's trajectory, particularly the subgenres of outlaw, honky-tonk, and roadhouse country.