Album Review
"Why Bother" Exclusive Song Premiere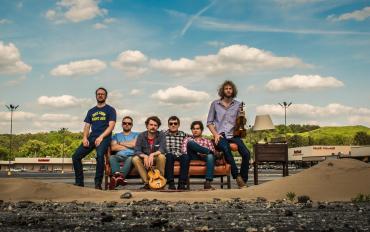 Every now and again, I get a record from a band that sticks with me. Be it in innumerable listens, nuances gained with each press of "play," or even the chance to work further with the band. With Atlanta's Quaildogs, it's been all three. The Getting Old Factory is a genuine mood elevator every time it's heard, be it a full album spin or a song permeating its way on shuffle through these mp3 player doodads. Either way, I'm always moved to push the volume up or to ask someone to do the same. The irony being I'm a guy who regularly endures copius amounts of Mississippi Hill Country blues and grittier lo-fi recordings in one form or another. The Getting Old Factory couldn't be further away from my safe place, yet I dip into it every time the sun is shining, when better times should prevail.
I'm overly pleased to debut the second track on The Getting Old Factory, "Why Bother". A fiddle laced, lap steeled, bonafide toe tapper with playful harmonies and a catchy, albeit truthful chorus. Chock full of swailing guitar solos and a runaway train backbeat, hell "we're all scared of dying and old age", admittedly or otherwise. "Why Bother" is a blueprint on how to make poppy alt-country still as cool as the otherside of the pillow. Early Wilco meets Jayhawks meets 90's Counting Crows -- the record spans gulfs and gaps, grab a copy today as it's officially released worldwide. "Somethings got to change." (+words: scott zuppardo+) (photo courtesy of Jamie Platus)
SSKTDA on Facebook | SSKTDA on Twitter | SSKTDA on Instagram
Check out Sad Songs Keep The Devil Away for more musings
"We're Country, Blues, and Punk as Folk -- Dig Deeper, You Deserve It..."