Album Review
Willie Still Standing Tall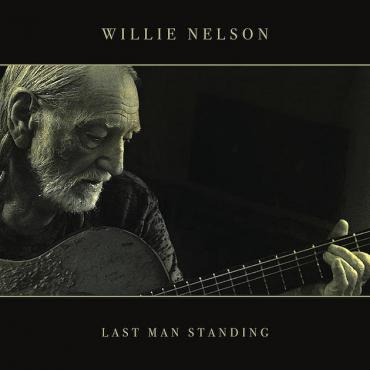 After 73 studio albums and 85 years, Willie Nelson is one of the last original country music outlaws still standing. But his latest is not a farewell or even a fond look back. Nelson still rides hard into the sunset, a little weathered from exposure to the elements, both human and natural, but still in good spirits and ready to take whatever gets thrown at him.
The title cut is not a dirge, but a spirited strut, a middle finger thrust into death's face as Nelson gallops along accompanied by some slinky guitar and Mickey Raphael's harp wailing like a lost soul. Nelson does give a shout-out to departed miscreants Merle and Waylon, who Nelson says, "Lived just as fast as me," almost slipping into a self-pity gopher hole, but pulling his horse up short and galloping away at the last second: "I don't want to be the last man standing, or wait a minute- maybe I do/ If you don't mind, I 'll start a new line/and decide after thinking it through."
The music sounds fresh and new, due in part to the composing and recording process Nelson and collaborator/producer Buddy Cannon have developed over the decade they've worked together. The two text lyrics back and forth, occasionally humming snatches of melodies to each other over the phone, waiting till they get to the studio to flesh out the music on the spot with the band before recording it in as few takes as possible.
Nelson lets you know you're preachin' to the choir on "Don't Tell Noah," mirroring Waylon's '78 proclamation on "I've Always Been Crazy," Nelson cautioning friends and foes alike: "Don't tell Noah about the flood/And don't tell Jesus about the blood/Don't tell me that I've lost my mind/'Cause I been crazy all the time." But once again, Nelson transforms it from being just other snarly badass anthem into a tongue in cheek observation from a lovable old rogue. "Bad Breath" is pure Waylon; lonesome, ornery and mean attitude, but infused with Willie's wry cannabis humor: "Halitosis is a word I never could spell....I've been a-puffin' on this and a-suckin' on that/I got feelin' a thousand feet tall/The closer we get, you'll have to agree/That bad breath is better than no breath at all."
Nelson does a change-up on the Bob Wills-flavored "Ready To Roar," western swing fit for a two-stepping throw-down with Austin-based group Asleep At The Wheel on the bandstand behind a chicken wire screen. It's a blue collar anthem concerning some remorseless weed entanglement: "I picked up a lid from a friend of mine/And the man picked me up now I'm doin' time/But I'm out tomorrow and if you see my friend/Tell him meet me at the bar and we can try that again/He might not know me 'cause I'm low class/Tell him I'm the one with his head up his ass."
But its not all bad boys and bad choices. "Something You Get Through" is a lush ballad, based on a conversation Nelson had with a family friend who had just lost her husband. "You feel there's no way to go on/ Life is just a sad, sad song/ But love is bigger than us all/ The end is not the end at all It's not somethin' you get over/But it's somethin' you get through." Its newly-minted vintage Willie, a moving performance sure to be played at funerals for generations to come. Once again, Nelson takes what could have been a maudlin catchphrase and makes it into an uplifting, soothing message.
At an age and a point in his career when most of his peers are crippled or defeated by the ravages of time, Nelson soldiers on, buoyed by a big heart, a great sense of humor, and an unequaled gift for music that keeps on giving.