Album Review
Without the Blues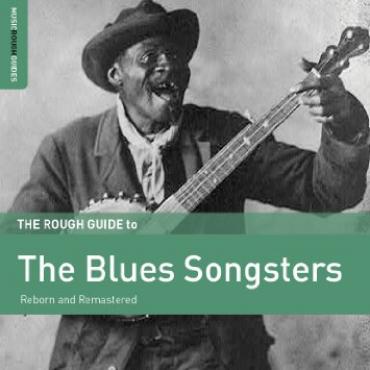 Though unmentioned in the accompanying notes and credits, the photograph on the cover of The Rough Guide to the Blues Songsters depicts a black man whom the two white men who took the picture in 1897 identified only as "Happy John." Happy John, whose clothes are ragged and who lacks a full set of teeth, is grinning. He is also playing a banjo.
One stares and thinks … well, one doesn't know quite what to think. Where does the act shut down and the reality take up? And vice versa? Who was Happy John? Did he call himself that, or was that the invention of race-conscious photographers? Couldn't he afford presentable clothes, or were these his costume for the minstrel-show stage? Was he happy, or was that, too, an affectation, playing off the grotesque 19th-Century stereotypes of the happy darkey? We can't know. We do know that the banjo came to America from west Africa in the early days of the slave trade. In the first decades of the last century, the guitar largely replaced the banjo as the stringed instrument of choice among African Americans.
Of course, we want to know what kind of music John played on that banjo. We may be reasonably certain that it wasn't blues, for which the banjo is unsuited or at least severely limiting. The Rough Guide to the Blues will gave you some idea, even as the artists on its 24 tracks are for the most part, though not exclusively, guitar players. Twenty two of the songs are taken from commercial labels' "race" series, intended for the black market. The other two are by white singer/guitarists Dick Justice and Frank Hutchison, the latter in particular strongly influenced by personal association with black players.
Still, that banjo on the cover ought to alert the unsuspecting that there was black folk music before something called blues came along sometime around the turn of the last century. By now nearly everybody seems to have bought into the notion that any black man or woman with an acoustic guitar in hand is a blues singer, by definition. That error has been nurtured by the overwhelming number of reissue discs, from the 1960s on, resurrecting old 78-rpm blues sides first released in the 1920s-1930s golden age. Magnificent as it is on just about every level these things can be measured, The Rough Guide is not quite the only recorded acknowledgement of non-blues traditions. For more, you ought to seek out the three CDs Yazoo issued as Before the Blues in 1996. There isn't a whole lot else, at least in one place.
The current release benefits from breakthroughs in recording recovery, in other words no snaps, crackles, and pops of the sort we devotees of old records had to endure for decades. I sam confident, in fact, that the songs sound better than they did when they were newly released.
Just about everybody, even those not much interested in traditional music, has heard of Lead Belly and a smaller but not-negligible number of Mississippi John Hurt, whom the naïve often call "blues singers." Not that they never recorded a blues – they cut a handful and acquitted themselves convincingly – but blues was only a small part, almost an afterthought, of the songster's broad repertoire. More prominent were folk ballads, vintage popular songs, minstrel tunes, and (less frequently) sacred material. Both Lead Belly and Hurt appear in well-known recordings, the former of "Midnight Special," the latter of "Frankie."
As professional or semi-professional entertainers, songsters trafficked in songs likely to be familiar to their audiences. Nearly everything they sang could be danced to, or it could be used to sell – literal -- snake oil at medicine shows for their white bosses. Since this was more often than not good-time music, it could be funny or even bizarre, as in Stovepipe No. 1's "A Chicken Can Waltz the Gravy Around." Sam Jones, the man's birth name, actually played the stovepipe. There is also a cut by Daddy Stovepipe ("The Spasm," also known as "You Rascal You"), actually Johnny Watson who, born in 1867, is the oldest musician represented here.
Rough Guide opens with Luke Jordan's version of "Pick Poor Robin Clean" – also cut by Memphis Minnie among others -- with an irresistibly cheerful tune conveying a dark, coded message about the black person's lot in the apartheid-era South. The great Papa Charlie Jackson brings his oversized six-string banjo to the cheerfully boastful "Your Baby Ain't Sweet Like Mine," lately revived by Dom Flemons. Cannon's Jug Stompers' "Going to Germany," Rabbit Brown's "James Alley Blues," and Lonnie Coleman's "Old Rock Island Blues" (with mandolin as lead instrument) have often been anthologized, but in purely technical terms have surely never sounded better.
Well, I suppose I could go on, but all you need to know in the end is that this is grand, glorious, authentic American folk music. If that sort of thing moves you, turn here.