Album Review
Wood & Wire Musically Located Far "North of Despair"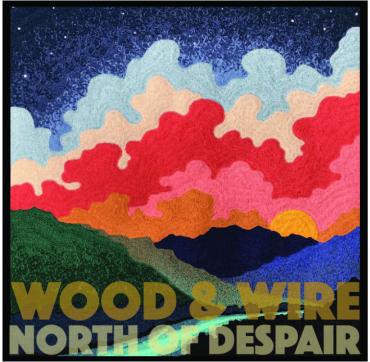 Austin, Texas' Wood & Wire don't travel an audible path unknown. Their chugalugging version of bluegrass and witty lyrics is certainly not a pearl in the oyster by way of surprise. High and lonesome harmonies are readily available, not to mention the at times vicious trade-offs between mandolin picker Billy Bright and banjo man, Trevor Smith -- a delectable cherry on top to Tony Kamel's guitar prowess and Dom Fisher's architectural bass picking. Their collective instrument commandeering is flat terrific, and their bullet-like instrumental throwdown "Summertime Rolls" is a clinic on picking and fluttering, and an audible game of horse with stringed instruments of wood and wire.
Kamel's songs are loquacious and gritty. Keeping things just above the haze of right and wrong but aimed straight at no frills. The stories carry the music as the music perpetuates the stories. Tastefully placated on interplay and improvisation, the meat of this record is the messages and characters. The storytelling is delightfully entertaining yet applicable to perhaps what we're missing now in that lost blue-collar commonplace. Simplicity and self-sufficiency, self-awareness, and sacrifice are where the veins connect on North Of Despair. Texas-bred imagery with working man's country and the purest of bluegrass, only with ripped denim knees and washed up working boots.
Virtuosic picking is abundant, the trade-offs and harmonies are impeccable: Call them outsiders if you will but I'll take the fringe over the rotted core any day. Again, if mind-mending individuality is at your behest, best to look further down the rabbit hole. Authentic roots with clever tales abound on North Of Despair, a genuine four-piece that seems to float outside the lines and bounce back again as flawlessly as possible. The title track is infectious and "Lies & Money" will keep you "Awake in the Wake." Best taken in its entirety until "Out With the Tide," look out for them cypress trees, y'all!