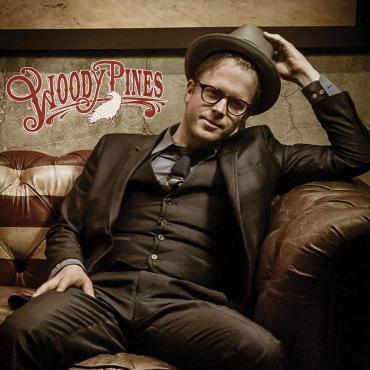 I had the fortunate opportunity to get seriously into the mood of this surprising collection of music and in an appropriate setting. In a rustic old pine scented shack set up like a poet's retreat. Little flowers in old coffee cans, smell of wet dirt, dried red peppers hanging from a rusty nail and sacks of sand and grain leaning up against a wall. It was semi-dark with just a little sun slicing through the windows. This is where my friend had his elaborate speakers set up. I had a batch of CDs to listen to that were all allegedly rooted deep in traditional blues, roots, folk, ragtime, jazz and Americana. I thought at first this would be a painful listen because I am not totally convinced many younger musicians actually have a love for or understand the performance of -- rootsier music especially when it reaches deep into Appalachia and not so much Nashville. So, this is the first of a series of more traditionally-oriented releases that I am quite impressed with and will discuss. 
There ARE young people out there in the hinterlands recording and performing who know exactly what this type of music is all about. You see, it's one thing to "cover" an already traditional song and use its influence on your own performance. But, some of the CDs I have been listening to lately feature "old songs" that have just been written. This is why I am so impressed with this new crop of musicians and songwriters. Woody Pines is one of these.
In a previous 2013 review by another ND reviewer -- harrisonaphotos -- Woody Pines' previous effort "Rabbits Motel" was described as: "....Woody sounds like Willie Nelson singing a Johnny Cash Song in a 1930's Alabama Juke-Joint." I couldn't agree more with that assessment. 
So, here I was listening to Woody's new album and it all sounded like something recorded with modern day equipment whipped out of an era long gone. It gave me a haunting impression of what artists like Robert Johnson, Charlie Patton, Woody Guthrie, Jimmie Rodgers and the earliest members of the Carter Family would do if they were given the opportunity to record with digital equipment and with instruments we have available....today. OK far-fetched – they're all dead – but Woody Pines isn't.
It's obvious Woody Pines has grown up absorbing the music of old 78's and he has plenty to consider. Hillbilly, jug-band, hokum, rockabilly, corny country, a little blues and some old fashioned back porch storytelling. Even the instrumentation sounds like it's cleaned up vintage 1920's through 1940's. But in the hands of Woody Pines, even the corniest songs don't come across corny at all – and that's their charm. These men don't even appear to be from that era. Dressed in vests, suits and fedoras -- they look more like unemployed 1950's jazz outcasts who should be hanging around the Village Gate in New York with Gerry Mulligan and Art Pepper. 
For some reason though -- this musical corn is presented and showcased in such a wonderfully melodic upbeat fashion that young people hungry for something new and fresh may actually discover what's old is -- actually new again. "Make It To The Woods," is a brilliant track – it has the enthusiasm of a sing-a-long with a slight touch of rock-a-billy echo but not too much, a burning harmonica, a snaky guitar lead, vocals in unison and yeah…I can dance to it, it has a great beat. The melody and lyric is faithful to the era and spirit in which it was made. 
As you listen to these songs as I did, I can see the sawdust dance floors of the old juke joints, the strung Christmas lights hung out of season because that's all they could afford to light up the ceiling. It's juke joint, honky-tonk, whorehouse music that was favored in pre-rock and roll years and it was indeed exciting. While Woody Pines may not yet be touching the more savory and copulatin' blues type songs in his repertoire – there's plenty to like in his revival. Oh, anyone can sing old songs but Woody has that vintage voice, the inflection, feel and groove of that era he represents and it adds to the polish…no, that's the wrong word this time. It adds to the old varnish of these tunes. Yeah, that's more accurate.
"New Nashville Boogie," and "Walking Stick" are upbeat and easy to cut a rug with. These could either be something from the 1940's backwaters or a possible Grateful Dead cover with dear old Jerry Garcia wishing he had the opportunity to play some tunes with these guys. Despite Garcia's success with these types of songs with his alternate band Old and In the Way, I believe sincerely that he never fully realized his passion for this music. With a band like Woody Pines – Garcia would have peed in his pants with delight and he would have been a great addition. 
It sounds old, but it's charged up with sincere energy. It sounds vintage in its approach but it's fresh and exuberant. It has a modern, clear sound -- yet, true to its tradition as it's embellished today. The delightful "Over the Water," is so excellently performed, the song has an infectious melody and if you need to be convinced how an old sound can captivate young ears – this is the song.
This has happened in the past – Norman Smith – one of Pink Floyd's original producers had a hit 45 record back in the 60's called "Oh, Babe What Would You Say," and it was recorded in the tradition of the old 1930's and 40's orchestra. It was a hit. A hit during a time when The Rolling Stones, The Doors and The Beatles dominated. It was a memorable song too -- sounding a little like it was sung through a megaphone the way Rudy Vallee did . A cover that I would encourage Woody Pines to investigate.
There was also a popular character known as Leon Redbone who made a splash with old-timey tunes and even made several appearances on Saturday Night Live in its heyday. Redbone had a major label deal too with Warner Brothers in the days when major labels took little chances on creativity and nostalgia. I am not entirely convinced a major label would do that today. So we have to rely on independents and seek them out. 
Then, there was another hit and a Grammy Award winner in "Winchester Cathedral," by The New Vaudeville Band. Ok, maybe that was more of a show palace song, vaudeville and stage show – but, it was vintage nonetheless. Recently, a female singer had a hit with a song called "Cups" (Anna Kendrick) which in reality is a reworking of the 1931 Carter Family song "When I'm Gone." When something is good – time can't keep a good song….or genre down. Woody Pines is wealthy with songs that are easily the equal of all these hits I mentioned. 
"Black Rat Swing" is a scorcher of a Ernest Lawler song….a show stopper. Originally recorded by Lawler and Lizzie Douglas – (professionally known as Little Son Joe and Memphis Minnie). The musicianship is fiery and exceptional. Woody Pines' vocals are electrifying in an old school way, the guitar is blistering, the rhythm is incessant, fiddles slice through, the bass is deep and impressive, the percussion – superlative. A live version is attached here that does the song justice away from the studio version. A good time for all comes through the tune quite successfully.
As mentioned briefly, earlier, many of the tunes on this LP sound as if they were written and performed in the early decades of the Twentieth Century -- many in reality are fairly recent . That's part of the magic of Woody Pines material – he is making new music sound vintage – and that takes a rare talent. Also -- the fact that many of the classic traditional songs are probably in the public domain now -- many could be recorded freely, re-recorded with new arrangements and words, and ultimately -- newly realized (the way Bob Dylan rewrites many classic blues and folk songs himself). 
The album artwork had no specific credits so I can't thank the person who designed Woody Pines' album. The Mary FitzGerald and Kevin James photography was all excellent.
The CD is a 4-panel full color package attractively designed with a nod to the style of music found on the album. The core of the band is Woody Pines on guitar and vocals, Skip Frontz, Jr., on upright bass, Brad Tucker on vintage electric guitar, Resonator, banjo and vocal harmonies. Credits for all other musicians on each song is also on the overleaf. No lyrics, or booklet – maybe next time. 
"Worth the Game," is a jewel of a closer. Gone is all the energy, the glad-tidings, the foot stomping and the marvelous showboating that this music can accurately provide. Instead, Woody Pines sings and plays this solo -- a poignant and beautiful ballad.
It's a stirring end to a happy album.
It brings you back to earth…to reality…and leaves you ready for the next Woody Pines. And that is a welcome feeling. Do you hear it? It's me in that rustic shack alone with headphones on – applauding this album with just two hands. I hope many more follow.
This is a well-deserved return to the homeland, to Mason jar preserves and whiskey, to grits made on the stove, to corn bread and jam, to tire swings, picket fences and stick ball. I'm from the North and even I know -- that was a better time.
Woody Pines...well, his band and his voice reminds us of that with this new album.
Photography: Cover photo on CD of seated Woody Pines – Mary FitzGerald
Back cover of three musicians by fence by: Kevin James
Album was produced by Grammy-Award winner Mitch Dane who has worked with Beck and Jack White.
Website:  http://www.woodypines.org/
Facebook:  https://www.facebook.com/woodypines
ReverNation:  https://www.reverbnation.com/woodypines
Support Independent Music.
Disclaimer: The opinions expressed in this review / commentary are those of the author and do not necessarily reflect the official position of No Depression. All photography is owned by the respective photographers and is their copyrighted image; credited where photographer's name was known & being used here solely as reference and will be removed on request. YouTube images are standard YouTube license.
John Apice / No Depression / June 2015