Album Review
Yonder Mountain String Band Dances in the Moonlight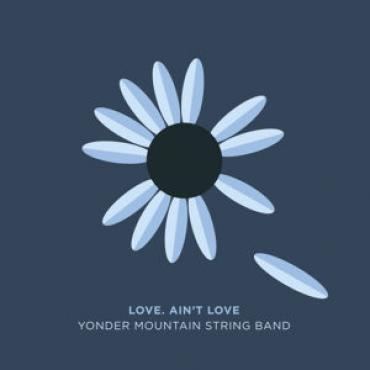 A little more than halfway through their new album, Yonder Mountain String Band launches into a slow, sensuous version of the old King Harvest chestnut "Dancing in the Moonlight." King Harvest's original kicks off with a twinkling electric piano whose recurring chords float under the singer's gravelly voice and bending lead riffs. In 1972, the song captured a sonic pop style—reinforced by another song of the same year, "Brandy (You're a Fine Girl)"—that paved the way for the soft pop of the Buckingham-Nicks version of Fleetwood Mac's eponymous album and Rumours. It was a perfect end-of-summer song. Yonder Mountain String Band turns "Dancing in the Moonlight" into a slow-burning jam, propelled by Jacob Jolliff's scurrying mandolin and his languorous vocals and Allie Kral's scampering fiddle. Yonder Mountain String Band turns the sing into an all-night slow dance and celebration.
The band brings that same level of creative musical genius to the rest of Love. Ain't Love, whose title illustrates the can't-live-with-you-can't-live-without-you of tunes such as the album's opener "Alison" and the propulsive, mandolin stomper "Bad Taste." Kral, Jolliff, guitarist Adam Aijala, banjo player Dave Johnston, and bassist Ben Kaufmann deliver tight instrumentals and energetic songs that reflect the dynamics of a live show. Every song on the album dances and sparkles with spirited vocals animated instrumentals. "Fall Outta Line" is a minor key instrumental with a haunting fiddle line weaving under and around Aijala's guitar and Jolliff's mandolin. "Used to It" opens like a dirge, then speeds up for about four bars before launching onto a song that sonically recalls "Saturday Night" and the "Desperado (Reprise)" from the Eagles' Desperado; the song builds to a crescendo in the bridge that itself illustrates the sheer force of the band. The song fades into the jaunty instrumental "Eat In Go Deaf (Eat Out Go Broke)," one of the funniest song titles on the album. "Kobe the Dog" features barking dogs in the closing bars which fade into the train whistles of the following tune, "Last of the Railroad Men." The band saves the best for the last track, a grassed-out reggae tune called "Groovin' Away," the just-right encouragement for us to dance away into the night.
Love. Ain't Love has us up and dancing from the first track to the last. Yonder Mountain String Band not only gets us moving all night long, but the band also weaves its way into our hearts with catchy lyrics that we sing along with as we're dancing. This is one of those rare albums where we want every song to play on and on.