Album Review
Zeynep Ozbilen – (zee)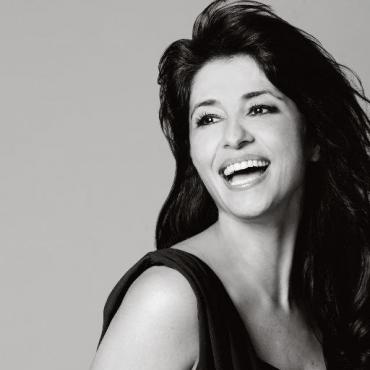 Upon first receiving this CD I was puzzled as to how it fit into the Americana-roots community. But, after carefully listening and interpreting the sound and approach, this IS roots music, it does play a role in the fabric of how some popular music has unraveled through the ages in North America.
This one will be a piece of Spanish jazz toast with a generous spreading of Turkish butter. In short – it tastes real good. But for some, maybe we should just nibble a little at first and see how our ear buds can appreciate the flavors:
The opening track "Alufte," sung in Turkish – you heard me right – Turkish, is not so much heavy on that country's musical style as it's incorporating American jazz fusion and cabaret music brilliantly into its own Turkish-Spanish fabric. The arrangements are tight, the musicians are brilliant and quite accomplished. The brass is crystal clear and the arrangements -- delicious. The saxes, trombones, trumpets, clarinets married to the more Turkish traditional instrumentation is a feast for the ears. The percussion bubbles and of course, the honey sweet vocals of Zeynep Ozbilen really brings the entire presentation to life.
Written by Zeynep who also arranged the tune with her producer, Roberto Linares Brown, "Come To Istanbul" features a sensuous snaking clarinet of Serkan Cagri and a female chorus of singers that lay down a colorful backup with some mysterious vocalizing that only adds to the song's curious beauty. The English words are included in the lyric booklet so this Turkish tune is easy on the untrained American ear. It reminds me of the exciting years when Brazilian bossa nova music and Astrud Gilberto's "The Girl From Ipanema" were popular and accepted worldwide to become world standards. This is easily the most accessible song written by the artist. You can nibble a little, but I am already taking bigger bites. 
Smartly followed by the 1968 hit American song "Spinning Wheel," (made famous by David Clayton Thomas and Blood, Sweat and Tears) these Turkish-Spanish musicians and Zeynep herself interpret the tune in English – with a tight, mid-Eastern jazzy feel with warm and powerful brass. There is little accent in Zeynep's vocals but she is heavily influenced vocally more by European female jazz singers than Americans. While her voice is warm, colorful and attractive it is not hard on the American ear. But her voice doesn't have that special magic – yet – that legendary female jazz singers possess. She does possess the talent to bring that important spell to the surface no doubt about that. The brass is what really shines here on this one – these guys could fit into any jazz band in America or Europe. Quite accomplished and they have charts that rival the very best – including Blood, Sweat and Tears themselves.
With "Oh, The Places I Go…" which continues with English lyrics – there is a more predominant Spanish influence on the brass arrangement. Written by Zeynettin Maras and judging from the musicians names in the CD booklet this is a little less Turkish – and Zeynep's English vocals and level of comfort are even better on this track than "Spinning Wheel." She sounds more comfortable in this lyric with this music. At ease and yet, solid confidence pours from her splendid voice. The more classic American jazz phrasing needs to develop a little further but that would be at the cost of the European style. To be more clear – it's the difference between a Billie Holiday, Ella Fitzgerald, Anita O'Day approach and France's Edith Piaf and Italy's Milva. All greats – but a world of difference in style and approach.
The Spanish lyrics sung by a chorus of men on this song is enthusiastic and lyrical, supported by nice Latino stylized trumpets and other layered brass. It's like a seven layer cake – sweet and it sticks to the roof of your mouth. This music will stick in your ears long after it ends. An ideal dance song for feet that know how to stamp out a beat and glide. Quite a brilliant piece.
"My Goodbye," starts somberly and again, Zeynep's pristine English singing with that European rich way of singing is still an enticing allure. Lyrics are included in the booklet and it's a typically wonderful Italian romantic sad song written by Giancarlo Colonnello with lyrics by Zeynep. Heavy on the 1960's Mantovani style strings and ingenious Bert Kaempfert flavored trombone and trumpet -- it's actually invigorating. Zeynep – had she been born to sing in the 1960's would have been ideal for Kaemphert and his unique and brilliant orchestra. The melody is reminiscent of music Italian songstress Milva built a career on since the 1960's. This is another impressive song.
Returning to the Turkish music the brass is cool on "Icin Icin Yaniyor," ("The Inner Is Yaniyor") and the uplifting beat is relentless. Zeynep's vocals are silky smooth throughout. The trombone solo warm and peppy. The male singers were a pleasant surprise. and I even liked the brief final blare of piano notes at the end that sound like an afterthought.  
"Memory," is another all-English show tune written by Andrew Lloyd-Webber – Trevor Nunn and sung appropriately by Zeynep. Though Turkish – the tune is heavily Spanish in arrangement and approach. Impeccable brass and the sincerity in this beautiful woman's voice is intimate yet powerful. This is quite her forte – she shines in this mode. She seems to be able to sing with power without being an overzealous diva who over compensates and showboats for effect and attention. She has a honey colored voice with power in her tone. I could only suggest that she learn to "dirty it up" a little – growl, suspend, entice a little more, play with the arrangement, play with the vowels, and don't be afraid to deviate from the song book rules. It's alright to be Ella Fitzgerald but every now and then you need a little Billie Holiday vinegar and Julie London or Peggy Lee seductiveness. I believe as good as Zeynep is – she is still holding back just a little.
Another English lyric is "Happy Song," – more piano oriented but with nice violin support followed by the brass. I should just sum this one up with the fact that it's another great Roberto Linares Brown and Zeynep Ozbilen arrangement. That's what really shines again on this track. Their arrangements are the equal of Zeynep's vocal talent and that makes for a great team. The lyric is simplistic – nothing that hasn't been sung before – but, when framed by great percussion and brass, balanced by some vocals but not dominated, it becomes fluid, attractive and memorable to the ears.
Charlie Chaplin's classic "Smile," is next and Zeynep has no problem singing this with a great abundance of poignancy and sincerity. A mellow sax solo with splashes of Spanish style percussion make the song a pleasure. The classic tune becomes even more a folk song as it ages and is interpreted by so many cultures and nationalities.
The Turkish folk song "Ayva CiCek Acmis" ("Quince Flower Acmis") – is draped in Spanish style brass but Zeynep is all Turkish on this energetic folk song. I thought it was a little confusing listening to the Turkish lyrics sung exceptionally well but obviously heavily clothed in Spanish brass. For those who are in the dark about Turkish music influences – it's diverse and possesses grains of Central Asian Folk to Arabic, Byzantine, Greek, Persian, Ottoman and Balkan music. All rich folk music in their own traditional way. But, as listened to and sampled here -- can be rich with both European and American popular music as well. What an engaging recipe of ingredients.
Music is probably the only thing that can assimilate itself into so many cultures and be embraced even by those who don't understand a word of what is being sung. Dancing and singing is universal and music is the one thing we can all understand without even speaking.
Two bonus tracks included on this CD -- "Inleyen Nagmeler" ("Moaned the Nagmeler") – while being sung with Turkish lyrics is incorporated and finely threaded into a brilliant Spanish music arrangement. The chorus of men sing in Spanish and with all that culture working together, cooking together in that musical kitchen – it all works more brilliantly than most governments.
The David Clayton Thomas tune "Spinning Wheel" is also rendered in Turkish by Zeynep who wrote the Turkish words. It's strange hearing such a popular American song in another language after all these years -- but the manner in which the music is arranged, played, and sung – it slips seamlessly into another world and it can be a thrill. "Donme Dolap" – as it is called in Turkish -- is jazzed perfectly by these musicians who simply sound like they are having a blast playing this music.
Desi Arnaz – the famed Cuban orchestra conductor who had a fiery orchestra in the 1950's – would have been proud of this departure and would have loved it. It has all the elements for showing how a white American pop song with its black jazz overtones, can be sung by a Turkish woman -- who, basically leads a tight Spanish-Turkish oriented band and makes it work somehow. That's what I call musical magic. 
I usually don't get very political in my reviews but there's a lesson to be learned by these musicians from various cultures, heritages, religions and leanings – and they all turn out music that is simply beautiful -- absolutely. So why can't we live by that example? I guess some questions can't be answered. But we do have ears – and we can listen to music like this and maybe for a moment smile and share in the mystery of music. And appreciate it. 
Over the years, I had the pleasure to enjoy and discover music from other countries that was originally American at birth. Italians have interpreted American pop music unbelievably for decades: (Lucio Battisti, Milva, PFM, Eugenio Finardi, Claudio Villa) and jazz (Nini Rosso). Then in the 70's I heard a band called Bijelo Dugme (White Button) that was a Yugoslavian hard rock band like Deep Purple and they were excellent. Greek rockers Demis Roussos and Vangelis. Then a Dutch band Focus introduced me to the remarkable lead guitarist Jan Akkerman and flutist Thijs Van Lear who had the nerve to insert yodelling into rock music and it too....worked. Dozens of Scottish, Irish and Australian musicians. I am not surprised now -- that Turkey has an artist as good as Zeynep Ozbilen who sings, uh....roots oriented jazz?
Her CD includes a stitched lyric book with photos and the CD art itself befits the music -- printed on a nice matte finish fold out style by Chartreuse Media – nice job. Her co-arranger Roberto Linares Brown was her producer and deserves a hat tip. The album was recorded in Turkey, Miami, New York and Canada. 
Website:  http://www.zeynepozbilen.com/
FaceBook:  https://www.facebook.com/zeynepozbilenmuzik
Soundcloud:   https://soundcloud.com/zeynep-ozbilen
Majority of photography courtesy of Filippo Nativo, Levent Erutku, Sophie Giraud 
Disclaimer: The opinions expressed in this review / commentary are those of the author and do not necessarily reflect the official position of No Depression. All photography is owned by the respective photographers and is their copyrighted image; credited where photographer's name was known & being used here solely as reference and will be removed on request. YouTube images are standard YouTube license.
John Apice / No Depression / March 2015