Column
This Is America: New Folk Music from Childish Gambino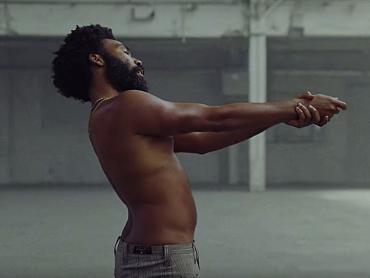 On the morning of May 5, a Saturday, I woke up at the crack of dawn, made a pot of coffee, had a bowl of cereal, took a shower, got dressed, and went to work. After standing on my feet for over eight hours I drove back home, played guitar for a bit, made myself a small meal and did a fine imitation of a potato laying on a couch while binge-watching Norwegian crime noir on Netflix. When it was time for Saturday Night Live to begin broadcasting, I put it on, watched the cold opening and saw that the host was Donald Glover. I had no clue as to who he is or what he does. The jokes during the monologue failed to make me laugh, so I turned it off and went to sleep.
I would not identify myself as a fan of hip-hop music, but it is not an unknown nor unpleasant genre to my ears. Most of my exposure runs from the mid-'70s to the turn of the century, and after then I sort of lost interest. In all candor, I don't understand most of the lyrics, the bass-heavy beats can't compete with the whine of a pedal steel guitar, and I'm completely turned off by the misogyny. But I don't exactly fit within the demographic and I'd guess that neither do you. While we easily praise and acknowledge the African-American contribution and influence to roots music, hip-hop remains largely ignored by this audience.
Donald Glover is a graduate of New York University, a writer for 30 Rock, an actor on the sitcom Community, and the creator, star, and occasional director of Atlanta, a series on FX. An Emmy and Golden Globe winner, he has appeared in several films, will provide the voice of Simba in the Lion King remake,and will play Lando Calrissian in Solo: A Star Wars Story. His music career began as a DJ and producer, putting out DYI mixtapes beginning in 2008 under the name mcDJ, and he performs under the stage name Childish Gambino with three albums and a few Grammy nominations under his belt.
While Glover hosted SNL and I slept, he debuted a new song, "This Is America," which he co-wrote and co-produced with his long-time partner Ludwig Göransson. They simultaneously released a music video directed by Hiro Murai and in 24 hours it was viewed 12,900,000 times. Ten days later, as I sit here writing this, that number is now 123,622,585 and the song debuted at number one on Billboard'sHot 100. If you haven't yet seen it, I won't dare spoil the experience by going too deep, but I will warn that this is a violent representation of violent times in America. It is rich in texture, with multiple storylines that create a surreal atmosphere that takes repeated views to capture the various movements and symbolization.
Hip-hop has long ago surpassed traditional folk music when it comes to creating influential protest music for a mass audience. It's as powerful as anything I've ever heard, and as I watch "This Is America" it takes me right back to the first time I heard people like Woody Guthrie, Pete Seeger, Joan Baez, and the early work of Bob Dylan. This is a passing of the baton, this is the new folk music.
Postscript: For those interested in exploring the context and meaning of this video, there have already been a number of articles written and videos posted that will help guide you through it. Inside Edition offers an in-depth video explanation from Dr. Lori Brooks, a professor of African and African-American Studies at Fordham University. Time Magazine enlisted Guthrie Ramsey, a professor of music history at the University of Pennsylvania for its coverage.
Many of my past columns, articles, and essays can be accessed at my own site, therealeasyed.com. I also aggregate news and videos on both Flipboardand Facebook as The Real Easy Ed: Americana Roots Music Daily. My Twitter handle is @therealeasyed.