Article
Arabic Jazz Artists and their Contributions in Arabic Jazz Fusion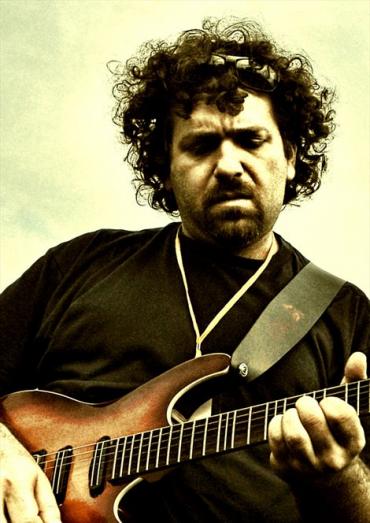 In late 2008, the Kuwaiti born musician Kamal Musallam and his band performed at the Oriental Jazz event in Abu Dhabi alongside noted musician Volker Schlott. At the event, Schlott played alto-saxophone and Musallam switched between electric guitar and oud.
After the event Musallam, pictured here, recounted his experience. He said "It's rare that two musicians who have never met before come together to perform such a distinct type of music." It's indeed amazing that saxophone and oud -- two musical instruments from two different corners of the world -- were played simultaneously, to mesmerize the audiences.
The Origin of Arabic Jazz
The fusion of jazz and Arabic music is a marriage of creativity and uniqueness. The fusion didn't arise out of the efforts of any one or two individuals. The origin of Arabic-jazz fusion music is as interesting as it could get. In this article however, we'll keep it brief as we'll mainly discuss leading Arabic jazz artists and saxophonists.
From the mid-1900s, Jazz music became popular in the Arab world. Jazz elements crept into mainstream Arabic music. Many celebrated Arabic musicians used jazz instruments like bass guitar and saxophone. Several U.S. jazz artists toured across Arabian countries and inspired budding musicians to mimic their style.
Some observable characteristics of Arabic Jazz are;
Rearrangement of traditional Arabic songs with jazz elements added to them.
New style of jazz and pop integration.
Oriental style, heavily depending on the use of Saxophone.
The first of these characteristics can be associated with Reem Kelani. The second with Toufic Farroukh and the third with Samir Suroor.
Famous Arabic Jazz Artists
We'll continue the discussion that we started in the previous paragraph and discuss the musicians mentioned above and their role in the development of jazz arabic fusion.
Reem Kelani - Kelani is not just a musician, she also has political aspirations. Being British-Palestinian, she has composed many songs that speak of Palestinian freedom struggle. Her incorporation of jazz into Arabic music was represented both by songs that were composed by her and by traditional songs, rearranged by her. Sprinting Gazelle is one of her famous albums. 
Samir Suroor -- Suroor marked a new era in Arabic Jazz by his Oriental-style saxophone music. "Keif Ansa" is his famous album. His musical style appeals to traditional Arabic music lovers as well as to those who love saxophone music. Even though Oriental-influenced, Suroor's music cannot be clubbed with other Oriental styles like Indian saxophone music.
Toufic Farroukh -- The USP of Toufic Farroukh is originality. He's a composer and a saxophone player. He studied music in an academic setting and gained profound knowledge in it. His saxophone playing skills helped him merge jazz with Arabic music. Toufic's albums are of short duration but very deep. Some of his popular albums are "A Night in Damascus", "Land of Milk and Money", "Fusic", "Bilan Acutel", "Lili S'en Fout", etc.
Ahmad Kaabour - Kaabour is of Lebanese origin. His jazz music picked political themes. His 1975 song Oundaikom was was embraced by the Palestinian freedom fighters and the song became a part of their identity. Abou Afif (2012) is an acclaimed album of Ahmad Kaabour. 
Dhafer Youssef - Youssef is a Tunisian musician. He is however a declared aficionado of Indian music and Nordic music. His contribution in jazz is adding electric sound mixes to jazz music. Other than being a composer and singer, Youssef also plays Oud. 
Oriental Jazz Subsections
Nothing is static and Oriental Jazz is not an exception to this rule. The guitarists, saxophonists and composers have worked out many subsections of Oriental Jazz so far. Oriental Spiritual Jazz, Oriental Afro Jazz, Oriental Arabic Jazz are some of these subsections.
Good new is experiments with Arabic Jazz fusion are still on. It's a reassuring fact that such experiments will never stop. It promises us that Arabic Jazz fusion has only journed halfway. Istill has so many miles to go. 
Paul Spaccavento is a saxophonist  in Dubai originally from Sydney, Australia.