Article
Atlanta's Heart Hunters Announce American Eclipse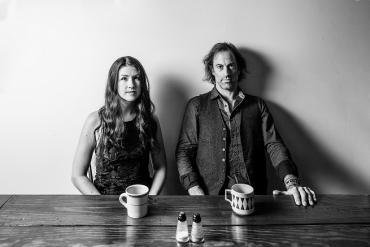 The Heart Hunters' music might sound delicate on first listen, but it packs a heavy punch. Born of the American zeitgeist, as well as the personal experiences of Brianna Blackbird and her husband No River City founder Drew de Man, American Eclipse is simultaneously a deeply personal and overtly political album. Opener "Normal America"—a protest song shining a harsh light on the flawed notion of the American dream—sets the tone for the record from the start. "Angels," on the other hand, is an autobigoraphical song exploring parenthood from the eyes of a touring musician. Even in the album's more personal moments, Heart Hunters don't shy away from what they see as their responsibility to confront injustice. "The last verse of 'Angels' is the crux of it all," de Man says, citing lyrics that address racism, mass incarceration, homelessness and the Native American water protectors at Standing Rock. "We can't just indulge in driving around playing music—we have to recognize our platform to spread ideas and use our music to aid social movements."
The pair met while studying music therapy in Portland, Ore, and they soon began writing and recording together, releasing a couple EPs and their first full-length in 2015 under the moniker Pretend Sweethearts. The duo played cafes, bars, and clubs on the West Coast, also bringing their music to homeless shelters, youth detention centers, prisons and rehab facilities along the way. Their wanderlust—and desire to find affordable housing—led them to a mountain village in Bolivia. While there, Blackbird and de Man had their son and immersed themselves in songwriting and Andean culture. Living beyond U.S. borders proved an enlightening experience for the couple, imbuing their eventual return stateside with a new sense of purpose that is entwined throughout the songs of American Eclipse.
Of the album's debut single, Blackbird writes, "'Normal America' is an invitation to step out of all of the suffering we put up with on a day to day basis, to keep the status quo. It is a comment to consumer-capitalist societies lack of interest in our actual well-being. I started writing this song for Drew when I sent him on an errand to get a piece of furniture, without fully understanding the extent of metro-Atlanta traffic. I gifted him the song when he arrived home in the hopes that it would make up for the unpleasantness of sitting traffic. Sitting in traffic, to get the stuff, to have the stuff. 'You're headed up the highway, on an errand you don't wanna run.' was actually quite literal."
Heart Hunters are currently based in the country outside of Atlanta, Ga. They make music, teach music, remodel houses, show up for marches, work as session players, and somehow still find time to raise two kids, who will be accompanying them in the family's new biodiesel-fueled van on tour in support of the new record.
American Eclipse is out on July 20.