Column
Australian Festivals Celebrate the World of Music, Arts, and Dance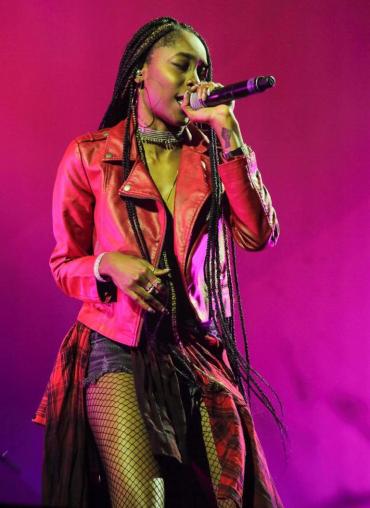 Last week we heard about two festivals in Arizona, and this week we visit three festivals in Australia courtesy of Steve Ford. Steve's reporting serves to remind us that there are great festivals all around the world displaying the many varieties of roots music. Looking at his photos it is also apparent that these festivals are the most diverse ones ever featured in this column. From the exciting Kamasi Washington to golden boy Jason Isbell to the intriguing Hana & Jessie Lee's Bad Habits, these festivals demonstrate that diversity is a thread we all have in common, and through which we can weave a tapestry that celebrates music, our cultures, and humanity itself. It also makes me want to take a month off and travel to Australia.
Here are Steve's reports:
The task I set myself was three music festivals in less than a month. It was a test of enthusiasm, organizational ability, and faith in the weather, among other things. As a working photographer – lugging 15 pounds of gear for up to ten hours a day – it was also a test of stamina.  
I'd do it all again in a heartbeat, of course. At my isolated end of the world, festivals are a concentrated opportunity to see and hear artists from all over, and to share the experience with thousands of like-minded music lovers. Festivals are invariably an adrenaline rush, start to finish. With luck, your biggest problems are missing a meal and being spoilt for musical choice.
WOMADelaide
My marathon began here. The festival began in 1992 as a joint venture between the Adelaide Festival and the UK based WOMAD organization established by Peter Gabriel in 1982 for the presentation of a festival presenting the World of Music, Arts and Dance from around the globe.
It's held over four days at Botanic Park, an 80-acre oasis just outside the city of Adelaide. There were eight music stages, as well as food stalls, bars, and other performance spaces. All of the shows are outdoors. The tree-lined space has the feel of Hardly Strictly Bluegrass in San Francisco but, unlike HSB, the music continues until midnight. 
If "world music" conjures an image of staid ethnomusicology, think again. Acts ranged from culturally specific music – most of it eminently danceable – to the straight-ahead jazz of Kamasi Washington through to relatively popular groups like Thievery Corporation. Generally, world music is no more in stasis than bluegrass or Americana. Genres evolve. Indeed, acts like Violons Barbares – from Bulgaria, Mongolia, and France – are overt exercises in cross-cultural fusion. 
Genres are also borrowed and adapted. Baker Boy is a rapper from Arnhem Land, in Australia's far north, who performs in English and his own Yolngu language. It was the most pleasant of surprises to see him greeted like a rock star by a mainly young, white audience. 
The highlight of WOMADelaide for me was sitar player Anoushka Shankar (Ravi's daughter), whose band played a sublime evening set based around her album, Land of Gold. Kamasi Washington was not far behind. 
It was my first WOMADelaide. It certainly won't be the last.
Blue Mountains Music Festival
This one's is closer to home: just a 30 minute drive from the lower Blue Mountains, near Sydney, where I live. The festival precinct is centered on the public school, with the main stages in two large tents. Secondary stages reach out into nearby pubs and theaters in the town center. 
It began as a "folk" fest and normally includes multiple touring acts from the previous weekend's Port Fairy Festival in western Victoria. It's relatively low key and it's short and sweet – Friday evening until Sunday evening.  
The emphasis is on roots music from Australia, North America, and the British Isles, with a handful of more mainstream drawcards – with Australia's own Missy Higgins being the most popular act this time. My full review of this fest for ND is here.
Bluesfest Byron Bay
In contrast to WOMADelaide, it was my 19th trip to Bluesfest Byron Bay. Bluesfest is now held on a tea tree farm ten miles from Byron Bay, a popular tourist destination at Australia's easternmost point. The festival is a monster, spanning five days over Easter and drawing some of the bigger names in roots and popular music. There are five stages, all under tent cover.
There is always social media debate about the merits of the headliners, Robert Plant and Lionel Richie this time. But even in its weakest year Bluesfest is, overall, perhaps Australia's best festival. With Aussie, US, and UK acts joined by artists from Sweden, Brazil, Columbia, the Solomon Islands, Jamaica, and Iceland, 2018 may have been the most international edition yet.
Every Bluesfest has its memorable moments. Gov't Mule sure provided one when Jackson Browne joined them to take lead vocals on the late Gregg Allman's "Melissa." (Browne and Allman were close, their friendship going back to Allman's time with Hour Glass in Los Angeles.) 
Bobby Rush, at 84, played a one-off solo blues set that brought tears to my eyes, performing the kind of deep blues I thought had vanished forever.
Lukas Nelson, at his second Bluesfest, played three sets and established himself as a firm festival favorite. The standout for me, however, was Hurray for the Riff Raff. The band is great, but it's all about Alynda Lee Segarra – a wonderful voice, excellent original songs, and a truckload of charisma. 
Three festivals, 12 days of music, just one day of rain, and more than 100 shows clocked – at least in part. Some of the shows I can barely remember. Many I'll never forget. 
Now, enjoy a slideshow of Steve's photos from those festivals.