Column
'Baseball and Music, It Doesn't Get Much Better Than That'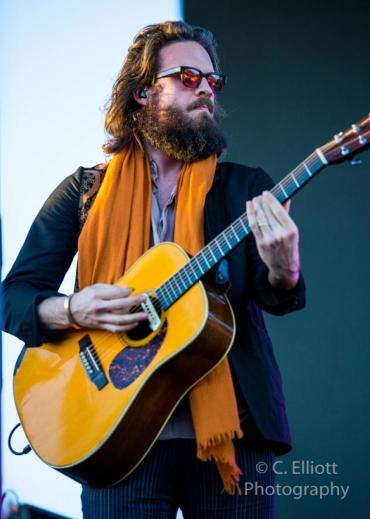 With the festival season getting underway, this week I feature two unique events in Arizona, where it always seems to be sunny and bright. Perfect for baseball and outdoor music festivals, and in one case both together. Photojournalist C. Elliott was there to capture the action, in both words and pictures. One festival is brand new, the other was celebrating its 15th year, but what they had in common was great music, enthusiastic crowds, and stunning end-of-festival sets that had folks talking about them for days on end.
Here are C. Elliott's reports:
Innings Music Festival
The first-ever Innings Festival was a three-day event held in Tempe Beach Park in Tempe to celebrate Spring Training — and music. As performer Chris Stapleton said: "Baseball and music, it doesn't get much better than that."
A distinguishing feature is its setting: on a waterfront so you can also see some amazing sunsets and moonlight shimmering on the water. What better way to listen to a rich lineup of 36 artists on three stages that included something for everyone, from alt-country, indie rock, alternative to electro-pop?
The other nice feature of the festival is that it's in a park, which means that there were plenty of places where you could sit down. Benches and large rocks were scattered throughout the park, as well as a lot of shady areas. As any festivalgoer knows, shade and a place to sit are second only to staying hydrated.
But what about the music, you ask. Well, it was there and then some: the Decemberists, the Avett Brothers, the Head & the Heart,  the White Buffalo, Craig Finn & The Uptown Controllers, Phosphorescent, Tyminski, J Roddy Walston & the Business, and Citizen Cope. It was a showcase for the wide variety of Americana.
However, two notable highlights served as almost as bookends. Saturday opened with Caamp, a bluegrass folk duo from Columbus, Ohio, new to me, whose indie sound veered towards Ray LaMontagne and Bon Iver territory at times, but with a banjo. They will not stay unknown for long. The other was the Sunday evening closer, outlaw country with a taste of the blues, via eastern Kentucky, Chris Stapleton, whose playing reminds some folks of the great Mike Bloomfield. What a way to end a wonderful festival.
McDowell Mountain Music Festival
The McDowell Mountain Music Festival, better known locally as M3F, is also a distinctive as it is a 100% nonprofit. In this, its 15th year, the festival expanded to three stages, which meant for the first time I might have had to choose between two acts performing at the same time. However, as it is no more than 5 minutes between stages and sets were staggered, it was possible to see every artist. Festivalgoers know only too well about the anguish of conflicting stage schedules, but the McDowell fest alleviated that anxiety. 
Soul and R&B seemed to be my common thread this year. Anderson East had me coming out of the gate, Southern soul at its core, orginals with shades of Otis with a Wilson Pickett scream. He also covered Sam & Dave's "Hold On, I'm Comin'." The Marcus King Band, again, is not so new but finally getting the recognition they so richly deserve. I was also impressed with Seratones, whose singer AJ Haynes' powerful voice and great stage presence say, "Put up or shut up." Not to be left behind, Nick Murphy (Chet Faker) did a more soulful singer-songwriter set than the electronica he's best known for. And let me not forget the fest's biggest name, Father John Misty, whose swagger and demeanor accentuated what could be called a "best of" set. Just what the crowd wanted. He seemed to be enjoying himself as well.
For all the folks who think it does not get cold in Arizona, think again. It was quite chilly, some folks used the word "freezing" to describe the weather during Sunday night's closing set with the Revivalists, Southern roots-rock with a bit of soul & brass band thrown in. They held much of the crowd together, and those staying till the end got an inspired cover of Tom Petty's "Refugee."
Now on to those photographs.