Column
Bassist Mark Andes on Best Shows and (Brief) Stage Time with Neil Young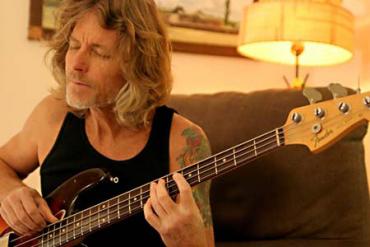 Mark Andes will never forget an amazing concert 40 years ago when he played bass for both bands on the bill and was alternately exhilarated by a manic Neil Young joining in on guitar and vocals and then startled by the sight of Young being pushed off stage.
"In 1978, Firefall and a re-formed Spirit shared the bill of a California tour," recalls Andes, a founding member of each group and a current member of Firefall. "When we played the Santa Monica Civic Auditorium, Spirit closed the show. Neil Young and David Briggs were there, and Firefall asked Neil to come on stage and jam. He came on stage, and we performed Dylan's 'Tom Thumb's Blues.' The crowd went crazy.
"When Spirit played, I suggested Neil come out during our set as well. He came out and, instead of a nice welcome, was shoved off the stage by Randy (Spirit's leader and guitarist Randy California, who apparently felt he was being upstaged)! We all were shocked and dismayed. It was one of those unpredictable moments you don't see coming. I haven't seen Neil since."
Andes has played with and known countless musical greats during his career that began in California in the early 1960s. He was Heart's bass player for 10 years in the 1980s and early 1990s when the group released several best-selling albums, and he has toured with Stevie Nicks, Dan Fogelberg, Chris Hillman, Alejandro Escovedo, and others.
"I guess it started with Link Wray's song 'Rumble,'" says Andes, who has released one solo album, the instrumental Real World Magic. "It blew my mind in so many ways. It sounded so raw and powerful and was so simple it inspired my brother Matt and me to figure it out on a couple of borrowed guitars. Within a year or two, Matt and I had put a band together with friends from school. The year was 1963. Our first paying gig was a wedding. The next week we were asked to play a Sports Night at Granada Hills High School (in Livermore, California). Mr. Ferris hired us and we made $50. We were so stoked! From then on, we were in demand and played most weekends somewhere. We were on top of the world."
Before Spirit was formed, Andes played with Randy California in the Red Roosters, which also included California's stepfather, Ed Cassidy, who became Spirit's legendary drummer. Cassidy moved to New York, and Andes was asked to join Canned Heat.
"I was the young guy in the band, and I learned so much," Andes recalls. "Barry Hansen (the radio broadcaster known as Dr. Demento) suggested me, and my education of the blues was ensured. Barry, Bob Hite (Canned Heat's vocalist), and Henry Vestine (lead guitar) were some of the most respected blues record collectors."
Spirit was formed after Cassidy and California returned to California from New York and joined with Andes, lead vocalist Jay Ferguson, and keyboardist John Locke. In New York, California, whose real name was Randy Wolfe, had played in one of Jimi Hendrix's early bands.
"By the choice of personnel, Spirit was destined to be quirky, jazzy, bluesy, and rockin'," Andes says. "We fused all those styles into songs that had humor, emotion, and a very high level of musicianship. Spirit's legacy would have to include the fact that we were the first progressive rock band. Jazz and rock hadn't been put together before then. We were breaking rules."
California, who drowned in the Pacific Ocean off Hawaii in 1997 at age 45 while rescuing his son from a rip current, was an innovative guitarist who never got the acclaim he was due. He wrote a bunch of Spirit hits and his hot riffs not only filled Spirit songs but were on fire during covers of Hendrix and Bob Dylan songs.
"To me, Randy will always have a special place in rock history," Andes says. "His tone, his use of harmony leads, and his innate musicality set him apart. He always had a unique sense of melody that inspires me still. We were brothers."
I tell Andes that I saw Spirit — a group with a striking visual presence because of California's bushy hair and headband, Cassidy's bald head, and Andes's long blond hair — tear the roof down playing Dylan's "Like a Rolling Stone" at Denver's tiny Ebbets Field club in fall 1974.
"I remember the Ebbets Field show!" he exclaims. "It was a small club, it was packed, and there were lots of local and national luminaries. When Cass and Randy came out to Colorado, Chuck Morris heard about it and booked Spirit as a trio for that show. I remember we were very loud. We had such a good time we booked more shows as a trio."
Andes' stint with Spirit in 1974 was actually a reunion, because he and Ferguson had left the band a few years earlier to form Jo Jo Gunne with Matt Andes and Curly Smith. And, during Spirit's trio phase, Andes was also a member of the just-formed Boulder, Colorado-based band Firefall, which included former Flying Burrito Brothers singer Rick Roberts; guitarist Jock Bartley, who played with Gram Parsons and the Fallen Angels; ex-Byrds drummer Michael Clarke; Larry Burnett; and David Muse.
"The success of Firefall gave me confidence," Andes says. "After the Jo Jo Gunne experience, I was a little insecure. The early Firefall shows were very rockin'. The sweet love songs we would become known for were not a part of our usual set list yet. We developed a following right away, and we got very tight as a band. After leaving the band in 1980 and rejoining four years ago, I have an unusual perspective on the music and the group.
"First, I realize how good the original concept was. The songs of Rick Roberts and Larry Burnett were strong, and the group had a good feel for arranging them. Playing the songs now, I'm impressed with their longevity and their emotional resonance. People still enjoy listening to them! I guess the biggest realization is the gratitude I feel to have been a part of something worthwhile and having a chance to reconnect with it."
Various concerts that Andes attended as a spectator also have provided some special musical moments. The two concerts that influenced him most as a musician, he says, were the Beatles at Dodger Stadium in Los Angeles in August 1966 and Bruce Springsteen at Red Rocks Amphitheatre outside Denver in June 1978. I also was at the Springsteen show, and it was quite memorable. Before concertgoers were allowed in, Springsteen played a short Beatles set during his soundcheck for the fans waiting in line behind the massive rocks, and he later delivered more than three hours of blazing rock and roll, including three encores. 
Andes says the best concert he ever attended, though, was the Who and the Bonzo Dog Doo-Dah Band at the Hollywood Palladium in 1973 or so. "Jo Jo Gunne was just starting, and our friend Sepp Donahower was the promoter," he says. "The venue was large enough to sound good but intimate. Both bands killed me."