Column
Becky Brown Talks about Her Life with Jim Ed Brown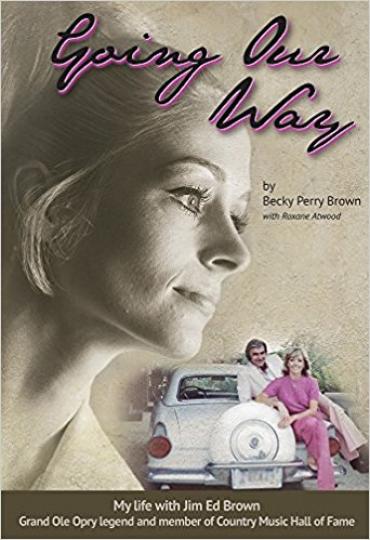 Just a little over three years ago, I chatted with Jim Ed Brown about his then-new album In Style Again. Toward the end of the conversation he told me that he prayed that God would give him strength to record another album, for there were several songs that he hadn't included on the album, and that he and Helen Cornelius had several unreleased duets. Before we hung up, Jim Ed very graciously invited me to stop by to see him next time I was in Nashville. I never had the chance to take him up on the invitation; he was battling lung cancer even when we talked that day in February—though he was in remission—and four months later—on June 11, 21015—he died.
Before he died, though, Jim Ed had one more honor to accept and one more ceremony to attend, even if the little gathering to honor him was by his hospital bedside. In March 2015, he learned that he and the Browns would become the newest members of the Country Music Hall of Fame, with the official induction ceremony to be held in October 2015. At the press conference for the announcement, he told reporters, in his typically humorous manner, that he felt "more comfortable behind his guitar than at the podium," and that he was as "nervous as a mosquito in a nudist colony." By early June he was confined to his hospital bed, and it was clear that he might not live until October to attend the induction ceremony. After his daughter Kim made a few phone calls, Jim Ed's room filled up with Bill Anderson and Pete Fisher from the Grand Ole Opry; Kyle Young, Lisa Purcell, Sharon Brawner, Jay Orr, and Carolyn Tate of the Country Music Hall of Fame; and Sarah Trahern of the Country Music Association. Anderson announced, "Jim Ed, as a member of the Country Music Hall of Fame, I am here to make you its newest member." With a gleam in his eye, Jim Ed told Pete Fisher that his only regret in life was that he wouldn't get double scale for playing the Opry as a member of the Hall of Fame. Later that day Fisher returned to see Brown and presented him with check for double scale.
This story is just one of many that Becky Perry Brown tells in her candid, enjoyable, and poignant memoir of her life with Jim Ed Brown in Going Our Way (Clovercroft Publishing). Brown tells these stories plainly, just as if she were sitting us at her kitchen table, and we were eating some of those biscuits and homemade jam for which she is so famous. She carries us back to her childhood in Pine Bluff, Arkansas, where she and her brother would watch their parents run the family grocery store from a secret window in the apartment above the store, from which they would peer out to make sure their parents were still close by. A natural and graceful athlete, Brown loved dancing, gymnastics, and cheerleading; following one of her performances a young man in the audience told her how much he enjoyed watching her perform and that she was amazing. Though she didn't recognize him, her friend had a fit because the young man was Jim Ed Brown.
One summer when she's sixteen, Becky Brown travels to Chicago to study dance, a career she thought she would follow; to make extra money she took part-time modeling jobs. She describes herself as a "mover and a shaker"—she still calls herself that today—and "always willing to step outside of the box and do things." Once she's back in Pine Bluff, she's "making good grades, cheerleading, modeling, dancing, performing, and going to church." One Saturday night while she and her friends are dragging Main Street, Jim Ed Brown pulls up next to them, and she tells her friends not to pay any attention to him, and drives away. Little did she know, she writes, that she'd soon be sitting next to him as they were cruising the same streets.
Becky Brown leaves out very little in Going Our Way, sharing the ups and downs of life with Jim Ed. Soon after Jim Ed starts achieving success with his sisters, Maxine and Bonnie, the couple is off for Nashville, where they meet and become friends with Eddy Arnold, Chet Atkins, and Little Jimmy Dickens, among many others. The Browns lived a storybook life, but the walls came tumbling down when Jim Ed Brown had an affair. The affair led to a divorce, but the couple later re-married. Becky Brown admits that she had a hard time deciding whether or not to write this chapter of her life, but that her friends and her pastor agreed that she should share her story "because on the other side of pain, there is forgiveness…The story is about me. It is about my hurt and my healing. Forty years later, I can still walk in a room and hear whispers. The rumor mill continues to churn." She shares the details of the story "only to prove to the world that it doesn't matter how bad it gets. With prayer, belief, love, and forgiveness, there is no obstacle that can not be overcome."
Going Our Way offers an intimate glimpse into one of the most enduring relationships in country music history; Becky Brown lovingly relives her own life before Jim Ed Brown, her life with him, and the years following his death almost three years ago. Her faith gives her strength, and she remains active, playing tennis, baking, and visiting her children and grandchildren.
Becky Brown and I chatted by phone recently about her new book and Jim Ed.
What prompted you to write this book now?
Becky Brown: Well, Jim Ed had actually started working on an audiobook, telling the story of his life. Our daughter Kim was helping him with it. We took some of those stories and used them in this book. Kim and our son Buster said, "you need to do this," and my grandchildren were asking questions. I started writing down the details in a chronological order, and my friend Roxane Atwood took what I had written and popped it to life. I've known Roxane for a long time; she did a lot of work for Jim Ed. We were so on the same page, especially about our faith.
Where did you get the title of the book?
Brown: Jim Ed and I did a travel show called "Going Our Way" on The Nashville Network (TNN). We represented a lifestyle of traveling in an RV, all around the country. The show lasted about four years and then TNN canceled it because they weren't doing travel shows anymore and started broadcasting sports.
What are Jim Ed's thee greatest traits?
Brown: He was a gentle giant. He was slow to anger, very kind, and soft-spoken. He never raised his voice to anyone. He was very loving, not just to his family but also to everyone around him.
How hard was it for you to write about Jim Ed's affair?
Brown: It was hard, and I had to do a lot of praying. It was a difficult time in our lives. I just wanted to share what I went through and my pain. I think it's important to let people know about the hurtful times and how you can get over them when you turn things over to God. When I look at our life together we were very blessed, even though we had our ups and downs.
Can you talk a little bit about the role of faith in your life?
Brown: Back after we moved to Nashville, we found a church home; I was teaching Sunday School and in the choir, but I felt like I was just going through the motions, and I kind of hit a brick wall. I prayed to ask God to help me follow His will. I really believe in prayer. I try my best to do God's will in my life. I am so overwhelmed that God has blessed my life it makes me want to cry.
What's your favorite album of Jim Ed's?
Brown: My goodness, I love them all. My favorite song, though, is "Have I Told You Lately That I Love You?" I love the Browns' gospel album, and I love the song "Prayer is the Key to Heaven but Faith Unlocks the Door." You know, Ray Stevens plays organ on that song, and he's just magnificent. Most people think of him as just a comic singer, but they need to hear him play organ on that song to hear how good a musician he is.
Did you ever appear on any of Jim Ed's album covers?
Brown: Yes; I was on the cover of Morning. That's a funny story. When the model they were going to use arrived at the studio, they didn't like her profile for some reason. The producer called the Coulter agency and asked if they had a model who had a good profile, and they said, "of course, Becky Brown, Jim Ed's wife." So, little did Jim Ed know that after I kissed him goodbye that morning that we'd be seeing each other again later that day for the photo session for the album cover. I was also on the cover of Angel Sunday and It's That Time of Night.
Do you still have your dance studio?
Brown: No; I retired in 2014. It was a good time to let it go, but I missed it. I had dreams of becoming a professional dancer, and I knew that to do that I'd have to move to Chicago or New York City. Well, I met Jim Ed; he didn't want me to move to Chicago; then we got married.  Once we moved to Nashville, we had to discern what our dreams were. I decided that I would probably teach dance, and I opened the studio eight years after we moved here. I also joined the Coulter agency and taught self-improvement classes. We did all the makeup in Nashville, too, and we did a lot of album covers. I started playing tennis, though, many years ago, and it almost took the place of being a professional dancer. I still play several times a week.
Going Our Way is available now at www.GoingOurWay.net; readers who order it here can get a book personally autographed by Becky Brown.