Column
Big Ears Festival: Dancing on the Graves of Musical Boundaries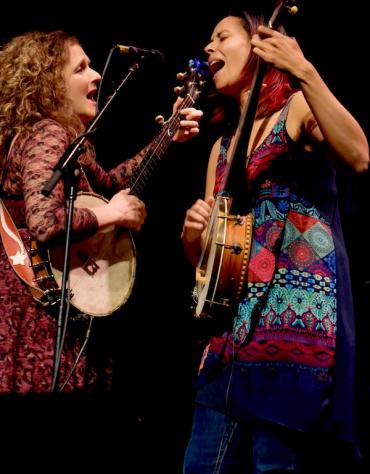 "Big Ears not only crosses boundaries, it completely ignores them. It dances over their graves." — Rhiannon Giddens
Of all the festivals and events I attend, Big Ears in Knoxville is the most eclectic, progressive, and inclusive, in terms of both its performing artists and its audience. Once again, I was awed by what this festival is, and how it has grown. Here are my takeaways for this edition.
Rhiannon Giddens   
A lot has happened since Giddens closed this festival down with the opening date of her first solo tour in 2015, and no one has brought such a wide and rich attention to roots music: celebrated albums, world tours, the Steve Martin banjo prize, and a MacArthur Award, just to name the most outstanding. Building on her IBMA address last fall, one of Giddens' missions is to make us, both in terms of music and the nation as a whole, aware that the "barriers" that have been used to keep us apart were imposed, and not of an organic origin. They are artificial constraints that suited the purposes of the money purses, be they A&R men or a white male power elite, to separate us. 
In her address, Giddens used the banjo, tambourine, and fiddle as examples of how diverse cultures have influenced one another, and how the people themselves saw no boundaries. For instance, how the banjo itself was appropriated and used in ways that denied its cultural history. At Big Ears she went several steps further.  She punctuated her address with performances — solo, duo with Abigail Washburn, with a string quartet, Brooklyn Ryder, and Béla Fleck. My highlights of the fest: her banjo duo with Washburn on "Light Come This Morning," and her final number, Barber's Knoxville: Summer, 1915, with Fleck on banjo and Giddens reciting a James Agee poem. Giddens' words, music, and presence were the guiding spirits of Big Ears 2018.     
Appalachia Rising: Abigail & Béla, Anna & Elizabeth   
While the fest has never shied away from featuring the traditions of its geographical setting, this year it embraced Appalachian music somewhat more than in the past. Fleck and Washburn, and Anna and Elizabeth, seemed to be everywhere. In addition to their duo sets — in both the stately Tennessee Theatre and a small Irish pub — and appearances with Giddens, Fleck also did a set with Brooklyn Ryder and Washburn played with Wu Fei. 
Anna & Elizabeth were even more prodigious, everything from their own sets to leading square dancing outside in Market Square and hosting old-time music sessions. They drew heavily on the stories and songs collected during the time they lived in Southwest Virginia, as well as their superb new album, The Invisible Comes to Us.  There were also bluegrass sessions, and other artists such as Jerry Douglas and Sam Amidon.  
Diamanda Galas   
One does not attend or merely listen to a Galas performance; you experience it, you become immersed in it, you give in to it. Her centerpiece performance on Saturday night at the Tennessee Theatre was the most anticipated event of the fest, both for those who had seen her, and those who had not. Galas is not for the faint of heart, even for those who have witnessed her, such as in her 2007 New York piece "Valentine's Day Massacre," which was the last time I saw her. The late-night set, following a full day of chilling rain, drew heavily from her two 2017 albums, All the Way, which features blues, bluegrass, jazz, country, and Sinatra standards, and the live At Saint Thomas the Apostle Harlem. 
Galas dominated the piano, playing mostly chords in the lower register that adroitly set off her soaring, piercing vocals that clawed the lyrics out of a deep darkness into a state of exaltation. It was a triumphant performance akin to Orpheus retrieving a reticent Eurydice. Two songs were of particular interest to me (both are on the albums): Johnny Paycheck's "Pardon Me, I've Got Someone to Kill," and "O Death," the staple made well known by Ralph Stanley. Leave your preconceptions at the the tour bus door: Galas imbued them with a scathing sorrow that simultaneously left the audience emotionally drained and yearning for more. 
Old Home Week: Marc Ribot and Arto Lindsay   
I was absolutely not going to miss Ribot and Lindsay, who were integral parts of the downtown New York scene when I lived there in the late '70s and early '80s. Both did duo sets (not with each other) and performed with groups. Ribot's Thursday night set with Los Lobos' David Hidalgo was fashioned after his recent Americana work. Ribot opened with "Bury Me Not on the Lone Prairie" that began traditionally enough, but he soon found some mescaline on that prairie. With Hidalgo mostly playing the straight man, it was an ecstatic beginning. Ribot's other set was with his power trio, Ceramic Dog, which drew heavily from his upcoming new album, YRU Still Here?. While it had some meditative moments, at its core is a William Burroughs-like howl on acid, outrage at corruption, anger in its many permutations. As with Galas, it was not for the squeamish, but oh, what a rewarding experience.
Lindsay, too, packs a wallop in his quintet setting, with double percussionists no less. That performance was rooted in his No Wave sound that he originated with his band DNA. With Portuguese lyrics (he was raised in and now lives in Brazil), his sound has sometimes been called extreme racket. Counter that with his playful spirit, extreme social conscience, and mostly soft voicings that conspire with the Brazilian carnival, the result is an audaciously inspiring one, religious even.
Discovery
No festival is complete if you only stick to the known. While I did not get to see as many folks at the 14 venues as I'd have liked, I did make some new discoveries. Cyro Baptista and the Banquet of the Spirits' traditional Brazilian rhythms, high-energy skronk, Eastern European folk music, Klezmer esprit, a cappella harmony, and West African percussion and melody was at the top of my list.
Close behind was Algiers, who route R&B through industrial guitars and punk rhythms as they peel back layers of history in this time of political unrest. Norwegian Jenny Hval 's songs are full of lurid confessionals that combine philosophical abstraction and pedestrian admissions against a danceable electronic backdrop. Shapeshifting Meshell Ndegeocello took us on a musical journey exploring personal pain, political protest, love, death, nostalgia, and rage. Mixed with cover songs of Leonard Cohen and Nick Drake, she was a delight. 
Last, and certainly not least, was Susanna's set with Giovanna Pessi, Bonnie Prince Billy, Cheyenne Mize, and Frode Halti, who mixed Shakespeare and Joy Division, Purcell and originals, dipping into darkness to eventually arrive in light, exquisitely expressed by the diaphanous union of Pessi's revelatory harp and Susanna's liquid voice. I swear to you, you have never heard something so quietly affecting as those two together.
Now, onto the photos, which include many folks not mentioned above.