Column
Chuck Berry and the Celebrity Death Pool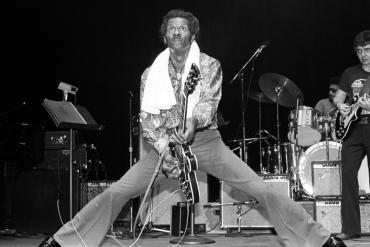 I had him on my short list. After Leonard Cohen left the building I did a quick mental survey of who was still standing from the generation right before my own and Chuck Berry, along with Little Richard and Jerry Lee Lewis, took the point positions from one to three. I hesitate to share the rest of that morbid top ten but here's a surprise: Keith Richards ain't on it. For years people have been predicting his demise because of excessive drinking and doping, and he was eloquently described by journalist Peter Hitchens back in 2010 as "a capering streak of living gristle who ought to be exhibited as a warning to the young of what drugs can do to you even if you're lucky enough not to choke on your own vomit." Very harsh. And yet, still very much alive. Keith actually lives an unusually normal suburban lifestyle in a very nice small town in Connecticut. 
Ranker is a website that gets about 20 million unique visitors per month, and their focus is on collaborative and individual list-making and voting. The headlines are often the most interesting aspect of their content, and as I sit here tonight thinking of what I'd like to tell you about Chuck Berry and his life and legacy, I'm getting hopelessly sucked into one of their lead articles, titled "30 Weird Slang Terms Old-Timey Hobos Actually Used." Seriously, this is probably the best thing I've ever seen on the internet so here's the link and when you're finished come on back and watch some videos of Chuck performing in 1958 on French television with a weird pickup band.
Ain't that something? Damn ... if you're still shaking your head about the passing of Hendrix, Stevie Ray, Prince, or any other guitar hero, you got to know that this whole damn thing started with Chuck Berry. And that song by itself is simply chapter and verse on the history of rock and roll. Go read the Wikipedia entry on "Maybellene,"'or you can stay here and I'll give you the quick rundown. 
He wrote it in 1955, inspired by a tune from Bob Wills and His Texas Playboys called "Ida Red." When Muddy Waters brought Berry to Chicago and Chess Records, he called the song "Ida May" and, in a weird inversion of the Sam Phillips-Elvis Presley relationship, Leonard Chess liked the idea of a "hillbilly song sung by a black man."
Thinking that the song title was "too rural," and spotting a mascara box on the floor of the studio, according to Berry's pianist Johnnie Johnson, Chess said, "Well, hell, let's name the damn thing 'Maybellene'" — altering the spelling to avoid a lawsuit from the cosmetic company. The lyrics were rewritten, also at the direction of Chess. "The kids wanted the big beat, cars, and young love," Chess recalled. "It was the trend and we jumped on it."  (The citation for that story is from Glenn Altschuler's book All Shook Up, How Rock n' Roll Changed America.) 
In order to juice up the airplay by using a common form of payola, the songwriting credit went not only to Berry, but also to the legendary disc jockey Alan Freed and a business associate of Chess by the name of Russ Fratto. It was a hit single that appealed to both a black and white audience, and was covered by many other artists. They rectified the songwriting credits in 1986 and it reverted back to just Berry, but not without causing him much financial loss throughout the decades. And it also probably contributed to his strict rule for concerts: one hour, no encores, pay in advance. He traveled without a band and played with whatever local musicians the promoter could round up. And he was one badass motherfucker.  
With the exception of his only number one single, which came in 1972 with that godawful "My Ding-a-Ling," Berry's string of hits started with "Maybellene" and was over by 1964. He always kept on the road, playing on a double bill with the Grateful Dead in 1965, doing the oldies revival concerts in the '70s, touring in the '80s with Jerry Lee Lewis (Bruce Springsteen and the E Street Band were the pickup band at a University of Maryland gig in 1985), and from 1996 through 2014 he played one Wednesday night each month at Blueberry Hill, a restaurant and bar in St. Louis. And as you've probably heard by now, last October he cut one final album for Dualtone Records, which comes out tomorrow.
Ranker publishes an annual Celebrity Death Pool, and their previous batting average pretty much sucks. In 2016 they only nailed six out of a hundred, but so far the 2017 list is already correct on four celebrities. Chuck Berry sat at #53; higher than Jerry Lee and Little Richard, but below Suge Knight, Phil Spector, Ozzy Osbourne, and Justin Bieber. For those of you with a certain political bent, take note that Ted Nugent made the cut at #100.
Not to get all philosophical, but whenever I hear about some musician that I respect who passes away, that old Pete Townsend line from "My Generation" comes to mind: "Yeah, I hope I die before I get old." And so it was not without a touch of irony that the week before Chuck Berry died, The Who announced that they would become the first rock band to hold a residency at Caesars Palace's Colosseum this summer. The  orchestra seats are being scalped for over $2,000. Viva Las Vegas and hail, hail, rock n' roll. Rest in peace, Chuck.
You can follow me here at No Depression to get notified when I've added something new. Many of my past columns, articles and essays can be accessed at therealeasyed.com. I also aggregate and post daily on my Facebook page, The Real Easy Ed: Roots Music and Random Thoughts. My Twitter handle is @therealeasyed.