Article
Chuck Westmoreland Announces 'Long Winter Rodeo' + Shares Video for "Sharp Rocks"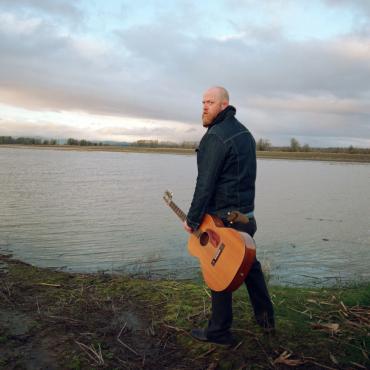 "With each of these songs I was hoping to create a little world that I could crawl into. Those are the kinds of songs I really love and obsess over." 
Chuck Westmoreland has announced the release of his sophomore LP Long Winter Rodeo, a collection of country-tinged character sketches displaying a songwriting prowess that recalls the introspective storytelling of Taylor Goldsmith and the brutal honesty of John Moreland.
With plenty of ebb and flow between sparse acoustic instrumentation and driving electric guitars, there is a majestic grandeur permeating Long Winter Rodeo which is led by a strong songwriting foundation, especially on tracks such as the album's searing bookend, "Slaughtered." "I'm ready to go," Westmoreland sings, "and I'm ready for salvation." Armed with only a guitar, his voice cuts to the bone, conjuring a romantic tale inspired by his grandparents, who lived on the Texas-Louisiana state line. It's a story about a hired hand working the land for an older couple, whose daughter happens to be away at college. He's 19, young and rugged. Not only does he grow fond of his employers but of the many photos of their daughter along the walls. "It's in a very genuine way," Westmoreland clarifies. "He doesn't meet her for years. Time goes by, and her parents get sick. She finally comes back for her dad's funeral, and he ends up holding her hand and being with her in her time of mourning."
Westmoreland's music is barbed but easy to swallow, like a smooth shot of bourbon. He inhabits these character sketches with a worn, whiskey-soaked wisdom, drawing upon a wealth of misery and pain, love and joy, hope and strength. He's the everyman, expertly imparting real stories about real people going through real struggles. Aside from that vivid storytelling and Westmoreland's weathered delivery, it's the instruments—in particular, a set of electric guitars Westmoreland crafted himself—that bind everything into a cohesive set. "I made six of those guitars," he says, highlighting his love of woodworking. "It gets pretty addictive."
Originally hailing from Shreveport, La., Westmoreland came of age in the Bay Area. He picked up the guitar at 13, played in several bands in high school, and by the time he was 17, relocated to southern Oregon, eventually making Portland his home. While there, he issued several lo-fi, four-track-recorded psych-pop solo albums. Before long, he formed indie-rock outfit The Kingdom, who signed to Greg Glover's Arena Rock label. They scored coverage at Pitchfork and toured with Silversun Pickups, earning a respectable place among contemporaries such as The Thermals and Blitzen Trapper.
Before long, though, the band unraveled, and Westmoreland began focusing on his watering hole, The Red Fox. There was a time he believed he might never make music again. When his wife was diagnosed with cancer, life came into clearer focus. She beat the disease, thankfully, but something had shifted inside Westmoreland. "I was like, 'Screw it, I'm just going to write a record,'" he says of his first album, 2016's self-titled debut. "I was just going to record it on a four-track cassette recorder and have it be a homespun sort of thing. But we got carried away, and it ended up getting blown up a bit, which was fun."
Westmoreland continued his creative streak even before the album's release. Long Winter Rodeo began taking shape earlier that July during quick songwriting getaways to a duck blind at a local wildlife area. Teaming up with the same slew of friends and players the album came together like clockwork.
Fans of the late Jason Molina's musical endeavors will find a familiarity in Westmoreland's work, and, today, No Depression is proud to announce the first single from the record, "Sharp Rocks." A powerful introduction to the project, "Sharp Rocks" is carried by jangly, driven electric guitars and delicate percussion that moves along steadily while remaining appropriately sparse. The song uses the beaches of the Pacific Northwest as a metaphor for a relationship--rocks on the cliff face, grains of sand turning to glass, and thousands of miles between the coast and the comforts of home. This is no-frills Americana of the highest order.
Long Winter Rodeo is out June 1 on Black and Gold Records.