Article
Crowdfunding Campaigns of the Week: Damon Johnson, Coco O'Connor, and I See Hawks in LA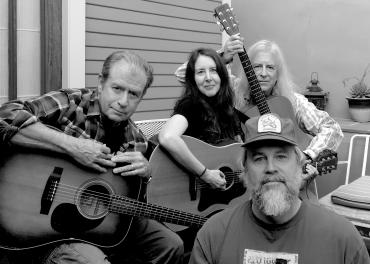 While many crowdfunding campaigns in the past few years have moved to the "pre-order with bonuses" model, there are some artists who still use the traditional style of campaigning; a campaign with a specific monetary goal and time limit. These can be fun as they add additional incentive for the artist to get creative with their bonuses, and also introduces the possibility of "stretch goals" to keep this funds coming in once a goal has been met. This week, I'll feature three campaigns that use this style.
I See Hawks in L.A.- Live and Never Learn
While never finding widespread success, the Los Angeles-based folk-rock band I See Hawks in L.A. have remained together for almost two decades, building a significant cult following with their laid-back sound and frequent environmental themes. Now the band is preparing to release their first album of new music since 2013, Live and Never Learn. Their eighth album, Live and Never Learn finds the group emerging from the other side of some personal and professional struggles that fed the themes of the album. As of this writing, the band has just passed their modest $9000 funding goal with a little over a week left in the campaign. Backer rewards include a postcard signed by the band, digital copies of all of their studio albums, and a mystery pack of items from one of the members' career outside of the band.
While hailing from New Mexico, Coco O'Connor is a name that is likely familiar to roots music fans in Nashville as she spends significant time recording and playing in and around Music City. Her new album, This Ol' War, was recorded in Nashville with producer Parker Cason. The album aims to blend O'Connor's two musical "homes" into her own style. She is also donating a portion of the funds from her campaign to the Saint Francis Wolf Sanctuary, in memory of her two hybrid wolf-dogs. Backer rewards include a signed copy of the album on CD and vinyl, a signed guitar, and a VIP tour of the St. Francis Wolf Sanctuary with Coco. This campaign just started, so it's not near its funding goal, but with over a month left, there's a lot of time left.
Damon Johnson- Memoirs of an Uprising
Damon Johnson is a versatile artist. Probably best known to No Depression readers as the vocalist for the Americana band Whiskey Falls, Johnson splits his time between the roots music and hard rock world. He is currently a member of the Thin Lizzy spin-off project Black Star Riders, a founding member of '90s Southern rockers Brother Cane, and a former guitarist for shock rock legend Alice Cooper. For his new solo album, Memoirs of an Uprising, Johnson is pulling from all of those influences. Currently, his PledgeMusic campaign is 34% funded, but still has almost two months to go. Backer rewards include the album on CD and vinyl (Johnson's first solo effort to be released on that medium), signed copies of albums from his other bands, and a chance to play golf with Johnson in Nashville.