Article
Crowdfunding Campaigns of the Week- Mairead Nesbitt, The Grateful Dead, Andrew Combs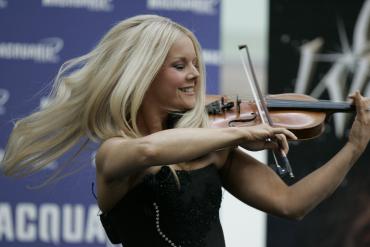 Every year thousands of artists take to crowdfunding sites to raise money for studio costs for their new album; enough of them that there are now multiple platforms available for the musician to choose from. Each offers its own unique features. One of the more popular platforms, and one you'll see me feature here almost every week, is PledgeMusic. PledgeMusic calls itself a "direct to fan" site rather than a crowdfunding site due in part to its ability to offer pre-orders of new music that aren't tied to fundraising goals. It is also one of the few platforms that is dedicated wholly to music. This week, I will look at PledgeMusic's unique pre-order feature with three new albums that use this mode.
Mairead Nesbitt- Devil's Bit Sessions
A founding member of Irish vocal group Celtic Woman, fiddler Mairead Nesbitt was the musical backbone of the PBS darlings for over a decade before leaving the group to focus on her own solo projects. Devil's Bit Sessions is the second album pre-order offered through PledgeMusic by Nesbitt. For this album, Nebitt is getting personal, with three generations of her family participating in the album named for the mountain range near her home in Tipperary. As a bonus for pre-ordering, Nesbitt is offering fans regular updates including behind the scenes photos and video from the making of the album and the surrounding countryside. Other backer rewards include her Irish fiddle tutorial book Fidil, a chance to hang out with Nesbitt via Skype, and a signed Celtic violin.
The Grateful Dead- 5/8/77 Deluxe Edition
The Grateful Dead is by far the most bootlegged band in musical history. The trend of bands offering every show for download began organically when fans of the jam band began making audience recordings of the shows and trading between each other. Over the years, a number of these live recordings have become the stuff of legend. One of them is the May 8, 1977 show from Cornell University. It is so revered among Dead fans that an audience boot of the show is in the Library of Congress' National Recording Registry. Now fans who have listened to that bootleg for years or new fans wanting an introduction to a band who is best experienced live can have a soundboard recording of the show, remastered by Grammy winning Engineer Jeffrey Norman. The album is available in a 3 CD set or a 5 LP set.
Andrew Combs- Canyons of My Mind
A popular artist among Americana faithful, Andrew Combs has built a following through highly regarded festival performances and high profile opening slots for the likes of Shovels & Rope. Combs' new album, Canyons of My Mind, is set for release on Apr. 7 and is available for pre-order on PledgeMusic now. Backer rewards include a disposable camera full of photos taken by Combs, a signed copy of the album on CD or vinyl, a song written for you by Combs on a topic of your choosing, and a house show by Combs.