Column
Dan Tyminski on Tradition and Taking Risks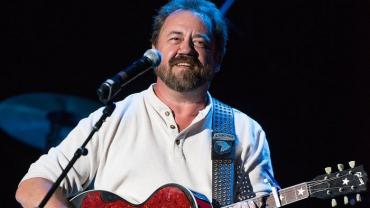 Dan Tyminski comes from Rutland, VT, where he was born in 1967 and grew up listening to bluegrass music with his dad. Rutland would seem a strange place for the birthplace of one of bluegrass music's central musicians, but only to people unfamiliar with the paths followed by bluegrass music as it moved north during and after World War II. Tyminski remembers early attendance at festivals promoted by country and bluegrass legend Smokey Greene, still active today at age 87. His earliest band experience, playing banjo, came with his dad, Stan (Stosh), and other local players in The Green Mountain Bluegrass Band, here seen at a local festival in Weston, VT, in about 1983, when Dan was 17. Not long after, he moved to Ferrum, VA, to join the Lonesome River Band. He comments that while he grew up in Vermont, he was always attracted to Southern singing, to the extent that people asked him where he was from. He notes, "I guess I've been in the South longer than I've been in the North. Some of my closest friends (have) some of the deepest accents."
Tyminski spent four years with LRB, in one of its earliest configurations, still considered to be classic. Here he's singing lead with Sammy Shelor's banjo, Ronnie Bowman on bass, and band founder Tim Austin on guitar: https://youtu.be/CcpkIKuKZIE
He bounced back and forth between Alison Krauss & Union Station and LRB between 1992 and 1994 before joining Krauss' band full time on mandolin and guitar, singing lead and harmony vocals. While Union Station was characterized in an NPR profile as a "crossover band," Krauss often featured Tyminski for his traditional sound and style. Since Krauss alternated between recordings with Union Station and solo albums, Tyminski was left with plenty of time to develop his own career singing backup and harmony on numerous country records, as well as developing as one of music's top ten golfers, according to Golf Digest. He notes, however, "I don't think I've maintained my position there. I used to have a one handicap, but it's a six or seven now. There's plenty of musicians that'll smoke me now." Here's Alison Krauss and Union Station performing "The Boy Who Wouldn't Hoe Corn" and "Take Me for Longing." Listen for Jerry Douglas' great opening Dobro solo: https://youtu.be/3larcGfwC0g
The Dan Tyminski Band formed as a side project during a time when Union Station was on hiatus. The band included AKUS member Barry Bales on bass, as well as Adam Steffey, Ron Stewart, and Justin Moses. They recorded two albums, Carry Me Across the Mountain (2000) and Wheels (2008), which were well accepted. At Vermont's Jenny Brook Festival in June 2008, I wrote this of Tyminski's performance: "His father, Stosh, came over as well as many people attracted by his reputation and name. No one left disappointed. Tyminski is supported, perhaps joined is a better word as this is truly a group effort, by a band including four musicians who have won IBMA best musician awards themselves. In two sets, the Tyminski band fired up an enthusiastic, raucous musical gourmet collection of the tastiest bluegrass anyone could wish for. Never have I seen Adam Steffey enjoying himself so much on the stage. He was always grinning, except when he was throwing his head back in full-bore laughter. His communication with Tyminski was electric as they shared the moments." While his contract with the festival had called for extensive security, when he arrived that all proved unnecessary. Late in the evening, he sat with old friend Candi Sawyer, and others gathered around, visiting for a couple of hours of reminiscence ... an evening to remember!
Tyminski performed the singing for George Clooney in O Brother, Where Art Thou? for which he won 2001 CMA award for best single and a Grammy Award for best Country Collaboration with Harley Allen and Pat Enright. Enright and Tyminski now tour with supergroup the Soggy Bottom Boys, when the schedules of the very busy band members allow. The band name is taken from the fictitious band central to O Brother, Where Art Thou?, a film whose soundtrack had an enormous effect on bluegrass music after it was released, even though there's no bluegrass in it. Writing in Stereo Subversion about the impact of the film's music, Gregory Brown said, "... a soundtrack composed of an eclectic sampling of various artists playing in a wide range of traditional American styles was able to assert itself at a time when many participants in the folk and bluegrass culture felt like outsiders in the pop music industry, thereby constituting a renewed interest in traditional American music, or 'revival.'"
When they do perform, the Soggy Bottom Boys recreate early country, old-time, and bluegrass music from a time when various strands of country music weren't as nailed down into recognizable subgenres as they are today. The band includes Mike Compton, a noted traditional bluegrass preservationist, on mandolin, as well as Jerry Douglas, Ron Block, Stuart Duncan, and other noted Nashville performers. Watch as Tyminski breaks a string while playing this song, changing it on the fly without missing a beat: https://youtu.be/7ov9hQYczgU
In a startling guest appearance, Tyminski supplied the vocal for Avicii's mega hit Hey Brother, a country/electronic dance collaboration from the album True. The song got over 133 million plays, becoming a top five hit in more than 15 countries. Tyminski says he didn't even know what EDM (electronic dance music) was when the offer came.
"I listened to a song that I felt very strongly about. I thought the content was right down my alley and the style was (was right)," he said. "Everything about it just made sense. I thought it was worth taking a shot. I had no idea it would be such a smash." 
The success of this song, in what would seem an unholy alliance for a bluegrass musician, suggests the breadth of possibilities opened by a bluegrass background due to the traditional sources, improvisational versatility, and instrumental power that bluegrass places at a musician's disposal. Tyminski explores many of those possibilities on his latest solo album, Southern Gothic. He suggests the "margins now are pretty wide. I think it's important that music does evolve. I think it's also important that it be preserved. I've spent a good share of my time on the latter half, so getting to experment in some of the evolution is exciting. It's coming around at a good time, making it a timely project for me." 
With the release of Southern Gothic on Mercury Records, Tyminski shows another element in his huge and growing versatility. Released with a great fanfare on Stephen Colbert's Late Show, Tyminski shows, in depth, his willingness to grow and to take musical risks. An NPR interview with Tyminski about the release of his new solo CD says, "Southern Gothic's title track took shape around a programmed beat and a dobro sample that Jesse Frasure, Tyminski's co-writer and producer, found in a royalty-free audio library."
"We kind of had a sample, almost like you would in a hip-hop track, of this dobro lick," Frasure tells NPR. "I just thought the sound was cool. and matched up with pretty low-end 808 drums. That kind of grungy hip-hop vibe mixed with his voice was sort of a cool new direction." 
I commented to Tyminski that I found Southern Gothic to be kind of dark. He remarked, "I do like that you pointed out that it's dark, but I think it's not so much about being dark as it is the general hypocrisy in society that you see when you look around. You know, when we look at the fluffy, there's a layer of reality that we tend to ignore that's just beneath the surface we choose to look at. That would be my better explanation of Southern Gothic. It holds up a mirror to the parts of society we choose not to look at. It's basically exposing a little bit of hypocrisy. I wanted to make sure that people understand I'm not promoting a Southern Gothic lifestyle, I'm exposing what the implications are."

https://youtu.be/jlVkU0UST6c
Who knows where that "new direction" will take Dan Tyminski?