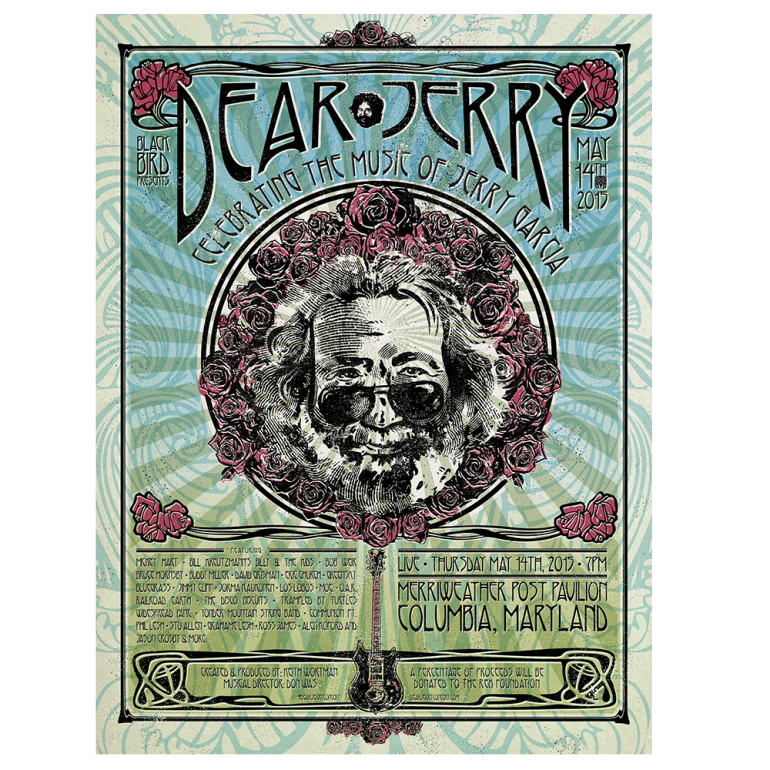 On July 4th, the remaining members of the Grateful Dead will reconvene a final time at Chicago's Soldier Field to celebrate their 50th anniversary. Two months before, though, they're gathering in homage to their fallen leader.
May 14th will see the Dear Jerry: Celebrating the Music of Jerry Garcia concert take place at the Merriweather Post Pavilion. The one night event will feature performances from David Grisman, Jimmy Cliff, Eric Church, Railroad Earth, Greensky Bluegrass, and many others.
For artists and promoters alike, the concert is a chance to pay respect to an icon.
"Jerry gave his heart, soul, and music to his bandmates, fellow musicians, and to millions of fans around the world," Keith Wortman, the executive producer of the concert said in a press release. "I am privileged and humbled to be working with these artists to deliver such a special event to the fans — it will be unforgettable."
 "The Grateful Dead has been done for 20 years but it's never going to go away," says Dave Bruzza, singer and guitarist of Greensky Bluegrass. "People who really love it get to experience it, especially a lot of the kids that are in their twenties that never got to experience it. I actually got to see Jerry Garcia play a few times in my life and that was a pretty amazing thing."