Column
The 'Effortless' Performance that Made Chris Smither Feel Lucky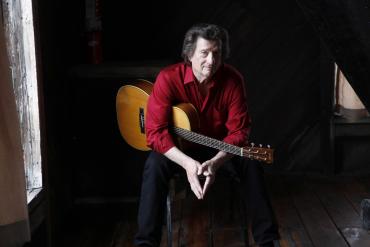 Chris Smither's new double album is titled Call Me Lucky, and he surely sounds like a man with no complaints.
"Call me lucky" are the first words he sings on the album's first song "The Blame's on Me," and "on reflection," Smither tells me, "I decided that I really am lucky in a lot of ways.
"I've made a living doing something that I would cheerfully have paid to be allowed to do. I'm healthy, I've got a family that loves me. Pretty hard to beat."
The press release for Call Me Lucky — Smither's 18th album — says the songs offer commentary on the human condition and are an introspection that usually comes from someone facing a higher power or natural disaster. So I ask Smither to explain.
"Hmm," he responds. "In my case, the introspection is probably a response to facing the enormousness of the universe — definitely a higher power — and trying to figure out my place in it. My own death would be a natural disaster of the sort that focuses the mind, and the closer it gets the more I think about it."
The first CD of Call Me Lucky, recorded outside Austin at Blue Rock Studio in Wimberley,Texas, has eight insightful original songs and covers of Chuck Berry's "Maybellene" and the Mississippi Sheiks' "Sittin' on Top of the World."  
"Chuck Berry has always been a favorite of mine," Smither says, "and, when Goody (producer David Goodrich) and I were hashing out this record, we were talking about his then-upcoming 90th birthday and new record, wondering what he sounded like at that age. Had he mellowed out? Gotten a little resigned?
"Goody said, 'Play 'Maybellene' in a minor key.' So I did, and the change was so dramatic that we figured we had to include it, especially in light of the fact that Chuck died shortly thereafter. It's kind of a tribute. 'Sittin' on Top of the World' has always been a favorite of mine, and, again, it's meaning is shifted by the slowed-down tempo. It's usually disguised as a happy song."
The second CD of Call Me Lucky is comprised of five reworked versions of songs on the first CD and a cover of the Beatles' "She Said, She Said," which the Fab Four recorded in 1966 for their Revolver album.
"It's all a part of the continuing conversation about covers," Smither says. "The point is that they (the five reworked songs) are not the same songs. The songs are not set in stone — they can be played with. It really started as an extracurricular goof in the studio — just having fun with the material. But then the more we got into it, the more we started thinking that people should hear it. Most of my fans are used to thinking of my songs as totally guitar-driven, but I don't play any guitar on the covers. The idea is: If the song is sturdy enough, you should be able to stretch it out of shape and still make it hold water."
A very unique solo performer, Matt Lorenz, who performs under the name Suitcase Junket, plays on the album. On stage, Lorenz creates a powerful blues rumble, playing guitar, singing and using his feet to coax music out of a suitcase, silverware, a pot, a circular saw, and other items.
"If you've seen him perform, you can't help but realize that he's one of the most original, innovative, spur-of-the-moment, impulse-driven musicians on the scene," Smither says. "He is full of good ideas that he never hesitates to act on. Goody asked me early on if I had any ideas about people to use, and, when I mentioned Matt Lorenz, he said, 'I can't believe I didn't think of that myself!' "
Smither appreciates Lorenz's live act, so I ask him what was the best concert he ever attended as a spectator.
"That's a toughie," he responds. "I'm not sure I could say what the very best one was, but one of the first that springs to mind is a Tom Waits show on the Mule Variationstour. It was at the Orpheum in Boston — fabulous performance, great songs, great band. I've never forgotten it."
Smither recalls another concert that influenced him.
"Here's one that I haven't thought about in years," he says. "It didn't influence me much as a musician but more as a performer. When I was 14 or 15, I went to a Julian Bream concert with my high school girlfriend at an auditorium on the Tulane University campus.
"I remember it was pretty much sold out, and I watched in total amazement. I liked the music very much, but it was the performance that captivated me. The guy was all by himself, and he had that crowd in the palm of his hand with his easy conversational style. He was totally at ease, seemed to be having so much fun, and it looked effortless. I suddenly realized that I wanted to be able to do that more than anything in the world."