Article
Emily Barker Breaks Into Recording Studio, Wins UK Americana Artist of the Year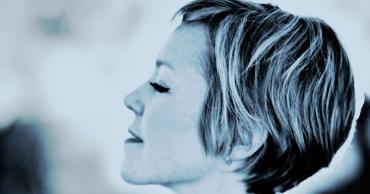 The two events in the headline don't have  a causal relationship. At least, not necessarily. The Australian singer-songwriter's latest album, last summer's Sweet Kind of Blue, got off to an awkward start. After his Grammy win with Jason Isbell, producer Matt Ross-Spang invited Barker to Memphis to record with him. Barker's welcome to the legendary Sam Phillips Recording Studios wasn't quite what she expected, but it was serendipitous nevertheless. "They were actually doing some renovations and I couldn't get in the front door. I buzzed but nobody heard me. So I went up the fire escape and let myself in the door was I kind of found myself...on the first floor. I was walking around looking for any signs of life and I found this door and on it in this gold lettering it said Sam Phillip's Office and I'm like 'Where am I? This is crazy.' And I walked towards it and I opened the door and it was Sam Phillips's office and it was just exactly as he had left it," she recalls. "There's red shag pile carpet and white vinyl sheeting and his desk there and he had this old record player built into the desk."
For, Barker, recording at Sam Phillips Recording Studios was a dream come true. She was struck by the genuine love of music she found there -- the main priority for the musicians she worked with was service to the song. The experience recording Sweet Kind of Blue was a long time coming -- Barker fell in love with the blues as a young person. Her tiny hometown in Australia hosts an annual blues festival, whose influence was felt in school. She began to sing blues and soul in her school bands and followed her passion from there.
Clearly, Barker has good instincts. This past January, she was awarded the UK Americana Artist of the Year Award by her friend and collaborator Frank Turner. "It felt like it was my birthday and because I was just getting all these text messages and Facebook messages and I got cards in the post. It was really sweet."
This summer, Barker will reunite with Mary Chapin Carpenter for her second US tour. Barker will be kicking the tour off in New York City this Sunday the 10th at Rockwood Music Hall. Her new single, "More!" proves that she's not done breaking barriers -- physical or otherwise.
*Supporting Mary Chapin Carpenter except where noted
June 10 – New York City @ Rockwood Music Hall (solo)
June 15 – Keene, NH @ Colonial Theatre
June 17 – Pittsburgh, PA @ Byham Theatre
June 18 – Bloomington, IN @ Buskirk Chumley Theater
June 20 – Wichita, KS @ Orpheum Theatre
June 21 – Omaha, NE @ Holland Performing Arts Center
June 23 – Boulder, CO @ Chautauqua
June 24 – Aspen, CO @ Belly Up
June 26 – Sun Valley, ID @ Sun Valley Resorts
June 27 – Jackson Hole, WY @ Center for the Arts
June 28 – Boise, ID @ Egyptian Theatre
June 30 – Napa, CA @ The Uptown Theatre
July 2 – Los Angeles, CA @ Hotel Café (solo)
July 24 – North Truro, MA @ Payomet PAC
July 25 – Ridgefield, CT @ Ridgefield Playhouse
July 26 – S Orange, NJ @ PAC
July 27 – Bethlehem, PA @ Musikfest Cafe
July 28 – Selbyville, DE @ Freeman Stage
August 1 – Gettysburg, VA @ The Majestic Theatre
August 2 – Virginia Beach, VA @ The Sandler Center For The Performing Arts
August 3 – Durham, NC @ Carolina Theatre
August 7 – Charleston, SC @ Charleston Music Hall
August 9 – Chattanooga, TN @ Walker Theater
August 10 – Orkney Springs, VA @ Walker Theatre
Learn more about Emily Barker here.