Article
Fergus O'Farrell's Parting Gift: The Story of "Breaking Out"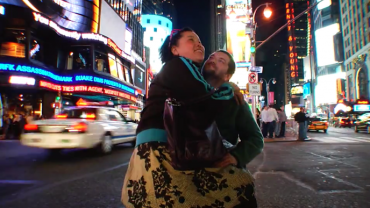 It's 1986 in Dublin and a 14 year old named Mick McCormack is working at a Self Aid charity gig. 
The band he's seeing is called Interference and to the teenager, their confidence is matched by their music, a combination that you don't often see with young Irish bands. But it's the charismatic lead singer with the golden voice that has him completely captivated.
He thinks Fergus O'Farrell is a rock star in the way he hangs on his mic. It's only until after the gig when the singer slips into his wheelchair that he discovers that the mic had been holding him the whole time. It's due to his muscular dystrophy, a degenerative condition he would battle for the rest of his life.
Flash forward three decades later, the lives of the two are still intertwined. McCormack, a film producer and director for RTE Ireland, is chronicling O'Farrell's life in music as the subject of a new documentary called Breaking Out. Sadly the man he calls an indomitable spirit, won't be able to see it. After a lifetime spent defying a disease that was predicted to have killed him at 18, Fergus O'Farrell passed away in February 2016. He was 48.
McCormack is seeking funding  to finish the  film for release next year. It is one that pulls together footage from over ten years and tells of O'Farrell's inspiration and fortitude. The director admits to having been heartbroken when Interference broke up in the mid-nineties, just a year after their self-released debut album. He found himself drawn to them again when they reunited in 2002. By that time, Fergus' condition had progressed. He could no longer play the guitar, and his piano playing was limited, but the voice was still as powerful as ever.  
"I approached him about making a documentary in 2004,' McCormack recalled, "something that I saw as a niche film for music fans. But when I spent a weekend with him in his home in West Cork I knew that this was a film with so much more to tell."
When McCormack's trailer for Breaking Out played this past February at the Cork Opera House, it struck many emotions for those gathered  a year after O'Farrell's passing. The trailer highlights the joyous inspiration of music and the singer's zest for life, including his daily struggles to get out of bed daily living with MD. The film celebrates the love affair he carried on with the wife of twenty years and who cared for him, first as a nurse in Cyprus where he was sent to recuperate from pneumonia caused by the disease.
The concerts and news of the film come at a time of release of Interference's second album The Sweet Spot, some twenty years in the making and finalized in his last days. The film's trailer and melodies on the cd are like parting gifts from the singer who once said music was his miracle--but wasn't able to hold his guitar or play piano and grappled with degenerative effects on his voice.
It was Glenn Hansard, a lifelong fan of Interference, who urged O'Farrell to sing the song "Gold" for the film soundtrack of the film Once. It  won an Oscar and became a Tony award winning musical. Although O'Farrell was at home when the song was sung during the Tony Awards, Hansard invited him to support his show at Radio City Music Hall.
In the trailer we see O'Farrell triumphantly riding in his motorized scooter up Avenue of the Americas to Radio City. He seemed like he owned the world that day. If O'Farrell wanted to put his guitar on his back and travel the world, that wasn't an option. But for one night backed by a ten piece ensemble, O'Farrell told McCormack it was like standing on the Starship Enterprise. 
"It was the first indication I had of the makeup of the man. So many would have hated the indignity of that in front of their peers. For Fergus any way of being on the road with kindred spirits making music was all that mattered. I felt on so many levels that this was a proper story  and that it was a journey that I needed to go on."
McCormack admits Fergus' death made him wonder if he'd still have the energy to finish the film without  him. When he went back to the footage, he realized that it was too important.
"When I filmed with Fergus it was like a collaboration. We both had huge ambition for this film. That hasn't changed. I believe that this could be a very special story that will make a serious impact, not just through his music but also through his courage."
It was in Fergus' last year when he started losing his voice and year and his patience with horrible condition. Over the years, McCormack would forget his friend was in a wheelchair until he rolled over his foot.
In his final year, Hansard and the Frames came to record with O'Farrell at his house in West Cork. To complete his last songs, O'Farrell, who had been using an oxygen machine, came up with the notion of using an orange pipe that someone like Hansard could use to breathe air into his lungs between singing lines.
It was only in the last year that McCormack observed O'Farrell's indomitable will finally realizing the fights was becoming futile.
"One of his greatest gifts was how he would put people at their ease. He would tell me that people had so many misconceptions about a person in a wheelchair that he would make sure to give them the full force of his personality straight away so that they would see beyond it. If need be he would then explain it quickly and succinctly, and move on."
"All of us who knew Ferg, and his fans too I suspect, certainly were aware of his MD, the wheelchair always present on stage," friend John Foley says. "But if you watched Ferg perform, he would "dance" with the motorized chair, swinging back and forth, side to side, in circles. It was part of his body. Only the closest of Ferg's pals got the Ferg bump--he would deliberately and playfully make a run at you with the chair and bang your shins and laugh like an imp.  Alcohol was frequently involved." 
O'Farrell also  touched another young Dublin artist who struggles with MD. Shortly before Fergus passed, Eoin Boyle corresponded with him. His disease is somewhat different but the struggles are the same. As he transitions from guitar to piano, Boyle told Foley, "Fergus did so well to keep it going right to the end. The guy's a legend."
Foley is left to wonder if things might be different had Fergus' career taken shape later. "While it's true that the record companies 'wouldn't touch Ferg with a ten-foot barge pole' because of his illness, I wonder if the world would be more accepting of that today?"
While McCormack edits and finalizes the film for release next year, the spirit of Interference carries on.
Interference will be headliners for a three-night run of shows April 28-30 at the Cork Opera House. There will be some twenty acts performing celebrating the Cork City music scene.
"Apart from the fact that I loved the man, I think that it's a story that does not get told often enough," McCormack summarizes, saying the project is the most important thing he will ever do.
"The life of the man behind the condition, who is not defined by that condition, it's just part of a bigger picture. A life." (To find out more about Breaking Out: silvermoonbeamfilm@gmail.com)