Column
Frye Gaillard: With Music and Justice for All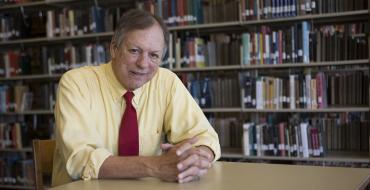 Frye Gaillard needs to be better known among a broader audience. He's certainly established himself in the South with his incisive, candid, never-pull-any-punches journalism.
Writer-in-residence at the University of South Alabama, Gaillard is the former Southern Editor at the Charlotte Observer, where he covered that city's school desegregation controversy as well as the ministry of televangelist Jim Bakker, Jimmy Carter's presidency, and the music of Johnny Cash, among many other subjects. Gaillard has written over 25 books — his newest, A Hard Rain: America in the 1960s, Our Decade of Hope, Possibility, and Innocence Lost (New South), comes out this summer — ranging over topics from the NASCAR driver Kyle Petty, President Jimmy Carter, and Native Americans in the South to religion, race, rock, and country music.
Peter Cooper wrote the foreword to the 25th-anniversary edition of Gaillard's Watermelon Wine: The Spirit of Country Music (New South); originally written in 1978, Gaillard probes, almost presciently, topics from the commercialization of the Grand Ole Opry to the increasing influence of Southern rock on country music. Along with Paul Hemphill, Hal Crowther, Wendell Berry, Will Campbell, and Steve Oney, Gaillard remains one of the most trenchant voices in journalism because he continues to point out with razor-sharp insight the ways that music is inextricably woven into the fabric of its culture, in this case Southern culture.
Gaillard is also a songwriter who's co-written songs with Davis Raines, George Hamilton IV, Anne F. DeChant, and Kathryn Scheldt, among others.
In 2012, Gaillard and Scheldt wrote a little book called The Quilt and the Poetry of Alabama Music (Solomon & George) that wraps warmly around its readers with essays and songs on the literary tradition of Alabama music. The essays range over Hank Williams, Muscle Shoals and Kate Campbell, Emmylou Harris, and Allison Moorer. In an essay titled "Down on Mobile Bay," Gaillard reflects on Peter Cooper's song "715" and its ingenuous way of using a particular event — Hank Aaron's then-record-setting home run number 715, which broke Babe Ruth's record of 714 runs — to tell the inglorious stories of the not-so-recent past. Long before Aaron had set the record, playing for the Atlanta Braves, he had homered to help his Milwaukee Braves win a pennant in 1957. Here's Cooper's cannily poetic take: "He won the pennant for the Braves with a four-run knock/The same day they were rioting in Little Rock/Up in ole Milwaukee he was MVP/Back in Alabama he was still not free/Not free to drink a beer in the white-folks' lounge/Not free to have a meal in Mobile downtown." Gaillard points out that this is a stunning song whose power comes "mostly from the story it tells — the 'truth and the beauty,' as the songwriter put it, that Aaron and his bat turned loose on the world."
Four years earlier, Gaillard published a collection of essays and columns he'd written over the years, With Music and Justice for All: Some Southerners and Their Passions (Vanderbilt). The pieces range over figures including Billy Graham, James Baldwin, Tipper Gore, John Scopes, the Greensboro Four, and Will Campbell, and the topics range broadly from desegregation in Charlotte and Habitat for Humanity to music in the South. Smack in the middle of essays on figures and events related to political and social issues lies a section titled "Soundtracks," which collects essays on Johnny Cash, Southern rock, the Squirrel Nut Zippers, Emmylou Harris, Marshall Chapman, and Si Kahn. Above all, Gaillard tells a rousing good story, and in these profiles of the artists, he captures brilliantly the traits that make these artists so memorable for us while also reflecting on the depths of the contributions to our conversations about music and its meaning for culture.
In a piece that was published when Johnny Cash died, Gaillard reflects on the enduring power and influence of Cash's music, and points to Cash's own struggles to reconcile his faith with his life as a source of that enduring power. As Gaillard points out, this struggle loomed over Cash from an early age: "Young John Cash was deeply influenced — permanently, as it turned out — by a curious meshing of the Protestant work ethic, a Golden Rule empathy for people in need, and the gritty fundamentalism of an Arkansas Church of God. All of that has stamped his music with a distinctive tension, a creative tug-of-war between toughness and sentimentality, idealism and earthiness that has enabled him to reach an impressive array of people and emotions. He could stroll onstage at San Quentin, for example, sing a few old spirituals like 'Peace in the Valley,' tugging on the heartstrings and the latent, laid-away softness that does not usually show itself behind the walls of a prison — and then he could break suddenly into one of the most ruthless and hard-hitting prison songs that many of the inmates had ever heard, 'San Quentin, I Hate Every Inch of You.'"
Reflecting on Cash's funeral, Gaillard finds this dichotomy of faith and doubt still present, especially in Rosanne Cash's words about her father: "But even more poignant was his daughter Rosanne singing 'My Old Man,' the haunting tribute she had written for her father. She freely acknowledged his limitations: He believes what he says he believes, but that don't make him a saint. But then at the end of every verse, she always returned to the same affirmation, tender and simple and straight from the heart: How I love my old man. She was singing, of course, from the heart of us all."
Marshall Chapman left Spartanburg, South Carolina, to come to Nashville to go to Vanderbilt. She soon left the campus, though, for Music Row and released her first album, Me, I'm Feelin' Free, in 1976. In the 1990s Gaillard wrote a profile of Chapman, whom he called one of Nashville's most gifted songwriters. Not just a songwriter, Chapman has written two books — her memoir, Goodbye Little Rock and Roller (St. Martin's), and a collection of interviews They Came to Nashville (Vanderbilt) — as well as a country musical she co-wrote and performs with songwriter Matraca Berg and novelists Lee Smith and Jill McCorkle. Gaillard points out that for most of Chapman's career she had seen that "country songs were the poetry of the people, telling the stories of everyday lives with a poignancy equivalent to other literary forms." On her album It's About Time…, there are "hard-living songs of love gone bad and boyfriends hanging around like a debt. The most haunting moments on the album were the soft ones — the winsome ballads of childhood memories and passage of time, and feelings that only grow sweeter with the years. More and more, the story of Chapman's own life. Songs once born in rebellion and pain now seemed to come from a different source."
With keen observation, lyrical prose, and passionate storytelling, Frye Gaillard reminds us in the profiles of musicians and songwriters in With Music and Justice for All not onlyof the dark shadows out of which music often emerges but also of the power of music to transcend the darkness of its times and to lead the voices demanding change. It's time to revisit Gaillard's writings about music and culture.