Column
Global Americana with disappear fear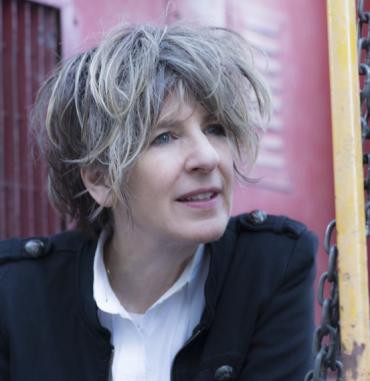 The original Disappear Fear band (stylized as disappear fear) formed 30 years ago and consisted of sisters Sonia Rutstein (aka SONiA) and Cindy Frank (aka CiNDY). SONiA has continued, performing and recording solo with the latest version of disappear fear.
Bill Frater: What got you started in the music business and when and why?
SONiA:When I was 15 years old I got paid $1.40 an hour to make pizza and ice cream sundaes and fill ketchup bottles. That spring I got booked to perform at a Purim holiday concert for what turned out to be three songs in ten minutes and I was paid $50. The choice to earn a living making music was obvious, and it was amazing to me that I could be paid for what I love to do. Not that making pizza doesn't rock, just not as much.
What have you done since then? 
We have released 18 full-length albums on Rounder Records and my own label, disappear records. I have toured in 20 countries and received many awards, including the Spirit of Folk Music Award 2017, a Coin of Honor from the United States Military for Humanitarian Efforts, GLAAD Album of the Year and Female Artist of the Year. I have shared the stage with many of my heroes, including Bruce Springsteen, John Prine, Arlo Guthrie, Chris Thile, Pete Seeger, and Billy Bragg. I am member of the Recording Academy and have many times over been in the first round of voting.
What do you do now and how do you describe your business?
I'm an international touring singer-songwriter. My job is to open people's hearts so that the sky can come through day or night. 
How do you describe your music to someone who's never heard you? 
I write global Americana, or we sometimes call it gangsta folk.
What was the first artist or album that got you into music? 
I listened when I was quite young to the Limelighters, Odetta, Louie Armstrong, Peter Paul and Mary, and Frank Sinatra. I also listened to a lot of jazz like Wes Montgomery and Charlie Byrd from my dad; and a lot of classical music, Broadway musicals, and operas from my mom. My brother turned me on to Cat Stevens, Simon and Garfunkel, early Billy Joel, early Elton John, and Joni Mitchell. The first single I ever bought with my allowance money was Kentucky Rain by Elvis Presley. The first live concert I ever saw when the song I heard on the radio came to life right in front of me was "Hello Dolly" performed at the Flower Mart in Baltimore, Maryland, when I was 5 years old. I also remember loving "Big Rock Candy Mountain":,"Oh the buzzing of the bees and the cigarette trees the soda water fountains" ... I still do.
Who are your favorite artists from any genre? 
I think Bruce Springsteen and James Taylor define Americana music for me. I love the technique of Lulo Reinhardt. I especially love the words of Phil Ochs and John Prine. I love Bernstein, Armstrong, Mitchell, and Wonder, to name a few. I like the textures of Ramy Essam and Idan Raichel. I love the voices of Andrea Bocelli, Mindy Smith, and Bob Marley and the passion of the Gypsy Kings. I would love to be to music what Charlie Chaplin is to movies and what Van Gogh is to art.
Where do you see Americana radio going in the future?
I hope Americana Radio can continue to be fueled by great artists and great songs but with more variety. Americana is like America – a melting pot of many immigrants – and the music programmers hopefully will make more open choices in the future because there is an endless exciting magnitude of rhythms and languages. This is what Americana music means to me. 
What recent albums or artists are you excited about?   
I'm really enjoying the Folk Alliance International CD 2017, Korby Lenker, Mari Black. And I love pretty much every song by John Fullbright and his buddy Wink from Oklahoma, especially live in concert. I like the new Bon Iver and Cage the Elephant, but I go back and listen to older stuff like Benny Mardones and James Taylor and early Patti Smith, Patty Griffin, and Mary Gauthier.
What are your most memorable experiences from working in the music industry?
There are several stand-out moments to me tonight:
One indelible memory is of a concert I did during the second Lebanon War in a miklat – a bomb shelter – in the Misgav in northern Israel. I can still see every face that was there.
Another strong memory of a concert was at Camp Sister Spirit Music Festival in Hattiesburg, Mississippi, when homophobic angry men were shooting at us for being there and being queer. 
And lastly I remember asking my sister and the merch people to not set up our cassettes and albums within my performance site. I had to really work on getting over the fact that I couldn't just give everything away for free and we that had to sell the stuff. 
I performed in Kansas City at Folk Alliance International a few weeks ago. It was a great event, very memorable, but I was reminded of the first time I shared the bill with Ani DiFranco. It was a club in Pittsburgh, a fan was talking to me really loudly during Ani's set and I felt so bad, but I was with the band and we had, of course, another long ride to another faraway concert and I never got to apologize. Still haunts me.
I remember getting a Best Album award from k.d. lang at the Manhattan Club in NYC and meeting her for the first time on stage as I was accepting the award that I think she thought would go to her girlfriend and not me. There was an awkward pause and then she was just the biggest flirt. I was all sorts of embarrassed but it was great moment. 
And my favorite memory of singing it up with Pete Seeger was at the Clear Water Festival. All the performers were on the stage with the Hudson River on our left and the sun in our faces and looking out and seeing this amazing golden glow across the outdoor tent. It was so dynamic to have those words that I sang so many many times to his records and then to live into that exact vision – to tell my rainbow race it's too soon to die...
What inspires you or what keeps you going?
What keeps me going is the possibility of writing the best song that could ever be written and my beautiful wife. And the amazing transformation that happens in a live concert, the connection, the love on the edge of time. 
How do you want to be remembered?
When my name comes up I hope people will say, "She made this world a little bit better – she made me laugh, she made me dance, she made me cry, she made me try to be better by being happy with myself or knowing what to change, she was inspiring and she never made me eat baked beans."
But my favorite epitaph is Ruth Gordon's: "Other than this things went pretty well."