Column
Gospel Americana and That Old-Time Religion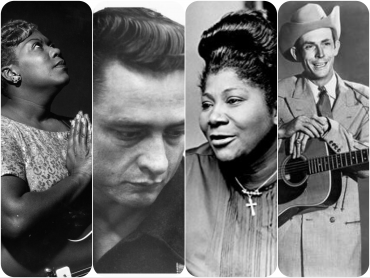 The small town of Ferriday, Louisiana, has produced two celebrities who happen to be cousins. You likely know that one is Jerry Lee Lewis, whose nickname is "The Killer" and is considered one of the pioneers of rock and roll music, while the other is televangelist Jimmy Lee Swaggart. In the '50s, when Sam Phillips' Sun Records was recording Jerry Lee, he also offered a contract to Jimmy Lee to kick off a new gospel label. He declined, citing a calling to preach, and by the late-'80s his weekly televised revival was featured on more than 3,000 stations around the world. An excellent singer and pianist, in the mid-'70s he began releasing gospel recordings that earned him quite a few Dove Awards and Grammy nominations.
We'll get back to him later.
When I was just a little boy the devil did not call my name, but my parents sent me off to Hebrew school so I could learn the Torah and prepare for my bar mitzvah, a rite of passage when one turns 13. After the big event I didn't continue with my religious education and spent most of my adult life declaring myself an atheist. But as strange as it sounds for an unsaved nonbeliever, heathen, and sinner such as I, the sound and glory of gospel music reached my ears when I was in my early 20s and I've always kept it close at hand.
Although I have no interest in getting too academic here, gospel and spiritual songs are largely an American-made type of music, albeit down racial lines. According to the New World Encyclopedia, "The relationship between the origins of white and African American gospel music is a matter of some controversy. Some argue that gospel music is rooted in Africa and was brought to the Americas by slaves. However, gospel harmonies and many of the hymns themselves also show a clear Scottish influence. Although white and black gospel singing may have grown up side by side and cross-fertilized to a great extent in the South, the sharp racial division in the United States, particularly between black and white churches, has kept the two apart. While those divisions have lessened slightly in the past 50 years, the two traditions are still distinct."
That was Thomas A. Dorsey, the son of a Georgia Baptist preacher who was originally a blues and ragtime jazz composer and singer. Often referred to as the "father of black Gospel music," he is credited with teaming up with Mahalia Jackson — herself influenced by blues singer Bessie Smith — to bring the rhythm and energy of secular music into the church, and they formed the National Convention of Gospel Choirs and Choruses, which is still thriving today. 
In the late '20s, gospel music began getting recorded and released by folks such as the Carter Family and Blind Willie Johnson. Within a few years, the Grand Ole Opry began to feature bluegrass and traditional gospel singing, while pioneering urban gospel performers gained popularity among black audiences. As the recordings became a solid revenue stream for record labels, distinct subgenres began to appear. Here are a few clips that reflect the various styles.
The Stanley Brothers
The Five Blind Boys of Alabama
Blackwood Brothers with JD Sumner
Sister Rosetta Tharpe
It's hard to escape the influence that gospel music has had on almost every form of American roots and popular music. It's always fascinated me that some of the greatest spirituals have been performed by pill-poppin' and bottle drinkin' fornicators and sinners, and there is a long list of those who have easily crossed that highway. Little Richard and Elvis Presley, Johnny Cash and Sam Cooke quickly come to mind.
Which brings me back to the aforementioned Jimmy Lee Swaggart.
In February 1988 Swaggart admitted to his audience that he had sinned, and was suspended by the Assemblies of God for sexual immorality. Because they felt he wasn't repentant enough, he was defrocked. Two years later, now an independent Pentacostal preacher, he was found in the company of a prostitute for the second time. Instead of offering yet another public apology, he stood on the pulpit and declared "The Lord told me it's flat none of your business."
On my own spiritual path, somewhere along the way I've moved from atheism to becoming a reluctant agnostic. Ceremonial trappings, century-old traditions, preachers on television with toll-free numbers on the screen, and the hypocrisy of those who espouse family values yet embrace politicians who ritually lie, cheat, and steal will not cause me to repent nor accept a savior. But to each their own. Nature, emotion, art, and music in all its glorious forms are my higher power. And I say amen to that.
Many of my past columns, articles, and essays can be accessed at my own site, therealeasyed.com. I also aggregate news and videos on both Flipboard and Facebook as The Real Easy Ed: Americana Roots Music Daily. My Twitter handle is @therealeasyed.