Column
'In the Ground' by the Gibson Brothers Soars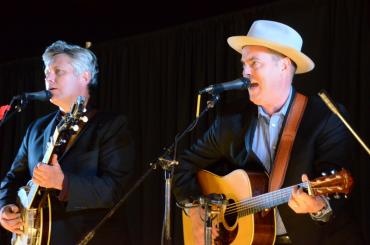 The Gibson Brothers' new recording, In the Ground from Rounder Records, stands out for its musicality, meaningfulness, and structure. Like a sophisticated classical song cycle, each song stands alone, but as a part of the greater whole each encompasses the Gibson Brothers' lives and experience, taking on a greater meaning in context. You could purchase In the Ground as individual songs or download the entire album and listen on shuffle, but choosing any way other than listening to this album all the way through and then returning to each individual song to savor the beauty and subtlety would be to miss the nuances, the shades of color, that Eric and Leigh Gibson reveal to serious listeners.
In the Ground is the first album the Gibson Brothers have released that's completely their own work. While usually known for combining their own unique substance and sound with carefully chosen covers of both bluegrass standards and powerful co-writes, this one depends on their own creativity and musicality as well as their perspective on the meaning of their lives as they enter middle age. These songs use the brothers' well-known musicality to continue themes they have long pursued, placing traditional values into a contemporary setting where the tried and true continues to work. Many albums seek to order their delivery of songs in a coherent, thoughtful manner, and fail for lack of thoughtful material. In the Ground delivers because of the quality of its content and music.
"The Highway" hits the ground running as a bluegrass song that has deep echoes of rock and roll and even rock's blues antecedents. It's a road song, the best they've written since "The Open Road" more than a decade ago. Clayton Campbell's wailing fiddle and Jesse Brock's mandolin break sound completely different from each other and totally characteristic of their instruments. Starting with Daddy earning his living on the highway and moving to to personal satisfaction found out there on The Highway ("find a future, find a girl"), this is an insistently driving and powerful evocation of the road.
In "Homemade Wine," a wino wakes up after a hard night stinking of homemade wine spilled over his clothes. He's confused, out of control, and feeling lost. "It ain't fancy, it ain't fine, it will get me every time, I can't leave alone that homemade wine" — he can't figure it out and can't give it up. The song examines the desperation and fear engendered by rotgut. The song is desperate without being self-pitying.
"Remember Who You Are" tells the story of a father giving advice to his nearly adult son as he leaves home. The mellow kick-off of this song foreshadows a change of pace from the previous song. This was written over a period of years by Eric with a strong boost from Leigh, who broke through his procrastination about finishing the song. The brothers' late father, his life, his values, and his death have dominated the qualities built into so many of their songs. "I can see you going places I have never been." Be yourself, live by example, actions speak louder than words. Your life will be different from mine, but always "remember who you are." This watchword has informed the lives and careers of the two brothers, animating the responses they elicit from their fans through their music.
"We're Making Good Time" hits the ground running, with a rolicking beat and plenty of drive. Sounding at first like a road song with an unusual, for the Gibson Brothers, "oooh, oooh, oooh" backing from within, the song soon emerges as an existential and happy examination of finding oneself on the road of life. "We don't know where we're going, but we sure are making good time," expresses the energy, creativity, and wonder of the journey's precedence over the destination of the creative process. As they emerge into their 40s, the Gibson Brothers' creativity is still emerging, unlike many creative people who reach their heights in their 20s and early 30s. "We don't know where we're going," repeated three times, "but we sure are making good time." Eric sings, "It's a wonderful ride while we're getting our bearings."
Leigh sings "My Quiet Mind" in the contemplative tone we've come to expect in some of his best songs. Set in the context of the loss of a loved one, the song examines how to revive a sense of equilibrium, balance in the search for completeness. Inevitably, we're all always alone when we don't express our emotions, our sense of the other. Looking for completeness in the quiet mind, "everyone listens to voices sometime," expresses the same search found in "Something Coming to Me" from their earlier recording, They Called It Music. It suggests a life of growth and discovery. In his great poem "Death of a Hired Hand," Robert Frost says "Home is something you haven't to deserve." That sense of searching and discovery cries out through this song, which has grown on me since I first heard it. We don't deserve; we search, perhaps for an entire lifetime.
"I Can't Breathe Deep Yet" opens with a typical Gibson Brothers honky-tonk instrumental riff, while the lyric slides through the perquisites of success before capturing the sense that there's always more to achieve and that allowing oneself to rest on one's laurels is the end of success and creativity. The accoutrements of success aren't enough, because they all can go away. Keeping the "restless side of me that's taking hold" focuses on forward movement, not sitting back to enjoy success and the good things that have already happened. The song recognizes the possibility of loss in the future, but asserts that keeping striving is what's important. Again, the search is more important, perhaps, than the goal.
"Fool's Hill" describes the mistakes most will make on the journey to maturity, providing plenty of examples of how being young and foolish will get you to Fool's Hill. There's a lilting melody for this cautionary song that many will hear without heeding. "You can't bring your horse inside a bar," even if you're a movie star. Watch out for driving too fast on Fool's Hill. "Some won't make it, but most will." We all have a good chance of making fools of ourselves when we're "young and have time to kill." There's a lyricism in this tune that belies our drive to make fools of ourselves when we're young.
I read Leigh's song "Friend of Mine" as an appreciation of the brotherhood and friendship of the Gibson Brothers along with their companion of 24 years, Mike Barber. Leigh has written about the value of traveling together and growing together, although there are risks involved in spending so much time together, particularly in cars. When we're "gone," what we have left will be in song. "The sound that comes from you still shines" – Rob Ickes' Dobro solo captures this feeling perfectly. "We shared the good and held up through the worst."
"Little Girl" is an appreciation of female influences and sticking it out, the things that reach out to a person who feels down, that take the edge off. This song took 10 years to come to fruition, as Eric put off finishing it. Initially celebrating the elements in life that may cost, it concludes, "You're the one thing I've done right, Little Girl." "If I can hear your laughter, then my day is made." It examines the way in which concentrating on work and accomplishment sometimes draws a person away from the relationships that form the anchor of a good life and relationship.
"I Found a Church Today" celebrates the way that Jesus reaches out to draw those who've fallen away from him and leads them back to their church. "And your love shone in through the windows wide, and it brightened the room 'til I'd nothing left to hide." Simple and filled with faith, the song, like other Gibson Brothers gospel songs, is personal, a declaration of faith without unnecessary adornment. It reaches out gently to believers and non-believers alike.
"Look Who's Crying" sounds more like a country song, with a strong Dobro backing from Rob Ickes setting just the right tone while Jesse Brock's mandolin perfectly complements his deep sounds. It sounds like a "get even" song. She wants to "work it out now." There's a tone of gloating as the tables are finally turned, and the singer can get "off his knees."
Eric's son Kelley gets a co-write on "Everywhere I Go" with Eric and Uncle Leigh. The song captures loneliness without "rhyme or reason" that "the best is left behind." Despite all the good times, recognition, and fun things to be found on the road, life is without real meaning without the person who really counts. Despite the song's opening celebration of the "happy people around me," there's an effective tone of sadness and loss in this song, as there's "one more night without you, everywhere I go." The song celebrates home and family as the best refuge and source of goodness.
"In the Ground" joins songs like "Farm of Yesterday" and "The Barn Song" in mourning the loss of the family farm to "progress" and modernity. Despite the values of hard work providing food and life to the country, the family farm has died, laid "in the ground" in the name of progress. Elegies for the dying past are a major feature of bluegrass music, often based in the end of rural life. Using the image of placing a seed "in the ground" to evoke a funeral, this song carries a particular poignancy. Placing the song at the end of this collection leaves a certain sense of loss. The relationship of the ground and nature to producing food to meet the needs of a growing country is not sustained without the family farm and its values of hard work, the dream of providing for others. The image of the casket proclaims the death of an irreplaceable institution.
Instrumentally, though this is a studio album, the band is, essentially, the same band fans see and love on the road. Jesse Brock on mandolin and Clayton Campbell on fiddle are, as usual, keystones to establishing and maintaining the distinctive Gibson Brothers sound. Leigh's always strong and solid guitar work combines with Eric's banjo or guitar work just as their voices complement and complete each other. Each great soloists in their own right, they are, always, members of the tightly knit team that is the Gibson Brothers. Mike Barber, on bass, provides the basis for the solidity as well as always contributing to production values. He deserves credit as co-producer. Rob Ickes, the only guest instrumentalist on the album, contributes mightily on Dobro in four songs.
Gibson Brothers lyrics deserve careful listening, even concentration to make the most of them. There's serious thinking and thoughtful development of good writing in their literate work. It's the stuff that English majors write. They can be appreciated on many different levels. As one of the premier performing bands, often because of the joy they take in their bantering relationship, they also deserve to be heard in recording because of the power of their lyrics and melodic lines. A distinguishing characteristic of bluegrass, and especially this Gibson Brothers album, is that fast tempos can't hide serious, even hard-to-handle ideas. In the Ground contributes another fine link to the ever-growing chain of Gibson Brothers quality collections. It belongs in yours, too.