Column
Guitarist Recounts What Influenced Tim Buckley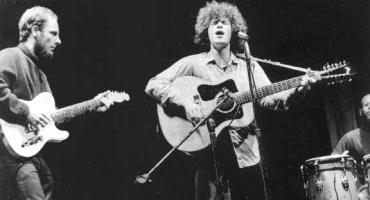 Sometimes I wonder which concerts were the favorites of Tim Buckley, one of my favorite artists, who died too young at age 28.
Lee Underwood, Buckley's guitarist, probably has as good an idea as anyone.
"He often talked about Roland Kirk, Bill Evans, and Miles Davis, among many others," Underwood tells me. "He loved their individuality, their sense of improvisation, their stylistic uniqueness. He heard all those folks live and was very much influenced by them, especially Miles Davis.
"Of course, he listened to many others on LP, including the great vocalist Cathy Berberian, the wife of electronic composer Luciano Berio. Cathy's use of nonverbal vocal sounds gave substance and direction to Tim's growing sense of improvisation during the Starsailor period. During that period, he also listened to Penderecki, Stravinsky, and several other modern classical composers."
Starsailor, a free-form, avant-garde jazz and classical album, was an adventurous release for Buckley, whose incredible multi-octave voice was initially known in a folk-rock and psychedelic-rock vein. As Underwood says, though, Buckley was enamored with other musical genres.
"Tim made original music — in his own way and in a variety of conceptual domains," says Underwood, who played on seven of Buckley's nine studio albums. "He shifted stylistic gears at least five times: from folk on the first (self-titled) album to folk-rock on Goodbye and Hello, to jazz on Happy Sad, to avant-garde classical music on Starsailor, to good, old, down-home funky dance music on the final three studio albums.
"Each time he shifted gears, he lost an audience while gaining a new one. The previous audiences wanted him to repeat musical approaches he had developed and left behind, while new audiences enjoyed whichever new style he was developing.
"Commercial music demands repetition," Underwood explains. "Serious artists rarely repeat themselves. As a result, Tim was never a mainstream box-office hit during his lifetime. However, as audiences have become far more sophisticated over the years, enjoying new sounds and new approaches to music, they have been discovering Tim anew."
Numerous posthumous recordings — predominantly live albums — have been released since Buckley died in 1975. The most recent ones — the vinyl album Greetings From West Hollywood and the CD Venice Mating Call — were released last year by Manifesto Records.
"The new CD and LP consist of the sets we performed at the Troubadour in (West Hollywood) in 1969," says Underwood, the author of Blue Melody: Tim Buckley Remembered. "The gig was a kind of extended jam session. It was unrehearsed, consisting of some of the songs from the previous albums, such as 'Buzzin' Fly' from Happy Sad and new songs 'Lorca' and 'Anonymous Proposition' that soon showed up on Lorca in completely different forms than at the Troubadour. This was the period between Happy Sadwith its jazz influences and Lorca, the first of two relatively abstract contemporary classical albums.
"Tim was just coming out of relatively conventional songs and ways of singing — using the voice mainly as a vehicle for lyrics — and moving into a whole other dimension in which he often utilized his voice as a sonic instrument, rather like a saxophone. Lyrics became relatively secondary, while new vocal sounds and sonic textures came to the fore. Unfortunately, the only album we have of this music is Starsailor — after which Tim spent three years developing his improvisational, abstract ways of singing."
Underwood says he played a significant role in the musical development of Buckley, whose son, musician Jeff Buckley, also died at a young age, 30, drowning in the Mississippi River in 1997.
"I was six years older than Tim and had read a lot of fiction and poetry before meeting him," Underwood says. "He had an astonishing intellect and absorbed everything I could give him in terms of authors, poets, and musicians. He would then transform what he learned from me and the poets and writers he read into something new and original — hence, his moving through five different conceptual domains and recording nine studio albums before he died at age 28. If that is not genius, I don't know what is."
Many musicians and artists influenced Buckley, so I ask Underwood, who became a music journalist and released solo albums after Buckley's death, which musicians and concerts he enjoyed most or were an influence.
"From the early '70s onward, I fell absolutely in love with guitarist John McLaughlin, first with the Mahavishnu Orchestra and then with Santana," he says. "I heard zillions of virtuoso guitarists when I was with Tim, most of whom, like Clapton and Hendrix, were rooted in variations of blues cliches. Nobody came close to McLaughlin — not only in terms of his astonishing technique, but in terms of the sheer vibrance, energy, and originality of his ideas, both compositionally and improvisationally. He was spectacular. His music absolutely transported me. I saw him live several times and interviewed him several times. He is also one of the brightest, most insightful, most articulate musicians I have ever talked with."
Underwood says Miles Davis's performance at the Troubadour in the mid-1970s was memorable. He played with a septet that was on his 1975 double album Agharta.
"The compositions were based on one or two themes that served as turning points for soloists," Underwood says. "The soloist — say, the amazing guitarist Pete Cosey or saxophonist Sonny Fortune— would play for five or 10 minutes. Then Miles would give a shrug or a pointed finger, and there would be a thematic interlude after which the next soloist would take the front. The music was rooted in strong Afro rhythms, while the improvisations were spontaneous jazz. Great stuff. Critic Leonard Feather, a major supporter of bebop jazz, didn't get Miles' new music and panned him. I was completely dazzled by Miles and this particular band and said so in print for the L.A. Free Press at the time — a time when Tim was dead and gone. He would have love Miles's new music, too, as he had earlier admired In a Silent Way and Bitches Brew."