Article
I've Said It Before, I'll Say It Again: Gram Parsons Wrote "Wild Horses"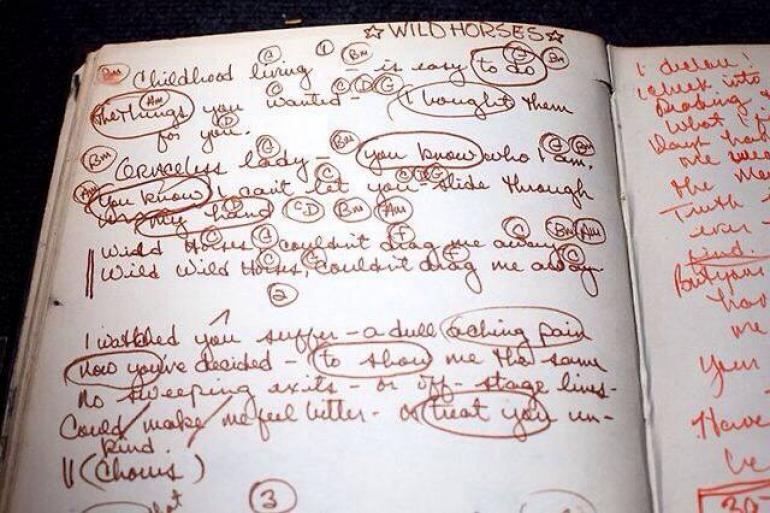 I wrote this back in 2013, long before today's hyper-sensitive world of Facebook and Trumpian tweets posing as Truth. While I believe and still stand by what I hypothesize here, this essay is primarily literary analysis and opinion. If it were about the facts, well, it would be a different essay with factual arguments. The term "fake news" did not exist when I posted this; this obviously does not constitute any kind of "news." I am not presenting it as fact. (Although I am saying that everyone else should say the same thing; the facts are at least jumbled.) There was a deal, and I believer all parties, including Gram, who didn't know he was going to die soon, held to the deal until the end. He didn't need the money, and he was generous with song credits. The solid evidence involves facts concerning when and where it was recorded, and so forth. There is no evidence as to when the song was conceived and how much was written by whomever. Much of the "did he or didn't he" is debated in comments below (and many more that were lost when the site changed hands), although I understand these comments will soon be deleted (as part of the ND website re-design policy); I have saved them for history. I'm assuming there is some interest in the subject, with more than 60,000 page views (as of Jan 2019). So relax everyone, enjoy my little flight of fancy if that's how you wish to perceive it. To quote ol' Bill Faulkner's sardonic view about the reliance on only facts, "It doesn't even matter whether the facts are true or not, as long as they match the other facts without leaving a rough seam." 
Gram Parsons wrote "Wild Horses."
Or at least co-wrote it. Gave the lyrics to Keith on the way out the door. Whatever, I don't care. Some of us who know Gram's style of songwriting (and love it) have always known it. And we also know the Stones' style, both before and after meeting Gram (and musically, Ry Cooder). Now in the Feb '13 issue of Uncut we have Mick's brother saying it was a Gram Parsons' composition ("not that he ever got anything for it"). And we have an old quote from Mick himself, "I remember we sat around originally doing this with Gram Parsons..." Etc. Really Mick, you "remember" that much... in '71? And knowing Gram, I imagine he wasn't doing anything? Just sitting around, watching? Right.
I won't even get into the obvious about Jagger "allowing" someone to cut one of their best songs first.
But I'm not here to argue the point. Please! I know there's no proof. Move on if you're not interested in my new (well, I thought it out a few years ago) theory about what (and who) it's about. There's no proof. Already conceded that point. Doubt you'll ever see any unless the corporation that is Mick Jagger passes on and truths may be spoken.
No, there's no proof. Unless you believe in the analysis of art and life as proof. So on with it. I've felt for years that the original lyrics, written by Gram and perhaps modified slightly by the Stones, were written about/for Gram's sister Little Avis. I've read various interpretations of the song, and none seem to ring true. I believe this does.
Gram felt tremendous responsibility for Avis after their parents' death, and overwhelming guilt at times for leaving her. And, no doubt, some guilt over what was happening to him, and that he would also soon be leaving her for good. "Faith has been broken, tears must be cried." His letters to Avis (see Meyer p. 163 et al.) to this writer mirror the thoughts and feelings in the song. With that in mind, the song here the drag me away lines omitted.
Childhood living is easy to do
The things you wanted I bought them for you
Graceless lady you know who I am,
You know I can't let you slide through my hands
I watched you suffer a dull aching pain,
Now you've decided to show me the same
No sweeping exits or offstage lines
Can make me feel bitter or treat you unkind
I know I dreamed you a sin and a lie,
I have my freedom but I don't have much time
Faith has been broken, tears must be cried,
Let's do some living after we die
Wild horses couldn't drag me away.
(Yes, "Graceless Lady" could easily be a loving, personal reference to one's younger sister.)
That's it, nothing fancy; just obvious to me (and maybe only me, doesn't matter). Many point toward facts, many of which are not in dispute, but few have to do with the song's original genesis. I'm with Faulkner, I don't give a damn for facts, just truth. And that's what I hear in "Wild Horses."
Truth.
Originally published in Gram Parsons InterNational blog, 2013