Column
John McEuen Talks About the Life He's Picked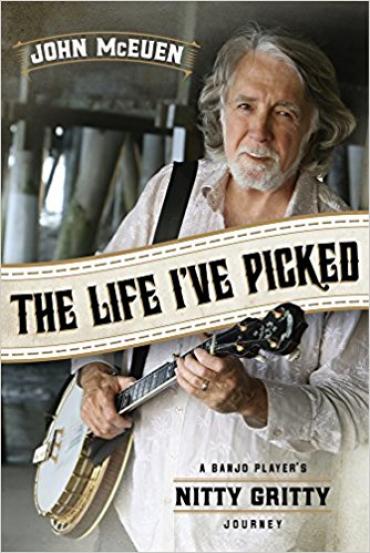 For well over 50 years, string player extraordinaire John McEuen has worked his magic on stages throughout the world, as a solo performer and as part of the Nitty Gritty Dirt Band. As a member of the Nitty Gritty Dirt Band, he initiated conversations with Earl Scruggs and Doc Watson, asking them to play with the group on the album that in many ways became the foundational album for roots music: Will the Circle Be Unbroken. Mother Maybelle Carter, Vassar Clements, Jimmy Martin, Merle Travis, and Roy Acuff, among others, soon joined forces with the group to make the record.
Yet, McEuen's tenure in the Nitty Gritty Dirt Band is only part of his story, for he also knows how to tell a rattling good story, and in his splendid new autobiography, The Life I've Picked: A Banjo Player's Nitty Gritty Journey (Chicago Review Press), he invites us into his living room to share the ups and downs, the joys and sorrows, the laughter and the tears, the triumphs and the failures. McEuen pulls no punches in his story; he's candid about his disagreements with members of the Nitty Gritty Dirt Band, especially Jeff Hanna, and their treatment of him, but this is hardly a score-settling autobiography. While he tells his stories about such disagreements with fierce honesty, he's also gracious and quick to recall the good times: "I lived the American dream of being in a band that touched so many; I still can't say exactly what went into that magical mix of factors that came together so well for so long. But I know that for a long time … it really worked … I have to thank Les, Ibby, Jeff, Fadden, and Bob, and especially my brother Bill, for creating a platform that I — we — could stand on and reach the world. WE made some history."
McEuen's story starts with his itch to perform. As a teenager, he worked in Disneyland's Main Street Magic Shop, where he found the something more he'd been looking for: "I wanted to feel like I belonged. I found that feeling from working at Disneyland, where being on stage, even if only to hawk merchandise, made me feel at home … I credit those years with giving me the confidence to go out in front of any audience and get their attention, and keep it." He and Steve Martin already hung out together playing chess, and they would eventually become obsessed with the banjo; during their breaks at Disneyland, they'd watch the Mad Mountain Ramblers, which included David Lindley, Richard Greene, and Chris Darrow.
In 1966, Les Thompson — with whom McEuen had formed his first band, the Willmore City Moonshiners — called McEuen and told him he should get into the group that he and some others were putting together at McCabe's Guitar Shop in Long Beach, where McEuen was teaching banjo. McEuen knew the other players, and so he moved into the Nitty Gritty Dirt Band in its third month. "I liked Jeff's voice and quirky sarcasm, too," he says.
As the NGDB evolves, McEuen begins to work other kinds of magic tricks, working as the group's road manager: "This was the kind of situation in which I thrived. I could feel like I had some control and was really accomplishing things: getting all of us around, saving money doing it, never missing a show, taking care of business. The others never mentioned any of those efforts, nor offered thanks or appreciation, except for Ibby occasionally, when he was in a good mood."
McEuen tirelessly works to be the best musician and performer he can be, restlessly searching for new ways to play a tune or innovative ways to produce the sounds he's after. He recalls what Lightnin' Hopkins once told him: "You can spend your whole life lookin' around in E and never find all of it." He declares: "I worked hard at music, with a simple goal: to be as good as possible every night. I was thrilled to sense a crowd digging the show and always hoped for good reviews."
McEuen carries his story right up to the making of his most recent album, Made in Brooklyn — "the most exciting time I'd had in the studio since making the Circle album" — and also his parting of ways with the NGDB, at the end of their 50th anniversary tour, at the end of 2017.
The Life I've Picked is chock full of humorous, sad, and poignant stories — the death of his sister Maureen, his playing at Earl Scruggs' funeral, his breaking down over having to put the family dog, Teddy, to sleep, his prank on Marty Stuart of dressing in June Carter's nightgown and lying next to Stuart and watching him jump higher than any non-athlete he knew, the making of the Circle album, his raising his children as a single father, his meeting and marriage to his wife, Marilyn — and every one of them reveals a thoughtful, compassionate, witty man who embraces every aspect of life. It's a compelling autobiography that deserves to be read widely among fans of the NGDB and of roots music.