Column
John Prine and the Rabbit Foot Blues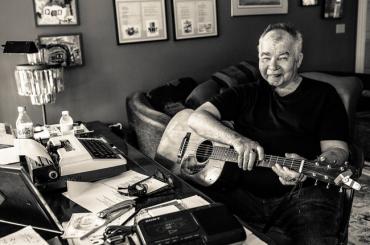 I can remember a hot summer day in 1961 when the trucks and cars towing shiny Airstream trailers with exotic license plates from states like Florida, Alabama, and Georgia pulled into the massive parking lot of the local shopping center just down the street from our house in Philadelphia. My friends and I sat on our bikes and watched with anticipatory excitement and awe as men with tattoos on their muscular forearms and exotic-looking women who all seemed to have long flowing black hair worked in tandem to rapidly set up the midway rides, food stands, games, and a main stage.
This carnival had no tents, and the shows were performed for free under the stars by clowns, acrobats, a bearded lady, Siamese twins, and The Elastic Man. The latter stood over seven feet tall and couldn't have weighed more than 90 pounds, yet he would fold himself up and fit into a child's red covered wagon that would barely hold a medium-sized dog. There was also a live band that featured two male singers, and while I can't confirm it, I've always believed it was the Brooklyn-based duo Don and Juan, who coincidentally recorded for the Bigtop label. I recall they covered all the current hits, and finished the set with their own top ten song.
From early morning to late at night, a few of us hung out with the carny folks, running errands or doing simple jobs. We were given free passes for the rides, had our fortunes told by some of the women, and soaked up a lifestyle and language unlike anything we'd ever experienced. They were only there for a few days, but it was long enough to put the thought in my head that I was going to run away and join them.
We had all grown up watching Circus Boy on our small black and white televisions, a show that starred future Monkees drummer Micky Dolenz playing the part of Corky, an orphaned kid who was adopted by Joey the Clown. On the morning after the last performance, I ran down the street to the shopping center carrying a small bag of clothes and found an empty parking lot. I was heartbroken, and other than the vivid memories I still carry with me, all I had to show for it was a rabbit's foot on a keychain that I won in a stupid game. Put it into my pocket every day for years.
Unlike most people I know, there is no real or imaginary bucket list that I've come up with of things to do before I die. No exotic places I want to visit, no desire to skydive or walk on red hot coals, no particular women I want to date (that's a lie), no dreams I need fulfilled. I've got some regrets for sure, and what comes to mind around the subject of music are the concerts I never went to and the musicians I never got to see.
It's a short list: I was close to going to Woodstock with my friend and neighbor David, but my parents stopped me at the last minute. He went alone and came back with some crazy bug that laid him up in the hospital for a few weeks, so I was sort of okay with missing it. I never saw the Beatles play together, although over time I managed to catch three out of four and had lunch with Paul once. I was on my way to see Elvis Presley one night but made a quick stop at a record release party for Patti Smith. I never left. She was transformational, he was soon dead. Had a ticket to see Springsteen in 1975 at a small theater and was approached by a girl who said she'd do anything to get in. Half-joking I said "two hundred dollars" and she quickly counted out the dough and I was fine with it. Managed to see Leonard Cohen on his final tour, and last year scored tickets for a Gillian and Dave show.
A John Prine concert was the last must-see event I've had on my mind for some time, and last February I was fortunate to buy a ticket at face value for the first night of his tour: Friday, April 13th, Radio City Music Hall, New York. Center stage, second mezzanine, aisle seat. It was the day his first new album in ten years would be released, and everyone in the audience was to be given a free CD. Sturgill Simpson was opening and Brandi Carlile would join Prine's band. While they were in town he taped The Late Show with Stephen Colbert.
Eight days before the show I got sick. Very sick. My lungs filled with fluid, my doctor pumped me up with steroids and antibiotics, and I stayed home from the day job to rest. As time passed with little improvement, I remembered that old rabbit's foot and wished I still had it. On Friday the 13th I woke up, made a pot of tea, and with a couple of clicks on the keyboard I sold my ticket and went back to bed. Rolling Stone posted an online review of the concert that I read the next morning:
Friday night's Radio City concert was a generations-spanning, culminating celebration of the late-career resurgence of John Prine, who over the past decade has unknowingly and unassumingly taken on the role of spiritual and musical godfather to an entire generation of 20- and 30-something country/folk-leaning singer-songwriters.
Playing at Radio City for the first time in his 50-year career, Prine's age-weathered voice was in fine form from the onset, accentuating the time-tested vulnerability on old classics ("Hello in There") and newly personal confessions ("Boundless Love") alike.
The night came to a fitting close when Prine, joined by his wife, son, Carlile and several kazoos, bade farewell to the capacity crowd with his new album closer "When I Get to Heaven." Prine delivered the song's gently-strummed verses in a captivating, fully a cappella arrangement before erupting into the song's ramshackle sing-along chorus with the band. But before he took his final bow, the singer neatly summed up the celebratory evening with the song's final words. "This old man,"Prine sang, "is going to town."
Do you want to know how I felt after reading that? It was exactly the same feeling I had 57 years earlier on the day that the carnival left town without me. And instead of a good luck charm in my pocket, I'm left with this special duet. Guess it's just the way the world goes around.
Many of my past columns, articles, and essays can be accessed at my own site, therealeasyed.com. I also aggregate news and videos on both Flipboardand Facebook as The Real Easy Ed: Americana Roots Music Daily. My Twitter handle is @therealeasyed.