Article
Keeping It in the Family: Lucy Wainwright Roche Shares Stage with Suzzy Roche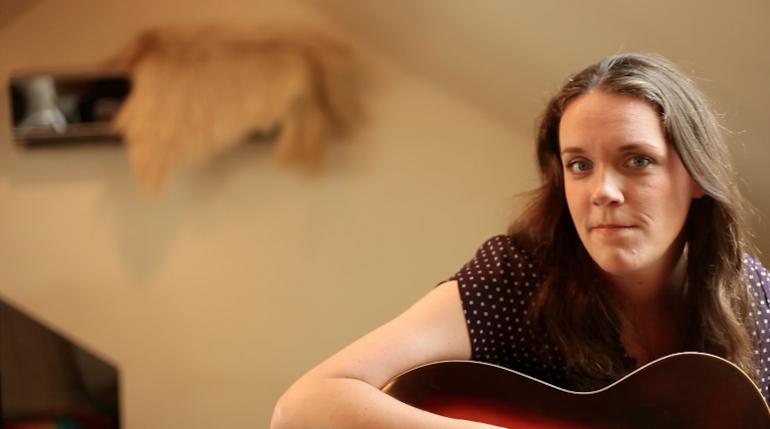 Lucy Wainwright Roche normally travels alone. When reached by telephone in Minneapolis recently, she had already spent several weeks in a car with her dog, Maeby, and her mother, acclaimed singer-songwriter Suzzy Roche (The Roches), in tow.
"We've been spending a lot of time together in the car," says Wainwright Roche, who has been performing with her mother as part of a three-week tour. "Since we've been staring at each other every day, it's nice to get out and talk to an audience. But we're used to being on the road together because I toured with the Roches when I was a kid. The new part is, now we are both on stage."
Wainwright Roche, who is also the daughter of folk singer-songwriter Loudon Wainwright III, was once reluctant to join the family business, which also includes siblings Rufus and Martha Wainwright, after a childhood of touring in vans and hanging out backstage at clubs and theaters around the country.
"I grew up with their music all around me," she says. "I hope some of them have rubbed off on me because I'm certainly a fan. But, it's hard to pinpoint just how it influenced me because it was just the water I was swimming in. It was everywhere."
Instead of diving into the deep end of the music business, Wainwright Roche earned a master's degree in education from Bank Street College of Education in Manhattan and spent two years as a teacher.
"I think I needed to break out and do my own thing like so many people do," she says. "My rebellion was going to school and getting a master's degree and getting a regular job. I was an elementary school teacher. It was a job I really liked, but I then realized I missed something about that lifestyle once I got away from it. That drew me back in. It's a regular story. It's just the jobs are reversed."
On a whim, she spent a few weeks out on the road with her brother Rufus, which reignited her connection to her musical roots. Shortly after, she left her teaching job to pursue music full time. She has since released two EPs, 2007's 8 Songs and 2008's 8 More, as well as 2010's full-length album, Lucy, which includes a cover of Bruce Springsteen's "Hungry Heart" with actress Martha Plimpton ("Raising Hope") and an unlikely duet with Ira Glass, the host of NPR's This American Life, on Elliott Smith's "Say Yes."
Last year, she released her sophomore album, There's a Last Time for Everything, as well as the accidental release Fairytale and Myth, which she recorded with her mother and singer-songwriter Rob Morsberger, who died of brain cancer on June 2, 2013, shortly after it was recorded.
"We hadn't been planning on making a record together," Wainwright Roche says. "We were doing some fundraising for my [album] There's a Last Time for Everything and wanted to record some tracks that we could give away to people who pre-ordered it. At the same time, this friend of ours, Rob Morsberger, an amazing musician and piano player, had brain cancer and wanted to spend the rest of his time doing music. He got involved in us doing these tracks and we ended up making a record with the three of us. He was sort of the heart of that recording."
The songs on Fairytale and Myth range from a cover of Paul McCartney and John Lennon's "For No One" and Loudon Wainwright III's "When I'm at Your House," to the album's title track, Morsberger's transcendent tale of the power of love and our longing for it. None of Wainwright Roche's family, however, appears on There's a Last Time for Everything. That's, in part, due to the short recording schedule -- it was recorded in 10 days with producer Jordan Brooke Hamlin in Nashville, TN -- but, she says, it was "great to do it in a little bubble away from the family."
Among the 11 tracks are "Seek And Hide," which she wrote while watching a man walk up and down the block outside of her building in Brooklyn, NY, one afternoon; "Last Time," from which the album gets its title, which is an exploration of the way a relationship changes over time; and a cover of the Robyn anthem, "Call Your Girlfriend."
On her current tour, Wainwright Roche says, she's had fun becoming a duo act, at least temporarily, with her mom. "We basically do the whole show together as a two-part harmony duo," she says. "We do some songs that I wrote for my last record and some songs that she wrote and some songs that we recorded together. The songs are different whether I'm alone or with her, but it's fun to hear them in those different ways."
As for her role in her very musical family, Wainwright Roche says she feels like she's found her niche. "Luckily, me and Rufus and Martha all sound very different and what we do is very different, which is great because we can come together and collaborate but also we're not stepping on each other's toes in our individual careers," she says. "I guess there's room for everybody to be doing what we're doing."